The Best 27 Warming Vegan Soup Recipes Will Comfort You
|
27 Warming vegan soup recipes
Here are 27 of the best warming vegan Soup Recipes for you to warm up.Wintertime is the time we like to eat comforting warming Soup. These Recipes are  a delicious addition to your menu. And with a Vitamix Blender or Food processor, it is possible to prepare these soups easy and fast whenever you  crave for a soup.
Even some raw soup recipes are here like a creamy miso soup with Mushrooms, Cauliflower cream and a beautiful creamy Avocado Coconut soup.All healthy nutritious and even can help control your body weight.
Good to have the ingredients handy if unexpected guests are
coming or your kids need a fast snack. Enjoy
image:SheilaKealey
The Best 27 Warming Vegan Soup Recipes
Soup is the ultimate comfort food. It's easy to make, filling and full of nutrition thanks to the fact that it's often made with  nutrient-dense vegetables, legumes, and other fiber-filled ingredients that combine to deliver appealing textures and great flavours. In addition, soup consumption is linked with lower obesity risk, and eating soup before a meal can help control body weight.
With soup season on the way, why not enjoy at least of few of the 27 most scrumptious, nutritious and utterly delicious soups that the vegan world has to offer?
1.  Vegetable and 'Cheese' Soup
This soup is simply spiced, allowing the raw flavours of the vegetables to take centre stage – this silky blend is delicious, warming and perfect for those cold winter nights. The 'cheesy' taste comes entirely from vegan friendly and B-vitamin rich nutritional yeast.
Get the recipe: Oh She Glows
2. Curried Butternut Soup with Ginger
So rich and thick there's simply no need for cream! This dense soup is a tummy warmer, and an immunity-booster: the garlic staves off colds, the ginger improves circulation, and the coconut milk adds a sweet touch.
Get the recipe at SheilaKealey 
3. Avocado & Coconut Soup
Of all our vegan soup recipes, perhaps this is the most unusual. Thick, rich and ridiculously satisfying, you could say this is the 'David Beckham; of soups! Avocado and coconut make a surprisingly perfect match with bloggers deeming this soup 'hydrating and luscious'.
Get the recipe at: Lunchboxbunch
4. Samosa Soup
With all the workings of those sultry Indian flavours you can satisfy your takeaway cravings with this delicious and simple soup that's packed with all the flavours and veggies you would find in one of those tasty Indian pastries.
Get your piece of 'vegan soup heaven' at: YupItsVegan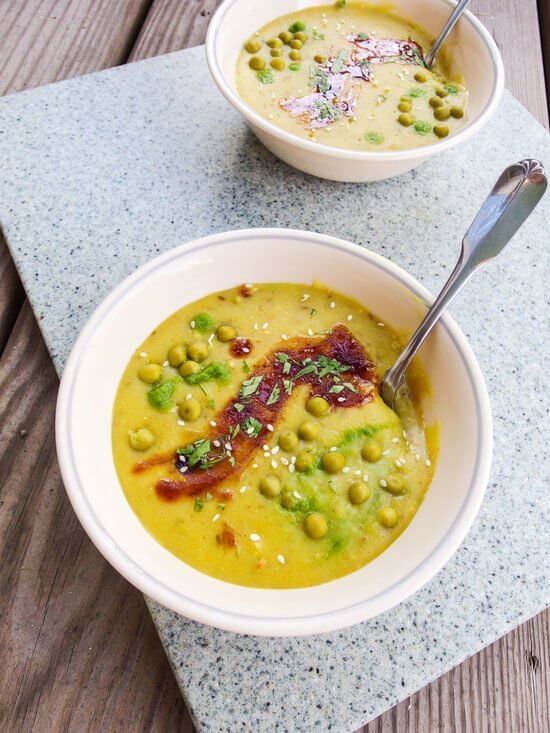 5. White Bean Chilli with Jalapeno Bulgar
If you prefer a little heat to your meals then this recipe will be right up your street! More of a stew in consistency, this dish is both tasty and filling. With a total prep and cook time of just under 30 minutes, this delicious concoction of ingredients is perfect for those rushed winter nights.
Get the recipe at: RealSimpleFood
6. Black Bean Soup with Roasted Jalapeno Salsa
The combination of the soup and salsa adds just the right amount of heat and acidity complementing the opposing flavours. Black beans are a great source of fibre and protein, and will satisfy your hunger for a lengthier period.
Get the recipe at: RealSimple
7. Parsnip & Split Pea
Split peas carry important nutrients and are a great, tasty way of adding protein and fibre into your diet. This hearty soup can be prepared either by throwing the ingredients into the slow cooker and waiting for the magic unfold, or making it equally easily on the stovetop.
Get the recipe at: SimpleVeganista
8. Creamy Miso Soup with Mushrooms
Protein-packed and tangily tasty, miso has a list of nutritional benefits that you can't afford to be missing from your diet. High in antioxidants and with the ability to strengthen your immune system thanks to the fermentation process, this delicious soup will satisfy your tastebuds while it works wonders on your interior.
Get the recipe at: SimpleVeganista
Discover what a Vitamix Blender can do for you
9. Spiced Red lentil with Tomato & Kale
The perfect amount of spice and an abundance of textures make this soup a winter winner. All made in a single pot, lentils are added for that extra hit of protein and to keep you feeling fuller for longer.
Get the recipe at: OhSheGlows
10. Vegan Copycat Campbell's Mushroom
This soup is so rich, sweet and creamy, you'll be amazed it didn't come from that iconic can! It's surprisingly healthy, too: coconut milk contains lauric acid, antimicrobial lipids and capric acid, which have antibacterial, antifungal and antiviral properties. The body converts lauric acid into monolaurin, which may fight the viruses and bacteria that cause herpes, and influenza.
Get the recipe at: BlenderBabes
11. Pumpkin Soup with Dark Chocolate Shavings
Get your chocolate fix in a very healthy (and slightly unusual) way!  This soup is perfectly sweet but slightly spicy; rich, creamy and unbelievably low in calories: just 42 calories per generous serving.
Find the recipe at: FoodieFiasco 
12. Chipotle Fall Soup
Butternut squash, pumpkin and roasted sweet potato with sultry cinnamon and nutmeg notes are just some of the flavours combined to create this spicy, cosy bowl. Topped with crouton-like tofu cubes, this recipe is guaranteed to fill you right up!
Get the recipe at: KBlog
13. Black Bean, Sweet Potato & Red Quinoa Soup
It's a whole meal in a bowl! Full of flavour and bursting with loads of vibrant vegetables, this recipe is easy to execute and gives you plenty of room to experiment – adding and removing different veg and flavours depending on your preference. This soup just made meal times that little bit more exciting.
Find the recipe at: OhSheGlows
Find all the recipes here > 27 Vegan Soup Recipes for Winter
Also see>Inspiring Vegan Recipes Delicious Okra, Quinoa, And More
Click here for a Vitamix