Best Seasonal Vegan Recipes From Both Sites Of The World
Seasonal Vegan Recipes from Australia
Seasonal vegan recipes for you no matter which side of the world you are. We have some Christmas vegan recipes from Kathie and Josh in Australia and the Sommer season.
No Matter where you are in the world here is something for you. Nutmeg Spiced Cookies, Chai Spiced Nuts, Christmas Brussel Sprout really sounds like Christmas, but all the other recipes are good for the whole Year.
Kathie and Josh made Potato salad, beetroot soup tomato relish, a delicious smoothie, an artful looking Pecan, and Mushroom Wellington, and the mouthwatering Antipasto Scrambled Tofu below for us. Also see the latest recipe  Chickpea, Pumpkin and Dill burgers and videos of Delightful Vegans
Is it not wonderful to have Seasonal vegan recipes from both sites of the world? Try the ones which fit your season and enjoy it!
Best Seasonal Vegan Recipes From Both Sites Of The World
This Antipasto Scrambled Tofu is SO good! The flavour combination really makes it a winner. Check out our video on how to make this recipe that we've posted up to YouTube: I usually always make my scrambled tofu the same way, so this time I thought I'd mix it up a bit and add some roast capsicum, artichokes and olives. I also had some cashews on hand, so at the last minute I added those to the mix too! They turned…
These Chai Spiced Nuts are a cracker!! Haha – see what I did there!? Even though it's no way near silly season I've gone a bit silly! Maybe it's because we've been eating so much yummy silly season foods. I've been getting into the Christmas spirit! And, it's been so fun in the kitchen creating these goodies for you all! Nuts were always a staple at my Christmas table growing up. Usually we had walnuts, hazelnuts and brazil nuts, with a…
Another Christmas in July Recipe!! This Pecan and Mushroom Wellington is one of my absolute favourite Christmas recipes. It's actually a great recipe any time of the year. In summer it's great served with a salad and in winter with roast vegetables. It's incredibly tasty and super easy to make! I used a mixture of swiss brown mushrooms and white mushrooms for this recipe. But you could use all white mushrooms if that's what you have. I found that the swiss…
Ever wanted to make your own homemade relish!? Well, here's your chance! Last week I got a bunch of free organic seconds tomatoes, and I thought for a moment – what could I make with all these? Then, I thought – relish! I love relish, and I've often thought I must give it a go. So, I messaged my Mum to see if she had a good recipe. Lucky for me, she promptly sent one back and here it is! I have…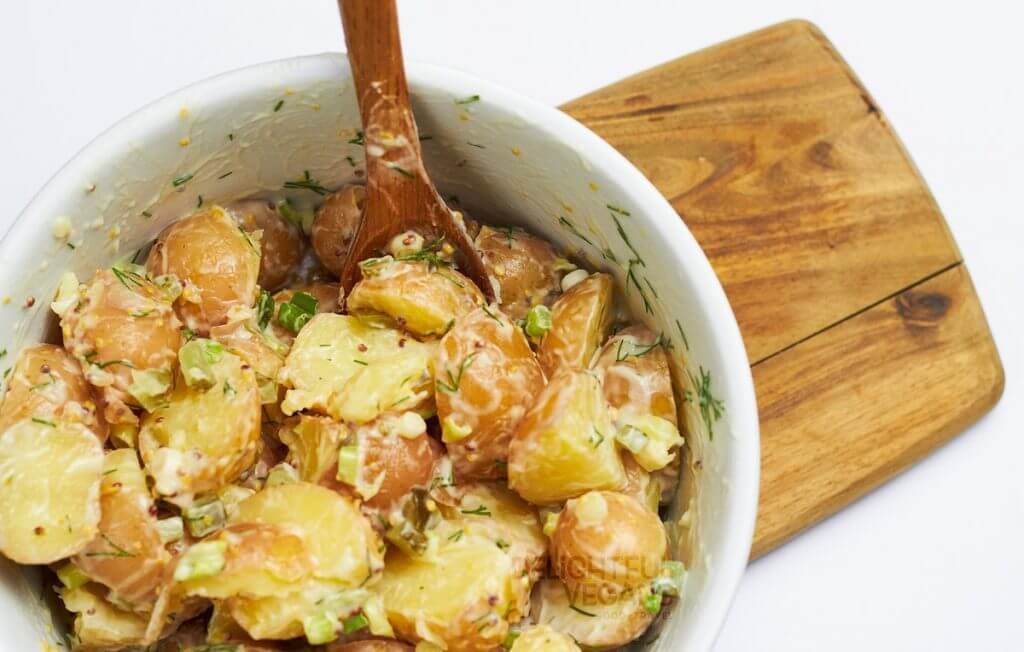 Who doesn't love a good potato salad? Who doesn't love potatoes, full stop!? This Creamy Vegan Potato Salad is sure to satisfy any potato salad connoisseur. We've used Dill to really complement the flavour of this scrumptious salad. Dill is quite an acquired taste – but it tastes so good in Potato Salad! Dill is a very valuable herb, which helps digestive health and boost immunity and is also said to be good for insomnia! Read more about the health…
Brussel Sprouts!! Ewwww! Like most kids, I used to despise these little green balls. Now that I've grown older and my taste buds have changed, now I don't mind them at all! These Christmas Brussel Sprouts are fabulously tasty and would be a perfect addition to any Christmas feast! I'm using nutmeg again for this recipe – as it really is the ultimate Christmas spice –  and, it goes so well with all the other ingredients. Also the grated lemon rind gives…
Green smoothies are a great way to start your day! This pear, avocado and rocket smoothie is so tasty and filling. I first got into the green smoothie craze quite a few years ago when I discovered Victoria Boutenko  and her book Green for Life. It's a wonderful book and I discovered that eating greens in your smoothie was a great way to get extra nourishment into your diet. Honestly, at first I thought it was a disgusting idea! I mean –…
Welcome to our first Christmas in July blog post!! We are so excited for Christmas in July, so we've decided that for this month we will have extra Christmas recipes on top of our two per week that we already post. It's so fun to celebrate in the winter, making warming, festive food, and living the Christmas spirit! We chose these Nutmeg Spiced Cookies as our first treat, as Nutmeg really represents the festive season, and of course, the cookies…
Best Seasonal Vegan Recipes From Both Sites Of The World
We've said it before, and we'll say it again. There is nothing better than a warming soup for lunch or dinner in winter. Plus, with only eight ingredients (not including olive oil and water), this Beetroot soup is a breeze to make as well as a perfect winter warming food. Wouldn't you know it!? This soup would be great served cold to chill off on a hot summer day. We both love the earthy taste of beetroots, and the potatoes and…
It was high time I made some homemade burgers. We still had some pumpkin in the garden, and I found some dill had sprouted up the other day too. My mind immediately thought: BURGERS! So, I came up with these Chickpea, Pumpkin and Dill burgers. If you don't like dill (it can be quite an acquired taste), another herb would work just as well. Try substituting with thyme, coriander, basil or even parsley. If you're really hungry… honestly, you can't go…