Comforting Vegan Soup Recipes For Fall and Winter
|
Comforting Vegan Soup Recipes you need for the cold season
An ultimate list of comforting vegan soup recipes. It will make you and your family feel cozy and warm during the cold time of the year. Nothing is more enjoyable than a warming soup.
Eat it before a meal or replace a meal with a delicious and satisfying soup. Made with fall vegetables which you can buy fresh at the local market. Some of the vegetables you can even store for a while. Now it is the time for Kale,|Pumpkin, Butternut Squash, Cauliflower, and… What about a European Borscht Soup with Beets and Carrots?
There is a Noodle Soup recipe that looks tempting and a  Chipotle Fall Soup. Did you ever eat Pumpkin Soup with Dark Chocolate Shavings? All the recipes are amazingly healthy and nutritious creations that will make the season more pleasant.
Try all these comforting vegan soup recipes and enjoy Fall and Winter.
 Comforting Vegan Soup Recipes For Fall and Winter
Soup is the ultimate comfort food. It's easy to make, filling, and full of nutrition thanks to the fact that it's often made with nutrient-dense vegetables, legumes, and other fiber-filled ingredients that combine to deliver appealing textures and great flavors. In addition, soup consumption is linked with lower obesity risk, and eating soup before a meal can help control body weight.
 Creamy Kale with Roasted Chickpeas
This creamy kale soup is infused with rich cashew cream and finished with deliciously crunchy cayenne pepper roasted chickpeas. Sounds amazing right?
Get the full recipe at Connoisseurusveg
Carrot and Coriander
A popular choice for soup lovers, carrot and coriander make for the perfect winter-warming dish. There are loads of recipes available for this soup but this one is particularly thick, creamy and very very tasty! Bonus: add lots of coriander to help your body detox from heavy metals.
Find the recipe at:VeganVillage
 Roasted Red Pepper Soup
The inclusion of almond milk helps to sweeten up the smokiness of the vitamin-C rich roasted peppers, leaving you to indulge in a balanced, flavourful recipe that you are sure to create again and again.
Get the full recipe here: Lifesastrawberry
 Vegan Tortilla Soup
I must confess–I do love a good tortilla soup! But these are often not vegan–chicken and sour cream feature in most recipes. Not this one, though! Make sure the tortillas you use are organic; otherwise, they are very likely to contain GMO corn. Bonus: this soup is packed with cilantro, a powerful cleansing agent.
Get the recipe: BlenderBabes
 You also may like > ENJOY THESE HEAVENLY VEGAN NOODLE SOUP AND MORE
and >THE HOTTEST VEGAN SOUP RECIPES FOR YOU!
Proper Eastern European Borscht
Our Editor has Ukrainian blood and is obsessed with borscht. She swears that this recipe is one of the best and says: "Borscht should normally be made with beef stock and have some sour cream in it, but as a vegan, I've been looking for a veggie version that tasted like my Baba's. This is pretty close!" It's tempting to just toss all the ingredients into a blender, but grating by hand really gives this the texture it needs. The soup is almost sweet due to the beets and carrots and packs a strong anti-cancer punch. You can skip the sour cream and add soy yogurt instead.
Get the recipe here: FabLunch
 Fully Loaded Baked Potato Soup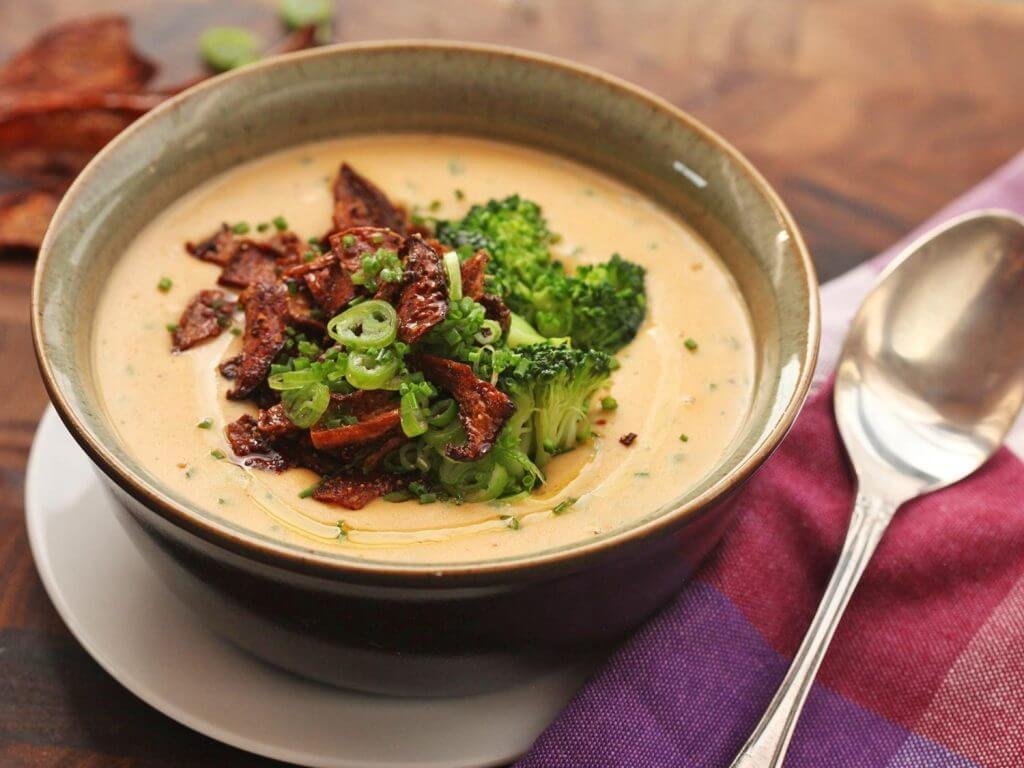 Ok, so this one is NOT one of those low cal soups that will make you lose weight, and unlike the other recipes above, you may want to think twice about having second and third helpings of this if you're trying to drop some kilos. But if you're after some tasty, filing comfort food, well, you can't do much better!
Get the recipe here: SeriousEats
 Creamy Cauliflower Soup with Rosemary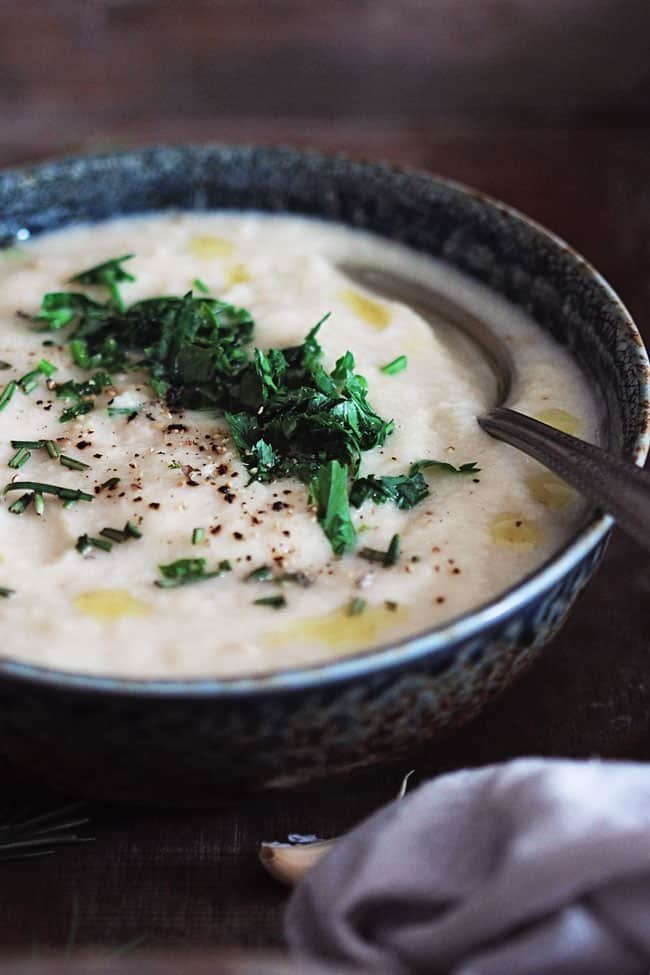 Simple to make and packed with herbal flavour, the creamy texture here comes from blending the cauliflower itself, not from anything else! Goes well with lots of cracked pepper.
Get the recipe at: HelloNatural
Not Your Mom's Chicken Noodle Soup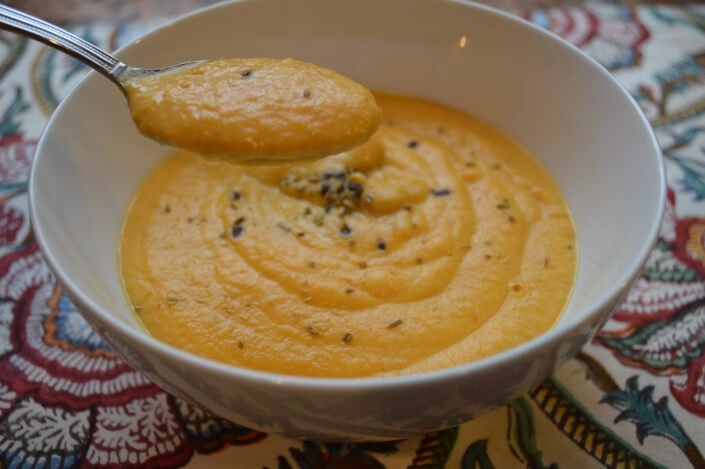 Chicken noodle is the King of Soups. Around practically since the time of moms, chicken soup has even been legitimately studied as a possible cure for the common cold. This vegan version uses lots of the same ingredients as the classic, but the base is miso instead of chicken bones. There's still the deliciousness of ginger, garlic and of course…the noodles!
Get the recipe here: Crumbsonmylaptop
Chipotle Fall Soup
This Golden Trio Chipotle Soup combines three of my favorites: butternut squash, pumpkin, and roasted sweet potato. Then I blend in spicy notes of chipotle powder, cinnamon, and a hint of nutmeg and black pepper. Some garlic too – but just a touch. To diffuse the spiciness, I add some creamy non-dairy milk and an optional splash of coconut. On top, a dusting of spices and a dainty pinch of chopped flat-leaf parsley. Recipes here
Pumpkin Soup with Dark Chocolate Shavings
Get your chocolate fix in a very healthy (and slightly unusual) way!  This soup is perfectly sweet but slightly spicy; rich, creamy and unbelievably low in calories: just 42 calories per generous serving. Find the recipe at: FoodieFiasco 
Curried Butternut Soup with Ginger
So rich and thick there's simply no need for cream! This dense soup is a tummy warmer, and an immunity-booster: the garlic staves off colds, the ginger improves circulation, and the coconut milk adds a sweet touch.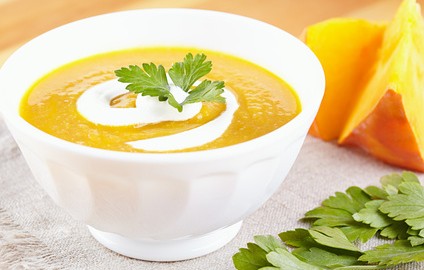 Get the recipe at SheilaKealey 
Samosa Soup
With all the workings of those sultry Indian flavours you can satisfy your takeaway cravings with this delicious and simple soup that's packed with all the flavours and veggies you would find in one of those tasty Indian pastries.
Get your piece of 'vegan soup heaven' at YupItsVegan
Get even more recipes here> Recipes for Winter
Also, see Delightful Dinner Recipes You Can Fall In Love With
See also > Healthy Winter Vegetables & the Best Ways to Enjoy Them