You Will Love To Try These Middle Eastern Vegan Recipes
|
Middle Eastern Vegan Recipes you will love
Middle Eastern Vegan Recipes or the cuisine of the Orient. We know the cuisine for intense fragrances, gorgeous colors, exotic spices,  dates, hummus, and more..
Historically oriental cuisine is based on the so-called fertile crescent. It influences the ancient cooking traditions of Mesopotamia, the  Mediterranean region, Armenia, the Indian subcontinent, and parts of Central Asia. Also, through the Silk Road. Similarly, some dishes of the Turkic peoples were incorporated into Chinese cuisine. Many Middle Eastern Recipes are already vegan, or we can easily veganize them.
The chick-pea paste Hummus is particularly popular. Specialties of oriental cuisine are the small starters with the name Mezze. Also, the spicy paste Harissa and the aromatic spice mixture Ras-el-Hanout. These Middle Eastern Vegan Recipes will enchant you. Immerse yourself in the world of the Orient and bring oriental flair into your kitchen. Anyone who cooks with oriental spices just needs to close his eyes and feels as if he is in the middle of a bazaar. Maybe you want to be with a mint tea in one of the tearooms? We offer you the best oriental recipes to bring this feeling into your own home.  A bit like holidays? Enjoy the aromatic Middle Eastern Vegan Recipes!
You Will Love To Try These Middle Eastern Vegan Recipes
Eggplant Kebab With Tahini Sauce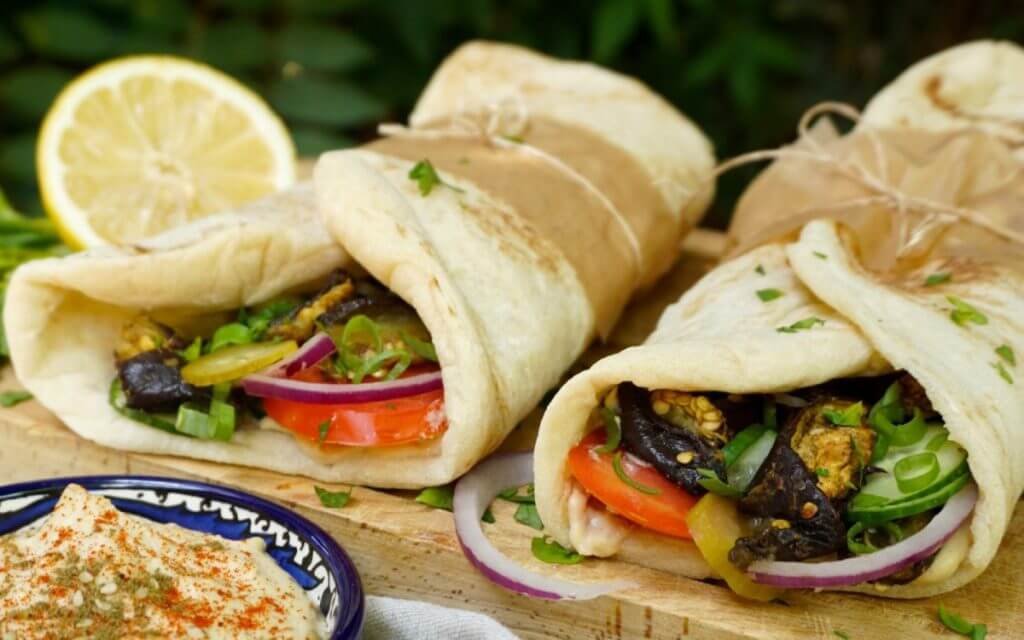 Kebab is one of the most common street foods in the Middle East. This Eggplant Kebab is seasoned with za'atar and served with crunchy salad, creamy tahini, and a drizzle of tahini on top. What's great about this recipe is that it's completely oil-free, without salt, and plant-based.  You can bake the eggplant in the oven, or put it on the grill – just until it's mushy inside and crispy on the outside.
Persian Style Potato Pancakes
These Persian Style Potato Pancakes capture the flavor and texture of those without the eggs and only a little bit of oil by using a mixture of mashed Russet potatos, tofu, and chickpea flour. Serve them as a simple meal with rice or as part of a mezze if you're serving a group.
9. Iranian Eggplant and Chickpeas Stew
This Iranian Eggplant and Chickpeas Stew is the perfect festive dinner. The texture of the eggplant and chickpeas go so well together, and the sweetness of the dates and apricots blend perfectly with the cumin, cinnamon, nutmeg, and turmeric. It is absolutely AMAZING
 Dolmades Stuffed With Pine Nuts and Currants 
If you like stuffed cabbage, you'll love Dolmades Stuffed With Pine Nuts and Currants. Rice is sautéed with fresh herbs, crunchy pine nuts, and chewy, sweet dried fruit to create a medley of flavor and texture. Once you stuff the grape leaves with this amazing mixture, simmer the dolmades in a mixture of broth and tomato paste to make them even more flavorful.
You, Will Love, To Try These Middle Eastern Vegan Recipes
Turkish Spinach and Tofu Borek
Typically made with cheese and spinach between layers of buttery filo pastry, borek is surprisingly easy to veganize — hence this Turkish Spinach and Tofu Borek, Since ready-made filo pastry is often vegan already (check the packet first, of course) it makes life much easier on all fronts and can be coated with a vegan butter, so you don't lose out on the buttery, golden kind of filo this savory pastry demands. In place of cheese, crumbled tofu, with a dose of nutritional yeast to give it a cheesy hint, does a very fine job for the filling
Roasted Beet Kebabs
Traditional kebasa are made from grilled meat, but these crispy Roasted Beet Kebabs are made from roasted beets, black beans, cashews, parsley, coconut, and spices.  This is the kind of a dish that you would absolutely love to serve when you have friends over dinner. It just has that "wow" factor.
Iranian Jeweled Basmati Rice Pilaf
This Iranian Jeweled Basmati Rice Pilaf is a dish full of flavor, with saffron, cinnamon, and turmeric spiced rice, crunchy almonds and pistachios, orange zest, and plenty of dried fruit. One of the best parts about this rice is what happens in the last few minutes. Let the rice on the bottom of the pan get all golden brown and crispy, while watching carefully not to burn it, then flip it onto the top of the pile right before serving. This gives it a crisp texture and toasty flavor. Of course, after that, you have to top it all off with plenty of extra "jewels" to garnish which makes it look all vibrant and inviting when you plate it.
Mujaddara
Mujaddara is an ancient dish that has been traced back to a cookbook from 1226 in Iraq. The dish you can make with lentils and rice. It's a hearty dish, filling and satisfying.  The yogurt-lemon sauce adds a tangy, cool element against the spiciness.
Get more recipes here.
Most Liked Plant-Based Recipes Of 2017 That You Will Love In 2018
Inspiring Vegan Recipes Delicious Okra, Quinoa, And More