Millet from Birdseed That Turned Into Superfood
|
Millet  the birdseed that turned into superfood
Is the ancient grain Millet a superfood? Let us rediscover the good old Millet!  It is a superfood because the small granules contain many valuable nutrients.
If you think about millet flasks hanging from your birdcage, you may have missed a trend. Health-conscious eaters are rediscovering the little gold grains and praising them. And rightly so, because you can consider Millet a superfood.
What makes Millet so special?
It is the oldest grain ever. In the Mediterranean and China, findings suggest that people baked millet bread 8,000 years ago. I Europe, Millet was highly esteemed until the triumph of the potato in the late Middle Ages.
There are fairy tales about Sweet Millet Porridge by the German Grimm Brothers. The story tells how people got satisfied and free from poverty and hunger with the porridge. Millet still plays a significant role in the global food supply and is a staple food, especially in Africa and Asia.
Different kinds of Millet
Botanically, Millet belongs to the family of sweet grasses. There are more than 600 species worldwide.  There are two main groups: Millet with small and Sorghum with larger grains.
These include, among others, the miniature Millet, also called Teff. The term mini-millet fits the small grains very well, 150 Teff-grains are just as big as a single grain of wheat.
Millet has an extraordinary composition.
Millet contains a lot of power, which supplies the body with energy and saturates well. Hence it comprises the highest content of iron of all cereals and plenty of B vitamins, fluorine, zinc, magnesium, silicon, fiber, healthy fats, and numerous bioactive substances.
Some ingredients are already recognizable by the color: yellow Millet contains a lot of beta-carotene, red and brown grains provide plenty of cell-protecting antioxidants, white Millet is rich in protein.
Speaking of: millet protein comprises the amino acid leucine, which is essential for children. Cooking millet porridge often is a good idea.
Ideal for vegans, diabetics, and celiacs
With this nutrient profile, Millet meets the needs of vegans as tailor-made, as it improves the supply of nutrients such as iron and protein. But non-vegans also benefit from the ancient grain.
The high fiber content slows the rise in blood sugar levels, which prevents food cravings and has a positive effect on the metabolism of diabetes. And for a third group, Millet is an ideal food for people with celiac disease or gluten sensitivity. They can safely take them into their diet because Millet does not contain gluten.
Here is something to take care of
With all these plus points, however, there is a downside: Millet can contain unwanted substances such as oxalic or phytic acid, especially in the shell.
When buying, you should, therefore, prefer peeled organic goods. Before cooking, wash and soak the grains in water.
Recipes with Millet
Millet is very versatile: it tastes good in savory and sweet foods. You can use it for patties, porridge, soups or dumplings, casseroles, and gratins. Millet flakes and meals also enrich muesli.
Need an easy and healthy weeknight dinner? Look no further than this Spicy Curried Cauliflower and Millet Bowl! It's perfect for Meatless Monday!
This DIY burrito bowl is made with millets and topped with a creamy Avocado Mint sauce. They make a healthy, nutritious and wholesome meal in itself fulfilling all your dietary requirements for the day.
Need an easy appetizer or a quick lunch? These millet fritters will hit the spot!
A surprisingly easy and rich-tasting millet pudding that is actually good for you.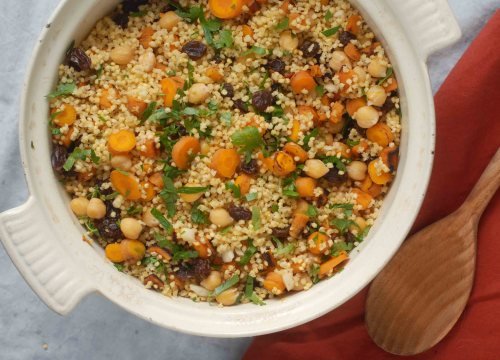 This is the perfect time of year to enjoy sweet potatoes.  They are so cheap at the store that I somehow ended up with a whole fridge drawer full!
Millet. The newest grain to make its way into the hip whole-foodie scene.
More Recipes > GLUTEN-FREE MILLET A DELICIOUS ANCIENT GRAIN
See also The Millet Revolution Is Here For A New Healthy World
Dr.Vandana talks about her hope for millets in a future affected by climate change at Bhoomi College Campus in Bangalore.
Millets: 5 ways to eat this weight loss-friendly grain!
Millets: Coarse in name but powerhouses of nutrition