Add More Raw Food To Your Diet And Make Healthy Choices
|
Add more raw food to your vegan diet
Eat more raw food, which means living food. The living cells of your body need living food. To maintain your health and vitality you have to raise your food consciousness and make better choices.
Are we eating ourselves sick?
We eat too sweet, too fat, too salty, too much, too fast, too rich in protein, too low fiber and too little raw food! Any heat treatment, whether cooking, baking or frying, reduces the physiological value of the food. At temperatures above 42 ° C, the enzymes, the "spark plugs" of the metabolism, are already destroyed.
When cooking food even over 85% of the nutritional value is destroyed. The loss of heat-sensitive vitamins and flavorings is also significant. Fibers which are found only in plants can lose 80% of their effect by heating. The essential organic bound minerals present in raw food become inorganically and therefore unusable by the heating process. Natural food ( means life) become only more "filler"!
A predominantly heat-treated food is not enough to maintain health! The acid-base balance is disturbed. Due to the usual over-consumption of excess acid or acid-forming heated food.
Read >Basic Diet – Part 1 – The Alkaline Diet And PH Level
Basic Diet – Part 2 – Why A Alkaline Diet
Raw food is powerful!
For a healthy diet, we need pure water as well as nutrients and vital substances in sufficient quantity and combination. The following applies here:
The more natural our food is, the fuller and healthier it is.Plants, fruits, nuts, seeds, seedlings, and sprouts provide us with all vital and health-promoting ingredients in a natural combination and supply us with concentrated solar energy. They are still real food. In particular, the chlorophyll- and vital-rich wild herbs that are far superior even to the ecologically grown crops are a raw food of the highest quality!
Choose what you like most. You will be amazed at the variety of plant-based foods that taste raw! The basis is of course fresh ripe fruit, also dried fruit, fresh green leaf lettuce and vegetables of the season. Best, of course, to buy locally from unpolluted, organic growers. We also recommend fresh herbs and wild herbs, self-grown sprouts and seedlings, seeds, nuts, almonds, avocados.
See the recipes below and start to add more raw food to your diet!
Read also >WHY EATING FRESH GREENS IS BENEFICIAL AND KEEPS YOU HEALTHY
QUICK EASY GREEN & GLUTEN FREE RAW VEGAN RECIPES
Add More Raw Food To Your Diet And Make Healthy Choices
Activated Buckwheat and Coconut Porridge With Blueberry Sauce, Raw
Soaking the buckwheat not only makes them easier to digest, but easier for the body to absorb the nutrients. This is a quick and easy raw Activated Buckwheat and Coconut Porridge With Blueberry Sauce that everyone can enjoy! Kick off your day in a healthy way with activated buckwheat and creamy coconut.
Creamy Sun-Dried Tomato Basil Soup, Raw
Have you tried raw Creamy Sun-Dried Tomato Basil Soup? Raw soups are a quick and easy way to get all the nutrients in. Heated to 110°F to preserve the vitamins, this soup is filled with sweet sun-dried tomatoes and fresh herbs.
Raw Beet-Sunflower Burgers, Raw
This nut-free Beet-Sunflower Seed Burger recipe is awesome. It's seasonal, raw, and so savory! This kid-friendly raw recipe is perfect to prepare at home with the family
Peanut Butter 'Raw-eos', Raw
A bit of a healthy twist on the world-famous Oreo biscuits. Introducing Peanut Butter "Raw-eos!" The combination of chocolate and peanut butter creates something sweet you can feel free to indulge in — guilt-free!
Fresh Herb Walnut Pâté, Oil-Free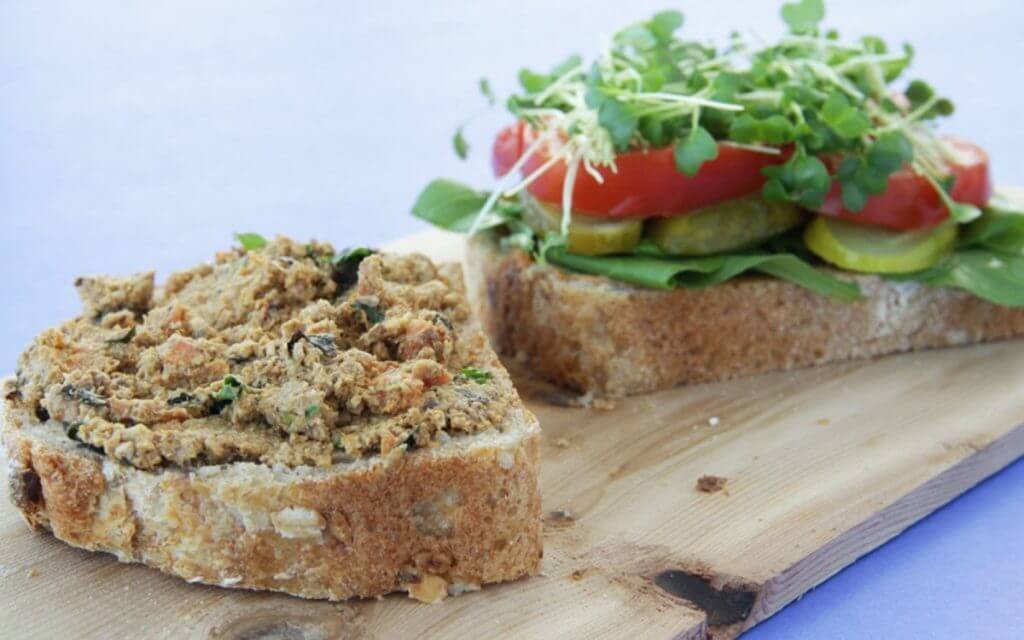 Making your own pâté might sound complicated, but the truth is that this fancy walnut pâté comes together very easily and the results are impressive. Next time you're entertaining, or want to treat yourself to something extra special try this plant-based Herb Walnut Pâté! Serve this with vegetables, chips, and crackers for a stunning spread
TOP RAW VEGAN DESSERTS WILL CHANGE YOUR LIFE
DID YOU EVER TRY A DELICIOUS RAW VEGAN PAD THAI?