The Secret To Vegan Meatball Recipes Is Revealed
|
Delicious Vegan Meatball Recipes
What are Vegan Meatballs? Here is the prove Meatballs do not really need meat, they only have to look like meatballs to be accepted even from meat-eaters.
These meatballs taste delicious without any meat. Give it a try and offer some to a meat-eater, see if they realize it? It is the habit and the name. Everything can be converted into vegan, its only a matter of how to make them tasty. Everything is possible with the use of spices.
Fresh spices need the kitchen! Spices give their character to dishes. Even a spicy scent can awaken good memories. But spices can also help to make food more digestible.
Here are some really awesome examples of vegan delicious meatballs made of all kind of ingredients but no meat . Give it a try!
At Last, The Secret To Vegan Meatball Recipes Is Revealed
We put together vegan meatball recipes to prove it to you. Now you can go ahead and make them into a delicious vegetarian (or vegan) dinner when the mood should strike. Take a look at these beauties and you'll see what we mean.
Simple Vegan Meatballs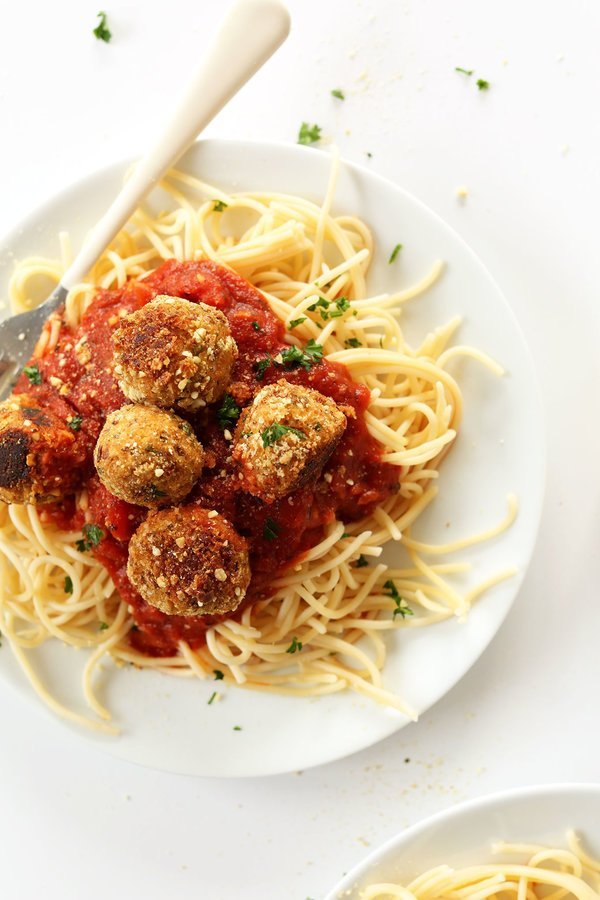 Get the Simple Vegan Meatballs recipe from Minimalist Baker
Italian Bean Balls And Spaghetti Squash Noodles
Get the Italian Bean Balls and Spaghetti Squash Noodles recipe
from Oh She Glows
Lentil Mushroom Walnut Balls with Cranberry-Pear Sauce
Get the Lentil Mushroom Walnut Balls with Cranberry-Pear Sauce recipe
from Oh She Glows
Lentil Meatballs With Indian Fenugreek Sauce
Get the Lentil Meatballs with Indian Fenugreek Sauce recipe from Feasting at Home
Lentil Meatballs With Burst Tomato Pasta
Get the Lentil Meatballs with Burst Tomato Pasta recipe from Naturally Ella
Read more here: Prove – You Don't Need Meat
You may like also > 10 Healthy Vegan Hemp Recipes The Extra Power For Your Vitality