Who loves Radishes, the Spicy, Crunchy, and also Healthy Vegetables?
|
Healthy Radishes are spicy and have a bite.
Radishes are very healthy with many vitamins and minerals, and also positively affect diabetes. Radish is one of the first vegetables in spring. Under suitable conditions, it only needs 20 to 30 days from sowing to being ready for harvest.
Enjoy radishes fresh. If you have to store them, it is advisable to cut off the leaves, as they remove moisture from the tuber. The leaves contain the most vitamin C of the whole plant. Wrapped in a damp paper towel, you can keep them in the fridge for a few days. You can make a delicious pesto from them.
Is the Radish a superfood?
Radishes are regularly on the menu of many health and fitness enthusiasts: whether in soups and stews, like a radish salad, or pure for a snack between meals – anyone who likes it spicy will love radishes. But as with many other foods and spices, this root vegetable is not just about enjoyment: the many valuable ingredients are also very much appreciated.
When you think of Radish, horseradish often comes to mind. Although the plants have a similar name and taste, they are only distantly related. But radishes are a variety of the garden radish we know in the home kitchen. Primarily we use the root.
Depending on the type of Radish and the recipe, you can eat them with or without the skin, boil them or eat them raw.
Red, white, purple, or black Radish varieties
There are wide different varieties of Radish. If you look in your well-stocked supermarket or your trusted farmer's market, you will see that radishes come in different colors: red, black, and white. You will see the white Radish often because it is prevalent due to its aromatic taste.
The red Radish is inside just as white as its light-skinned brother's. It's best to remove the skin from the black Radish, as it can be inedible. Tip: If conventional Radish is too spicy for you, you should try daikon radish; it is much milder and more digestible.
How healthy is Radish?
Radish's health benefits include improving detoxification because it is perfect for the liver and stomach. That means it cleans the blood, removing toxins and waste. It also helps the urinary tract because they are diuretic and increases urine production.
They are also low in digestible carbohydrates and high in fiber, and water, making radishes a perfect choice if you want to lose weight.
Radish lowers oxidative stress and may reduce cancer cells.
Also, it helps increase bile levels. Bile is one of the essential components of good digestion and helps protect the liver and gallbladder.
It may help treat skin and maintain a healthy level of moisture in the skin.
Decreases kidney problems, helps relieve symptoms associated with dehydration, and improves liver health.
Aside from the benefits above, radishes act as a healthy appetizer, mouth and breath freshener, laxative, and help the metabolism.
The black winter Radish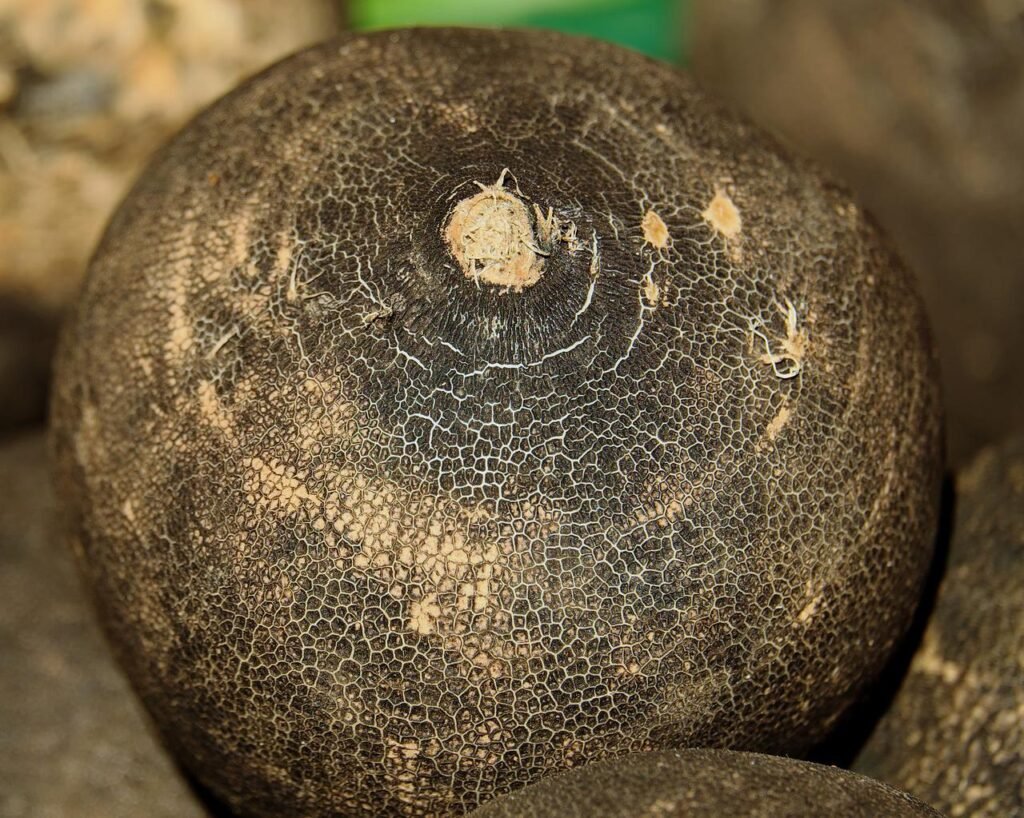 According to nutritionists, black Radish can help clean mucus effectively and even treat infections in your respiratory system.  It can keep various respiratory problems like the common cold and bronchitis at bay. 
Make a black winter radish cough syrup:
Making a healing cough syrup yourself from winter radish, brown or candy sugar, and a glass jar is very easy. Here you can find out how to do it.
You need one winter radish, 2-3 tbsp brown sugar, a Screw-top jar with a slightly smaller diameter than the Radish, a Knitting needle or skewer, knife, and spoon.
Cut off a cap from the Radish. If it has a long root, cut it off as well.
Use a knife or spoon, and scoop out the inside to fit at least two tablespoons of sugar. Poke a hole in the bottom of the tuber with a knitting needle or skewer and put the Radish in the jar.
How to make the syrup:
Fill the Radish with brown sugar and put the cap you cut off back on. After a few hours, the sugar in the Radish has liquefied and dripped through the hole into the glass. Close the jar and keep it cool.
The best is to prepare the syrup fresh. You can take one tablespoon of this cough syrup three to five times daily. You can do the same with Rutabaga.
Radishes are a popular vegetable all over the world. They contain significant amounts of vitamin C and numerous other vitamins and minerals, as well as some phytochemicals like indoles, which are cleansing, and the powerful antioxidant flavonoids zeaxanthin, lutein, and beta-carotene.
Grow and harvest Radishes yourself
Radish is a vegetable you can grow at home in your garden, so you can always enjoy it fresh and of the best quality. Do you only have a small balcony? If you don't have enough space to grow radishes, try radishes that thrive in small spaces. Depending on which variety you choose, you can harvest radishes almost all year round, so you can always enjoy a fresh radish salad.
Radish Recipes
If you like radishes, you'll LOVE this radish salad recipe! It uses them two ways – roasted and raw – and has a bright radish green pesto on top.
A fresh and filling bean salad flavored with lemon and fresh mint and dill. Use steamed lentils and canned chickpeas for a meal ready in under 20 minutes. This salad keeps well for a few days in the fridge and packs great for lunch!
This Carrot and Radish Salad with Lime Ginger Dressing is ready in no time.
This is definitely not an ordinary DAIKON RADISH STEW. This Vegan Daikon Radish Stew with Mixed Vegetables
This soup is fast and easy to make and always hits the spot when you're looking for something warming that comes together in a pinch and in just one pot.
This Roasted Radishes recipe has the healthy, spicy, root vegetable Purple daikon radishes, regular olive oil, Kosher salt, pepper, and cumin.
Jowar or Sorghum flour is a healthy and #glutenfree
Mooli Paratha is a delicious whole wheat Punjabi Indian flatbread stuffed with grated Radish and spices and baked up on a griddle.
So, please do your due diligence and monitor these babies like a HAWK! Because you don't want to miss out on this delicious different vegetable chip.
See also How Can Carrots the crunchy vegetable Benefit Your Health and Vitality?