You May Love To Try These Most Popular Vegan Recipes
|
Most loved popular Vegan Recipes
The most popular vegan recipes are truly unique. An amazing variety of meals from all over the world made vegan. New creations of traditional recipes and tasty combinations of different countries. The foodie chefs and food lovers are creative here. It is astounding how delicious all these Vegan recipes of the year are. They are peoples choice and most loved recipes.
Certainly, these most popular vegan recipes  are  not boring like many none-vegan think . It is  exciting to discover all the new varieties of preparing plant-based food. With all the natural colorful  organic ingredient they are a delight for the eyes.
We truly have to be grateful for all the abundance of grains vegetables, fruits, herbs, and spices, nature provides for us. Not to forget the hard working  farmers who work the soil and and bring the harvest to our table.
If we  buy our organic, fresh, and clean vegetables, fruits and herbs from a local market ,we get all the nutrients to stay healthy and vital. Try all theses delicious vegan recipes of the year and enjoy the taste diversity.
You
May
Love
To
Try
These Most
Popular 
Vegan Recipes
Cauliflower Pot Roast
Roasted cauliflower is one of the most delicious foods on the planet, and the presentation in this Cauliflower Pot Roast makes it fancy enough to serve at any occasion. The accompanying gravy is packed with lentils, cashews, and nutritional yeast — and plenty of flavor. Smother your roasted veggies and potatoes in this gravy, and you've got yourself a complete meal!
 Pecan and Mushroom Wellington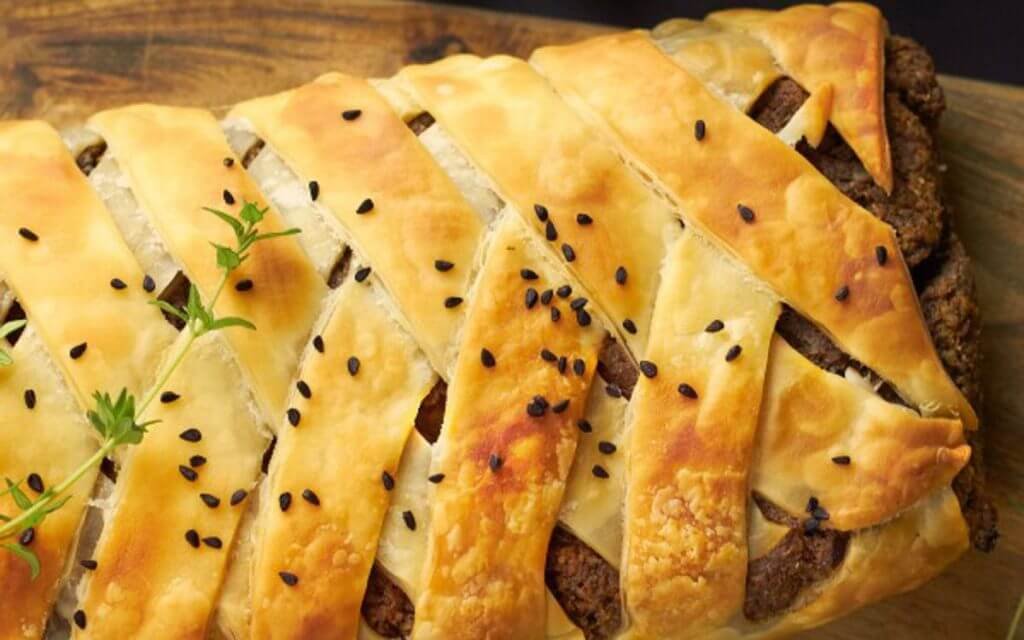 This deliciously flaky Pecan and Mushroom Wellington is a gorgeous dinner treat for any time of the year. A pastry sheet is filled with a savory and herbed mixture of mushrooms and pecans, topped with a lattice layer of strips, and then baked until golden brown. The crispiness of the pastry is so tantalizingly tasty, and pairs wonderfully with a fresh salad or roasted vegetables.
 Onion Pakoras With Avocado Dipping Sauce 
A pakora is an Indian snack that's essentially a vegetable dipped in chickpea flour, so they're naturally gluten-free, and then deep-fried until crispy. These savory Onion Pakoras are spiced with garlic, cumin, and curry powder and served with a cool, spicy, and creamy avocado dip. These are perfect as an appetizer or snack at any party.
Spicy Zucchini Fritters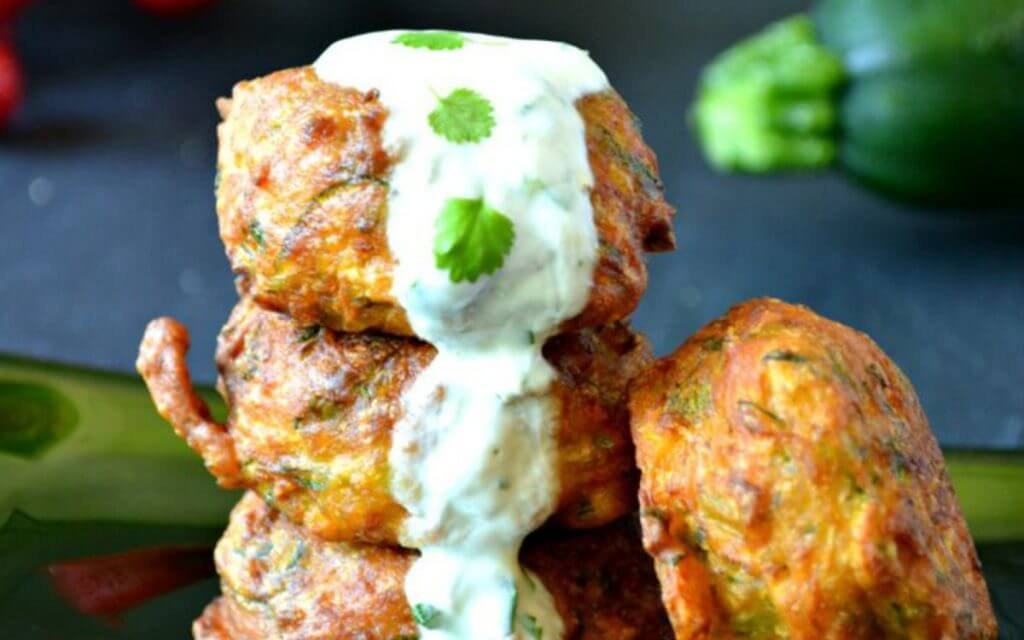 Zucchini are such versatile vegetables. You can fry them, steam them, stir-fry them, spiralize them into zoodles, even bake them into bread! In these Spicy Zucchini Fritters, zucchini are coated in rice and chickpea flour, seasoned generously, and fried. Top with your favorite creamy non-dairy dressing and serve with a side salad for a yummy, filling meal!
You
May
Love
To
Try
These Most
Popular 
Vegan Recipes
Sweet Potato Mac and Cheese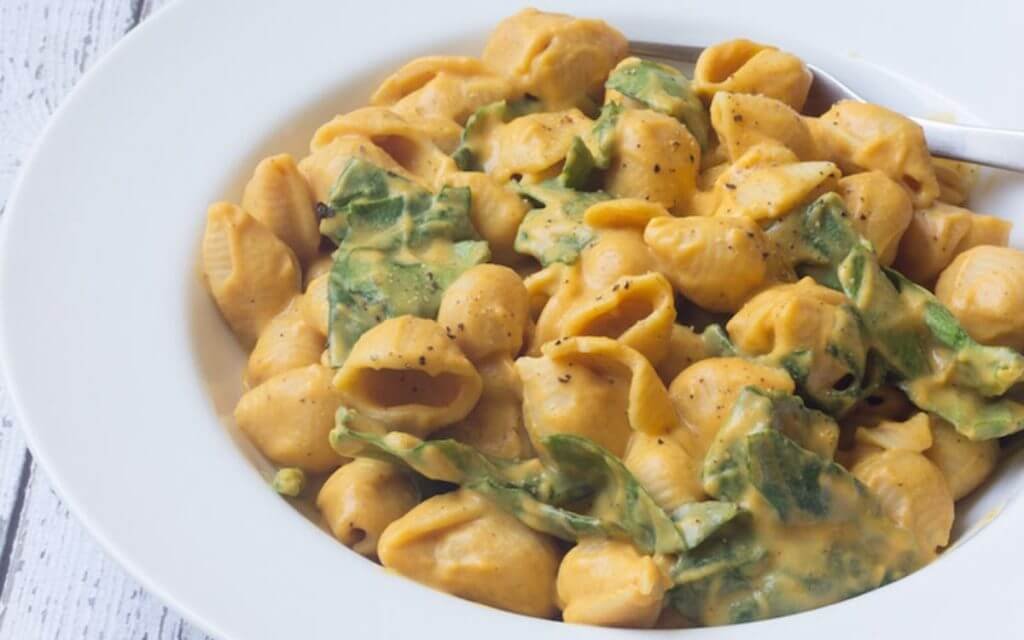 In this delicious Sweet Potato Mac and Cheese With Spinach, sweet potatoes serve as the base to make the cheesy orange sauce that we all know and love. The spices and mustard balance out the sweetness, to create the ultimate mac.
 Naan
This recipe for Naan is so pillowy, you'd never guess that it's gluten-free. These breads are best served while still fresh and warm, ready to eat with your favorite curry or biryani recipe. Of course, they're so good, that you might just want to make a batch to snack on.
Tahini-Roasted Cauliflower With Lemony Herb Oil 
Dinners, in the traditional sense, are usually centered around one main dish. For a stunning centerpiece that looks as amazing as it tastes, you have to try this Tahini-Roasted Cauliflower With Lemony Herb Oil. Along with being absolutely gorgeous, it is craftily spiced, rubbed down with a nutty tahini coating, drizzled with lemony herbs, and eventually garnished with roasted almonds.
4. Mushroom Butter Masala
If you've been to an Indian restaurant, chances are you've seen butter masala on the menu. It's a rich and delicious gravy curry with a sauce made creamy through the addition of milk or cream and butter. This vegan Mushroom Butter Masala is a spicy, creamy and a delicious dish that is the perfect accompaniment for steamed rice, flatbread, or even dosas
You
May
Love
To
Try
These Most
Popular 
Vegan Recipes
Szechuan Hot and Sour Soup
This Szechuan Hot and Sour Soup is considered a regional dish in both Mandarin and Szechuan cuisines. The hot comes from chile pepper and the sour comes from vinegar. Paired with stir fry or other Chinese-inspired mains and sides, this stand-out soup is perfect for winter
Spinach Dip Crescent Roll Ring
A must-have at any party, this Spinach Dip Crescent Roll Ring is just delicious. Creamy, garlicky spinach dip is wrapped in crescent rolls and then baked until the rolls are crispy and golden and the dip is warm. It's so easy to make, you may as well make two because it'll disappear fast.
  Lentil Burger With Mustard Sauce
These Lentil Burgers With Mustard Sauce are super tasty and only require four ingredients! The combination of earthy flavor from the lentils, the touch of sweetness from the raisins, and the nutty walnuts, make this a unique veggie burger you will fall in love with instantly. The zesty mustard sauce makes this burger even better!
Indian Mashed Potatoes With Curried Gravy

With potatoes, a blend of Indian spices, and peas as a garnish, these Indian Mashed Potatoes With Curried Gravy are kind of like a deconstructed samosa. Red potatoes are mashed with onion, cumin, mustard seeds, coriander, and turmeric. Then, they're topped with a curry-inspired gravy made from tomatoes, coconut milk, and even more spices. Serve this as a side to steamed vegetables and soft flatbread, like naan.
Click here for even more recipes
7 EXCEPTIONAL VEGAN AVOCADO RECIPES YOU WILL LOVE TO EAT