Vegan Style Easter Recipes For You To Celebrate
|
Enjoy the Holidays with these Vegan Style Easter Recipes
Vegan-style Easter recipes do not need to use traditional eggs. No need for them, vegan can do with chocolate eggs. Let the chicken keep their eggs.
Easter is approaching! Unfortunately, traditional Easter traditions have little to do with vegans, which is not to say that Easter can not be vegan! Very surprising even in the Easter assortment of the supermarket's vegan products are showing up and of course we have put together great recipes for the vegan Easter for you! 
Easter is like no other festival traditional coupled with products of animal origin, like eggs and the traditional lamb roast, many people think it is not possible to celebrate. But vegans say: It's is possible without! And very well. Vegan and Easter are not going together? With these ideas for Easter, you prove the opposite to everyone! For us, the Easter bunny brings vegan eggs. Vegan and Easter fit together very well. We will show in our selection of Easter recipes.  You will see how well your guests will like to taste the pure plant-based dishes. With our vegan recipes for Easter, you can be sure that Easter is a culinary highlight.
In the collection of vegan-style Easter recipes, you will find delicious Easter ideas. Look at our vegan-style Easter recipes and be inspired by the variety of ideas!
Vegan Style Easter Recipes For You To Celebrate
Coconut Cookie Chicks
Alright, onto the main event: dessert. Kids will love these adorable cookie chicks by Chocolate Covered Katie — and you can feel good knowing no actual animals were harmed in the making of these macaroons!
Peanut Butter Eggs
Make your own peanut butter eggs by Minimalist Baker for a vegan, whole-food version of the store-bought classic.
Healthy Cadbury Creme Eggs
Yes, that's right — healthy. Using coconut oil, this Chocolate Covered Katie recipe ensures you can eat more chocolate eggs without feeling sick afterward.
Caramel-Filled Easter Eggs
For yet another chocolate egg option, this The Pretty Bee recipe ensures the people who can't eat peanuts won't go without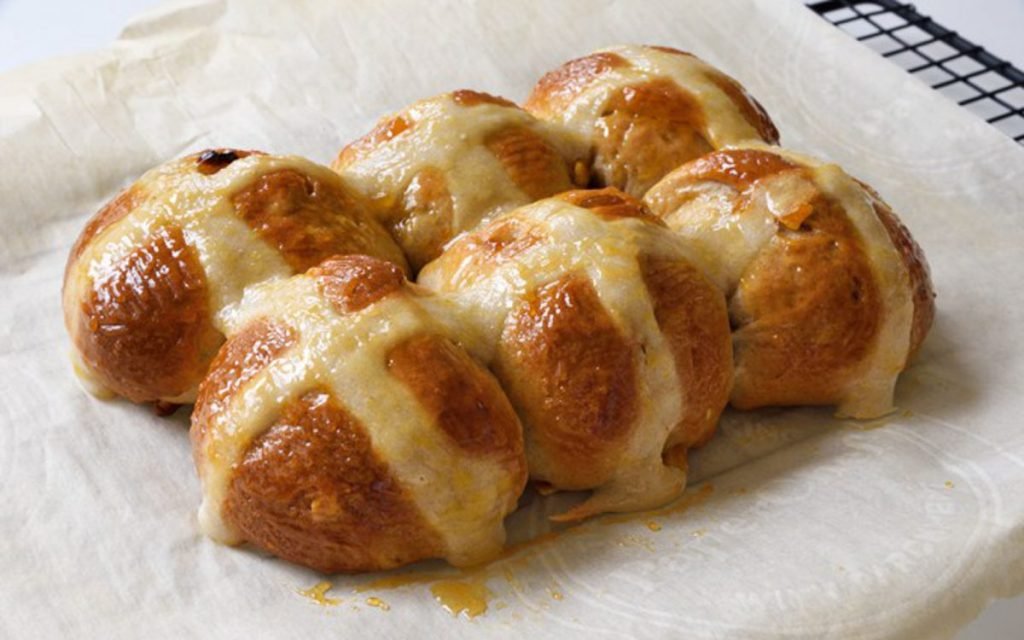 Source: Hot Cross Buns
An Easter favorite, indulge yourself with some lovely, sticky vegan Hot Cross Buns by Fabio Gallo. A hot cross bun is a spiced sweet bun made with raisins that are marked with a cross on the top. Traditionally, they are eaten on Good Friday. Serve these fresh from the oven with some butter and jam. Simplicity at its best.
Vegan Style Easter Recipes For You To Celebrate 
Source: Zucchini Vegan Egg Nests
This recipe is a fun take on the "zucchini egg nest," a popular recipe for paleo and keto lovers. Of course, this recipe doesn't use a real egg – It's a delicious zucchini vegan egg nest for the plant-based foodie. You have to try Hannah Sunderani's Zucchini Vegan Egg Nests!
This vegan egg salad sandwich tastes nearly identical to the egg salads I remember in my pre-vegan days and made from entirely plant-based foods.
Crispy Hash Brown Haystacks
These little haystacks/nests/whatever they look like to you by Minimalist Baker scream rebirth — and breakfast.
Carrot Cake Pancakes
Carrot cake? For breakfast? This recipe by Vegan Richa just might make you a believer.
Spinach Quinoa Chickpea Omelette
For the egg-lovers that don't want to hurt chickens, this omelet by  Vegan Richa is both gluten- and cruelty-free.
Carrot Cake Breakfast Muffins
Easter is all about those carrot recipes, and these breakfast muffins by Wallflower Kitchen are a great way to start your brunch.
Carrot Orange Fennel Soup
Carrots aren't just for cake! This soup by My Darling Vegan will make a beautiful addition to any Easter meal.
Creamy Kale Pesto Risotto
Just, yum. This Connoisseurus Veg recipe is so good-looking it almost hurts.
Creamy Asparagus & Pea Soup
So it might not make your pee smell great, but this asparagus pea soup by Minimalist Baker is totally worth it — and has those Easter pastels covered.
Spring Rolls With Crispy Tofu
Spring rolls never cease to be refreshing — or a great way to celebrate the season. This Minimalist Baker recipe is a perfect addition
Pea Pesto Pasta
If there's anything better than eating pesto pasta salad on a picnic blanket on the first day of spring, I'd like you to let me know. This Minimalist Baker recipe earns extra spring-spirit points by adding peas to the mix.
Butternut Squash Potato Salad
Potato salad is another key Easter staple — and this Minimalist Baker recipe makes things even more colorful (and nutritious) by adding butternut squash to the mix.
Cucumber Eggy Hummus Mint Bites
Well, these are just adorable. This Vegan Richa recipe is the perfect finger food if you're having people over.
Golden Milk Ice Cream
This ice cream by Minimalist Baker is almost too pretty a color to eat. Almost.
find more recipes here Vegan Easter Recipes
A Gift for you! Enjoy these vegan recipes for Easter.
Happy Easter!
Discover 15 easy, healthy, and tasty recipes, including breakfast, lunch, dinner, treat, and smoothies.
See also > Helpful Tips See How To Be Slim With A Plant-Based Diet
Join the new knock-your-socks-off membership of Bright Line Eating® Click here.
If you need help with losing weight and keeping on track, the Bright Line Eating program is a great program to support. It is based on cutting-edge psychology and neuroscience. Susan Peirce Thompson, Ph.D. It is focused on establishing healthier eating habits and compatible with a vegan diet.