Try These Absolutely Fabulous Cannellini Stuffed Portabellas
Absolutely Fabulous Cannellini Stuffed Portabellas Recipe by one of our Page Fans David
This absolutely fabulous Cannellini Stuffed Portabella Recipe comes from David Rash a Fan of our Vegan Page. Maybe some of you remember he had shared a VEGAN COCONUT-ALMOND CHOCOLATE CHIP COOKIES recipe with us a while ago, which was a success and we could tell him: "Hi David, people liked your recipes has had 155 shares. Keep doing good work."
This is inspiring for somebody who likes to cook. Today he shared this absolutely fabulous Cannellini stuffed Portabella recipe with Marsala and Arugula. It is all vegan, despite the parmesan which vegans can be easily changed, here is Davids Note: If you need this to be truly vegetarian, be sure to use a vegetarian-friendly Parmesan. Parmigiano-Reggiano contains animal rennet so it's not vegetarian. And while we're at it, you could always use vegan Parm to make this a vegan dish.
This should not be a problem for our vegan who loves to cook. Visit his site and see his philosophy about healthy food. Maybe you can find more recipes to change from vegetarian to vegan, which is not a big problem these days.
He made beautiful pictures for his post, he shares with us. See the recipe below and get ready to prepare.
Try These Absolutely Fabulous Cannellini Stuffed Portabellas
Absolutely Fabulous Cannellini Stuffed Portabella with Marsala & Arugula
I hate to call anything "health food". There's the argument that in calling certain foods, recipes or methods of preparation and cooking "healthy" it means that anything that does not fall neatly into those categories is "unhealthy". Because of our connotations to these words we mentally define them as "good" and "bad", respectively. There are certain foods that are "bad" for us to some extent—brownies, cake, deep-fried chicken, greasy burgers, full-fat cheese, heavy cream, etc.—but if we eat them in the now-passé-to-say way of "moderation" they're far less lethal than, say, eating the leaves of rhubarb, under-ripe potatoes, ill-prepared pufferfish or haphazardly eating wild mushrooms you find on the forest floor.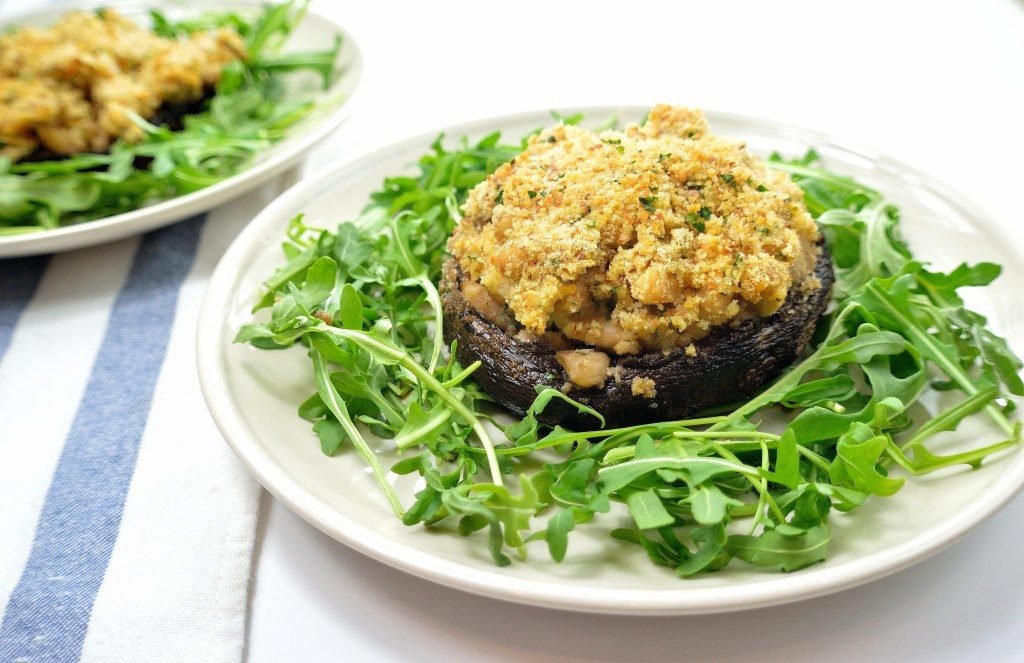 But for me, it goes beyond this metaphysical philosophy and the act of canonizing some foods while we demonize others. Read more about on Davids Blog
Cannellini-Stuffed Portabella with Marsala & Arugula (Revisited)
Cannellini beans flavored with lemon, garlic, chili, and rosemary are stuffed into meaty portabella caps and roasted with Marsala wine for a meal that's not only quick and easy but also pretty healthy (if you're into that).
Preparation
In a large mixing bowl stir together the garlic, ricotta, lemon zest and juice, chili flakes, rosemary, parsley, salt, extra virgin olive oil, and half the Parmesan. Tumble in about half of the beans and, with a fork, smash them until they're coarsely mashed—not entirely smooth, a little like chunky peanut butter. Fold in the remaining beans. Add half of the breadcrumbs and fold until completely incorporated. Evenly distribute the beans to the cleaned-out mushroom caps into mounding piles.
Mix the remaining Parm and breadcrumbs in a separate bowl and sprinkle over the top of the mushrooms and beans.
Heat the regular olive oil in either a very large non-stick, and oven-safe pan, or large roasting pan over medium heat and, once hot, carefully place the Bellas in. Let them cook for just a minute, giving them a gentle push to make sure they aren't sticking.
Shut off the heat and carefully pour in the Marsala, making sure not to get any into or on the mushrooms. Let it bubble up before transferring it to the oven for 15 – 20 minutes (up to 25 if the caps are very thick)—until the mushrooms are tender and the tops of the beans are crisp.
For the arugula
Whisk the lemon juice and salt together and then, slowly add the olive oils, whisking all the while to emulsify. Toss this with the arugula. Lay a light bed of baby arugula on your plates and nestle the mushrooms in. Sparingly drizzle the now syrupy Marsala over the leaves and serve immediately. Whether you're vegetarian or not, you'll find this totally satisfying. It's a pretty quick and easy vegetarian meal that's not only delicious but it's also pretty "healthy" (if you're into that).
Recipe Notes Visit the blog 
And here is the link to the VEGAN COCONUT-ALMOND CHOCOLATE CHIP COOKIES<
 VEGAN COCONUT-ALMOND CHOCOLATE CHIP COOKIES
I admit, unashamedly and without hesitation, that I am a chocolate chip cookie snob. They have to be just so, otherwise, there is no reason for them. They're simple, yes—even basic, some may say—but it's their simplicity that has made them a classic.
And here is the link to the VEGAN COCONUT-ALMOND CHOCOLATE CHIP COOKIES
Also, see This Are Some Of The Most Popular Viral Vegan Recipes For You
Protect  Yourself and Your Family from the most common chronic vegan deficiencies — without taking a bunch of supplements.  Click here
Take the 14-Day Challenge click here
If you need help with losing weight and keeping on track, the Bright Line Eating program is a great program to support. It is based on cutting edge psychology and neuroscience. Susan Peirce Thompson, Ph.D. It is focused on establishing healthier eating habits and is also compatible with a vegan diet.