Horseradish: the Spicy Hot Root with Surprising Health Benefits
|
It's Horseradish season.
Horseradish is in season in autumn. The root develops its sharpness when the cells are injured by cutting or grating. In nature, essential oils protect the plant from predators. People appreciate the spicy typical taste as an ingredient and side dish.
The fresher the Horseradish, the more intense its flavor. With a bit of lemon juice, the root stays nice and white. The root is best used raw or added to the food at the end of the cooking process. It loses aroma due to the heat.

Fresh Horseradish offers a much greater pleasure than from a jar. That's why you should take advantage of the season in late autumn. Grab succulent roots in one piece. The root, wrapped in cling film, can be stored in the refrigerator's vegetable compartment for several weeks.
Fresh Horseradish is very healthy.
We mainly use the root as a hot spice in the kitchen, but we often forget what healing effects and ingredients it has. The reason for this is the mustard oils it contains. They have a variety of effects on your body:
Pureed and slightly diluted, Horseradish is effective against stomach pain and constipation. The root also stimulates the production of stomach acid and bile after heavy eating, which improves digestion.
The secondary plant substances of the roots cleanse the blood and ensure good detoxification. The mustard oils can destroy bacteria and fungi and are effective against cystitis, colds, and sore throats.
A cloth with grated Horseradish on a painful area helps as a natural pain reliever after 10 minutes. A chest compress relieves colds and relieves painful coughs.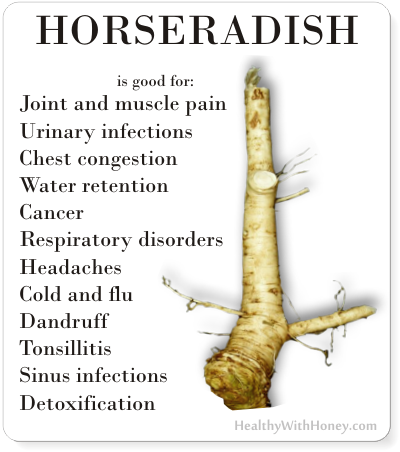 The ingredients: Horseradish is rich in vitamins B1, B2, and B6 and contains calcium, potassium, sodium, and magnesium. Therefore, the root is good for muscles, bones, heart, and circulation and regulates water balance.
Japanese Horseradish – Wasabi
It is even hotter, but it is challenging to find it fresh.
Sushi without Wasabi? Unfortunately, in more than 95 percent of all sushi restaurants, you are served a cheap copy and not real Wasabi instead of the spicy root vegetable. Instead, it is just ground Horseradish mixed with Japanese mustard and green food coloring.
Read > The Real Difference Between Wasabi And Horseradish
Wasabi is a Japanese rootstock that is also called "water horseradish." The green root needs a lot of clean water to grow. The taste of Wasabi is also similar to that of Horseradish. So, hardly anyone notices the copy.
You can tell whether it is a copy of Wasabi by looking at what is on your plate.
Real Wasabi is pastel mint green, while the copy is bright green. The taste of the fake paste is somewhat sour and spicy. If it is real Wasabi, you can notice a much more complex, fruity, sweet taste that is not quite as spicy as Horseradish. Wasabi spiciness is easy to endure!
Real Wasabi is expensive because it is challenging to grow. It matures for 24 months and grows wild only on the banks and streams in Japan and the Russian island of Sakhalin. The cost per kg is between US$160 – US$250 and is the main reason why most sushi restaurants cannot afford the expensive vegetables and resort to the cheap version.
Another reason is that a freshly grated root only lasts for 20 minutes. Afterward, the whole taste disappears, which is quite annoying for such an expensive vegetable. So, Horseradish paste gives our sushi an even more spicy kick than real Wasabi and retains its full flavor after two hours.
Horseradish Botanically
Horseradish is a cruciferous vegetable that is relatively undemanding regarding soil. It grows almost everywhere, even in partial shade. It particularly likes moist, loose humus. Pieces of roots that remain in the ground continue to grow. It is frugal, requires little care, and does not require fertilizer.
Horseradish, Armoracia rusticana, is widely available. It is fully hardy, vigorous, long-lived, and best planted in a container to limit its spread.
Recipes with Horseradish
This Vegan Cauliflower Soup is easy, creamy, and a perfect cozy classic! Enjoy it in a simple, comforting, unassuming, mellow way, or zip it up with the addition of some horseradish sauce, nutritional yeast, or piles of vegan cheese!
Crispy, crunchy, golden potato fries are smothered in a smoky, delicious bean and quinoa chili, and all of it is drizzled over with a cheezy horseradish sauce that's to die for.
Source: Roasted Beets and Kale Salad with Horseradish Crema and Hazelnuts by Viktoria Radichkova is sweet and earthy, with a spicy kick and lots of toasted nuts and seeds. This fall salad packs a ton of flavor and a festive look, perfect for a special occasion.
Source: Cauliflower Bean Burger With Horseradish Slaw
Have extra cauliflower florets lying around? How about a can of kidney beans or chickpeas that are occupying space in your cupboard? Mash the cauliflower florets and pulses together to form patties, sear them lightly on each side, and then get creative with burger condiments.
This homemade sauce features fresh horseradish, dairy-free mayonnaise, and a few other simple ingredients for an end result that's savory, creamy, and with just the right amount of spice.
One of my absolute favorite flavor profiles is actually Dijon! It makes a fab dressing marinade, and the taste just keeps me coming back. Whether you also love dijon or just flavor-packed dishes, this one is a win!
This vegan steak panini with horseradish aioli is at the top of my list for best sandwiches of all time. Thinly sliced tofu, marinated in a magical marinade. Baked until nice and firm.
Beets, cauliflower, and carrots are always among my choices because of their high content of antioxidants—beta-carotene in carrots and betalains in beets—important for sustaining the natural detox function of our bodies. The dressing enhances the flavors and gives a delicious twist to these roasted veggies.
Although it wasn't all heavy, I did want to make sure we had a delicious, healthy, and light Autumn-inspired vegetable salad to balance everything out. Consequently, personally, this salad was also my favorite part of the meal. What dish would you have brought to share at my fall potluck dinner?
Back when Chef Jason Wyrick published a vegan magazine, he shared this recipe for dairy-free cheese with us. He said, "This is a take on a cheese I used to enjoy in the old days. It is creamier than the traditional cheddar I used to have, but the flavor is spot on."
See also: Do You Like Sushi? Try These Japanese Vegan Recipes
Get the free eBook >Top 25 Immune-Boosting Natural Medicines
This free eBook shows you the Top 25 Immune-Boosting & Easy-to-Access Natural Medicines. Nature's way of keeping you healthy: 25 natural remedies that are scientifically proven to strengthen your immune system and help your body fight oncoming diseases!