How To Replace Your Meal With A Healthy Smoothie
|
Why not replace a meal with a Smoothie sometimes?
A healthy Smoothie can replace a meal. If you are in a hurry and have no time to go for a meal during a busy day, you can replace it with one of these powerful and healthy smoothie recipes. It is possible to make one of these healthy smoothie recipes and take it with you to work. Suitable also for after the workout.
It is a potent drink full of nutrients and healthy for kids. They are delicious and rich in protein and vitamins making them a great meal replacement. Everybody has a quick meal with the right Kitchen tools like a Vitamix or even a Handblender. A light and powerful meal for busy people. Why not give it a try? 
Smoothies are whole fruit drinks. In contrast to conventional juices, you use the entire fruit except for the skin and the kernel in smoothies. Therefore, the basis of the smoothies is the fruit pulp or fruit puree. Depending on the recipe, you can mix it also with juices to achieve a creamy consistency. 
These whole fruit drinks or smoothies come in many different variations. Many smoothies only consist of fruit and vegetables. The banana is often a primary ingredient.
But there are also smoothies with yogurt, milk, ice cream, or food supplements boosters, such as proteins, minerals, or vitamins.
There is no scientific proof that our body can absorb synthetic vitamins from vitamin pills or beverages and foods fortified with them. It is always best to absorb the vitamins in their natural form, directly from fruits, vegetables, and herbs.
Because vitamins and other phytochemicals decay during storage and preservation, it is healthier to freshly prepare a smoothie at home instead of using the ones in the supermarket.
A liquid snack
So smoothies are liquid fruit snacks. Due to their exceptionally concentrated fruit taste, they are delicious, varied, and extremely healthy.
They are incredibly filling diet boosters, full of energy for fitness training, from slim smoothies to beauty smoothies.
The nice thing about smoothies is that you can mix them in no time at all: They invite you to relax and chill in a healthy, nutritious way to give you natural energy afterward. The power drinks you make from creamy, pureed fruits and vegetables are real fit-makers.
If you make smoothies yourself, they are free from additional sugar, preservatives, and additives and always guaranteed to be fresh. 
A smoothies meal replacement is also a magic formula that helps to lose weight. It's simple: replace one or more meals a day with smoothies.
It has the advantage that the diet is easy to manage and does not require a lot of time: Mix your favorite smoothie, depending on the time of day, and your body receives all the essential nutrients.
You get more than enough vitamins and minerals if you prepare delicious smoothies with local and seasonal fruits and vegetables!
Another tip: enrich your homemade smoothie with fresh herbs or spices. Then it will be even tastier. Just try it!
Read TIPS FOR CREATING YOUR OWN HEALTHY JUICING DIET DRINKS! and TIPS TO MAKE HEALTHY AND TASTY DRINKS AND SMOOTHIES
How To Replace Your Meal With A Healthy Smoothie
HEALTHY PEANUT BUTTER BANANA SMOOTHIE
A smoothie is the ultimate quick breakfast or snack in every season, and this Peanut Butter Banana Smoothie is one of our all-time favorites. There is more to our recipe than peanut butter and banana because we wanted to make sure this smoothie was filling and nutritious. 
Find the recipe here: Lexi's Clean Kitchen
The Ultimate Healthy Meal Replacement Smoothie
Greens, pineapple, mango, coconut milk, and flaxseed make this a tropical taste delight, while protein powder adds sustenance and a delicious hint of vanilla.
It's a truly balanced meal replacement.
This smoothie is also customizable, so if you want to include ingredients you have on hand, have at it!
Find the recipe here: Yuri Elkaim
Orange Mango Recovery Smoothie
Protein powder and cashews give this Orange Mango Recovery Smoothie and edge up on other smoothies.
Plus, you can't beat the sunny taste combo of orange and mango, which is just what you need to break up your day.
Find the recipe here: Running on Real Food
Almond Breakfast Smoothie
If you love almonds you're going to love this one, which features complex carbohydrates, plant-based protein, and healthy fats all in one glass.
Oats, protein powder, almonds, and almond milk give this recipe everything you need in a healthy meal replacement smoothie.
Find the recipe here: ifoodreal or alternative Almond Milk Smoothie
 The Husband Protein Smoothie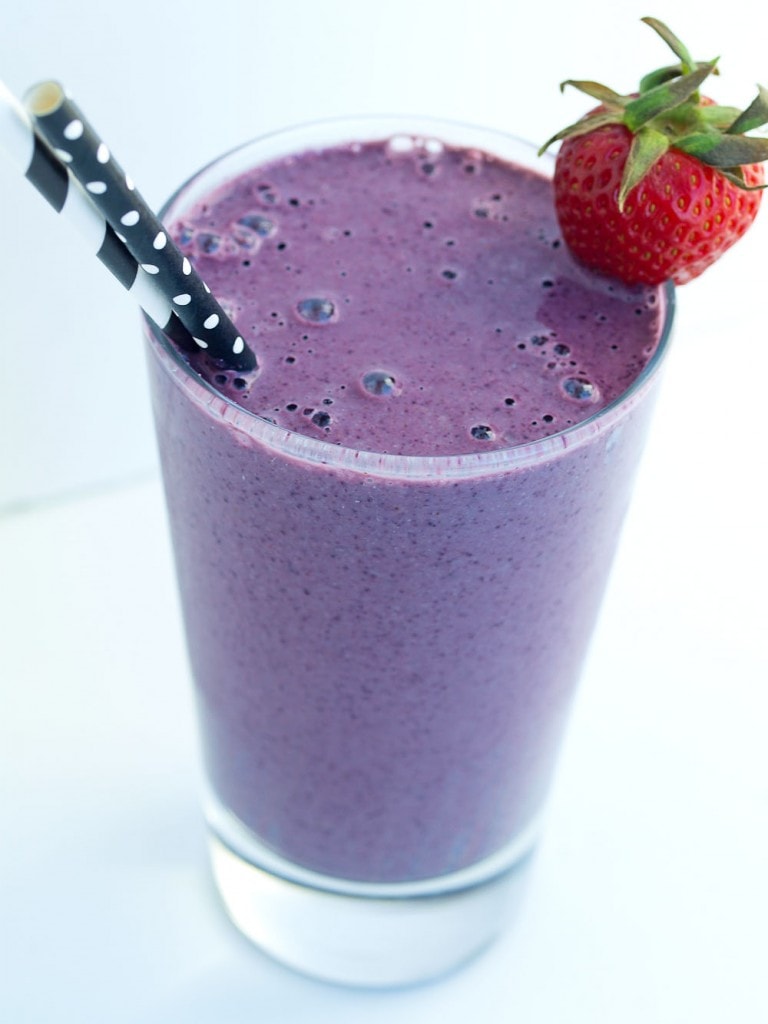 This is a hearty smoothie that will satisfy even the biggest appetites – and the finickiest of tastebuds, too.
Packed with fruits, veggies, and heaps of protein from hemp seeds and almond butter, this smoothie is truly a meal.
Find the recipe here: Happy Healthy Mama
No-Hunger Post-Workout Shake
Stop your hunger pangs before they start with this creative and delicious smoothie that has unexpected ingredients.
It features blended northern beans, chia and hemp seeds, and almond butter for protein and healthy fats, as well as other ingredients for the perfect post-recovery or meal replacement smoothie.
Find the recipe here: Yuri Elkaim
Blueberry chocolate smoothie
Enjoy a healthy Blueberry Chocolate Smoothie when you're craving something sweet. It's easy, gives you a cool boost of energy, and tastes like a dream!
Find the recipe here: Jennifer Meyering
CREAMY BANANA AVOCADO SMOOTHIE RECIPE
This banana avocado smoothie is rich, creamy, and thick enough to serve as an avocado smoothie bowl or in a glass; a healthy, nutrient, and antioxidant-packed way to start the day! Best of all, this avocado smoothie recipe is gluten-free, dairy-free, and uses just ½ banana per serving!
Find the recipe here: Alpha Foodie
See more recipes > Healthy Meal Replacement Smoothies for Busy People
See also FRESH, QUICK AND EASY RECIPES RIGHT FOR THE SEASON
How You Can Get Beautiful Skin By Eating Greens
Often it is our eating and lifestyle habits that cause weight problems. Why not take a challenge and establish a new and healthier lifestyle? The best time is always " now."
If you need help with losing weight and keeping on track, the Bright Line Eating program is a great program to support. It is based on cutting-edge psychology and neuroscience. Susan Peirce Thompson, Ph.D. It is focused on establishing healthier eating habits and is also compatible with a vegan diet.
Join the new knock-your-socks-off membership of Bright Line Eating® Click here.
See also Tips On How To Free Yourself From Emotional Eating