A Smoothie With Mango, Carrots And Kiwi For Your Wellbeing
|
Mango, Carrots and Kiwi a nice combination
Mango, Carrots and Kiwi Smoothie does this not sound delicious? It looks tempting and colorful. Something the whole family will like. Kids will be encouraged to like healthy vegetables and fruits. Much better than all the sweet, they usually like and want. Does it not make you like to try this Smoothie with Mango Carrots, and Kiwi? With the right tools it is easy and quicly prepared. Drink it right away after preparing and get all the nutrition. To your and your families health and vitality!!
More about juicing >JUICE DIET – TIPS TO MAKE HEALTHY AND TASTY DRINKS AND SMOOTHIES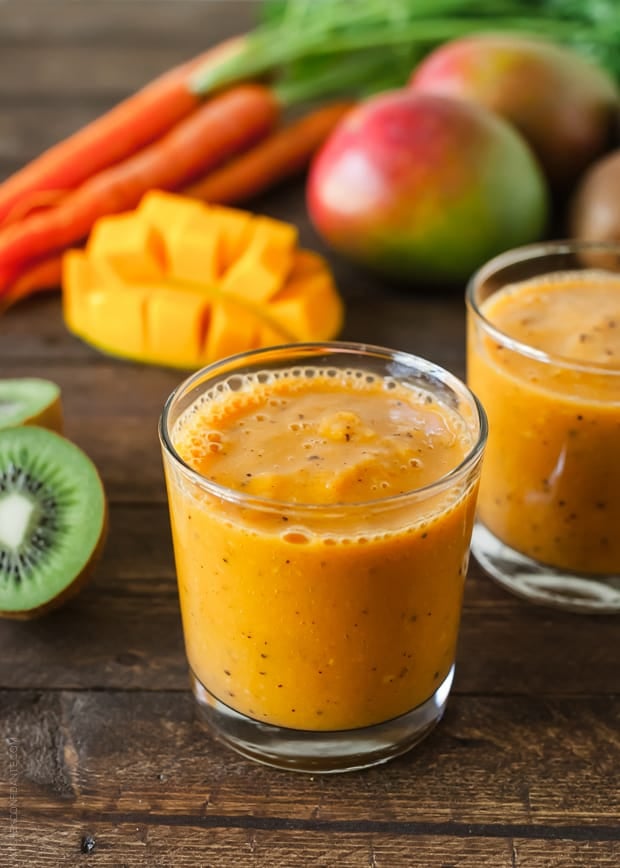 Look at this ingredients, beautiful

This Carrot Mango and Kiwi Smoothie is my current favorite. I've been adding it to my rotation of daily smoothies, and when I sip the vibrant orange smoothie, it is cool, refreshing, and quite tropical. The trio is like the three musketeers, heralding the warm weather ahead of us.
If carrots were to hang out in the tropics, I think I know where to find them. They'd be hanging with the mangoes and the kiwis. Take a sip, I think you'll like how well they play together!
Mango, Carrot and Kiwi Smoothie
See the whole recipe here   Mango Carrots and Kiwi Smoothie
Try these ones >(VIDEO) WATERMELON JUICE A SUMMER DRINK
REFRESHING COOLING SUMMER JUICES AND DRINKS TO ENJOY
8 DELIGHTFUL AND HEALTHY SMOOTHIES, LEMONADES & BEVERAGES
HEALTHY JUICES AND SMOOTHIES THAT ENERGIZE AND MAKE FIT