Is This The Best Vegan Falafel Recipe You Will Ever Need ?
|
A Perfect and Easy Vegan Falafel Recipe
Falafel is often the best and only  plant-based food a vegan can find on the way. It is a very tasty Mediterranean food.
Many people like it and wonder how it is made. What are the ingredients and what spices are used to make it taste original? The sauce which is served with
Falafel is also very delicious.
Not all Falafel recipes are good, but here is one which is perfect and tastes original together with a tasty sauce.
Homemade is always
the better choice.
Click here for satisfying Lunch Recipes
Is This The Best Vegan Falafel Recipe You Will Ever Need?
World, meet falafel. Falafel, meet your eaters.
These falafel are simple, requiring just 10 ingredients (give or take a spice), and come together in a blender or food processor.
They also sauté up beautifully in just 5 minutes! The only waiting period is 1-2 hours for chilling the dough (which is optional but recommended). Otherwise, these little gems come together with minimal effort and time.
What is a falafel without a good sauce? My 4-ingredient garlic-dill sauce is not to be missed. While your falafels are cooking, whip this up in just 5 minutes to elevate this dish to the next level of awesome. Trust me on this one – you're gonna want that sauce.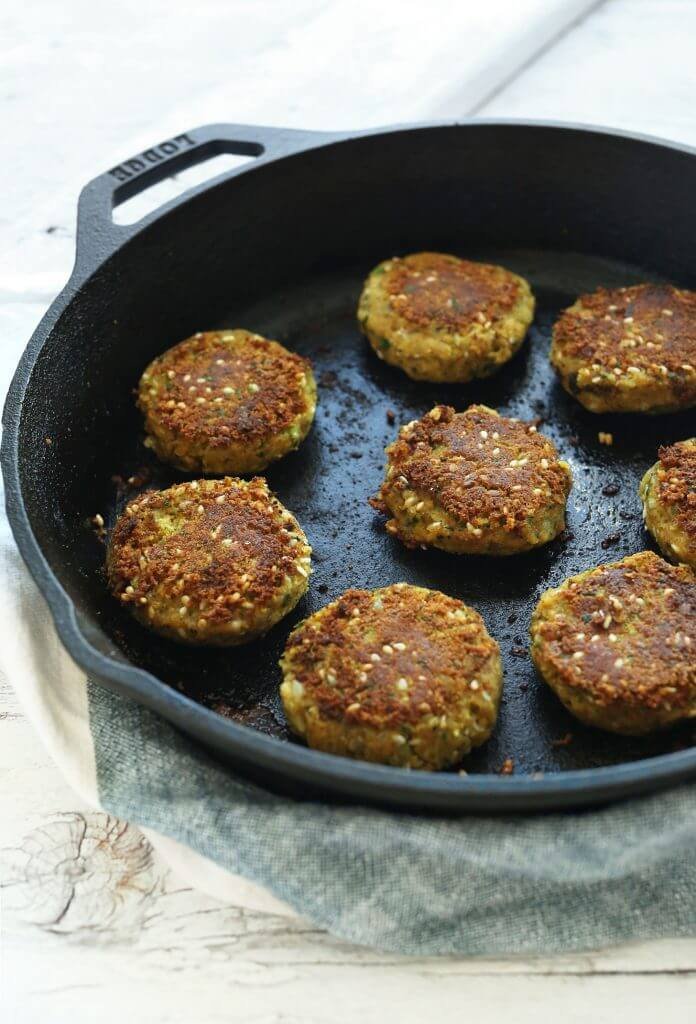 I hope you all love this recipe! It's:
Simple
Flavorful
Crispy on the outside
Tender on the inside
Garlicky
& Super satisfying
Who needs take-out when you can make perfectly delicious falafel at home? Serve these in a pita with tomato, onion, lettuce, and my garlic-dill sauce and you're seriously good to go. Hummus and vegetables make an excellent side dish. Otherwise, serve these atop a bed of greens for a lighter option.
Total time
2 hours 10 mins
Easy, 10-ingredient falafel made with chickpeas and seasoned with parsley, cumin and garlic. A simple, flavorful, hearty plant-based meal.
Author: Minimalist Baker
Recipe type: Entree
Cuisine: Mediterranean, Vegan
Serves: 12
Ingredients
1 15-ounce (425 g) can chickpeas, rinsed, drained and patted dry
1/3 cup (15 g) chopped fresh parsley (or sub cilantro)
4 cloves garlic, minced
2 shallots, minced (~ 3/4 cup, 65 g | or sub white onion)
2 Tbsp (17 g) raw sesame seeds (or sub finely chopped nuts, such as pecans)
1 1/2 tsp cumin, plus more to taste
1/4 tsp each sea salt and black pepper, plus more to taste
OPTIONAL: Healthy pinch each cardamom and coriander
3-4 Tbsp (24-31 g) all-purpose flour (or sub oat flour or gluten-free blend with varied results)
3-4 Tbsp (45 – 60 ml) grapeseed oil for cooking (or sub any neutral oil with a high smoke point)
OPTIONAL: Panko bread crumbs for coating (see instructions)
Garlic Dill Sauce for serving (found within the Mediterranean Baked Sweet Potato Recipe)
Instructions here > Easy Vegan Falafel
Also, see > vegan recipe that hit
See also> 4 HEALTHY VEGAN RECIPES TO COMFORT YOU
Take the 14-Day Challenge click here
If you need help with losing weight and keeping on track, the Bright Line Eating program is a great program to support. It is based on cutting edge psychology and neuroscience. Susan Peirce Thompson, Ph.D. It is focused on establishing healthier eating habits and is also compatible with a vegan diet.