The Ultimate List Of The Best Vegan Squash Recipes
|
 The 16 best vegan recipes for of all kind squash
Here is the ultimate list of best vegan squash recipes. A recipe collection to try with all kinds of squash like Butternut, Acorn, Kabocha, Spaghetti Squash, Pumpkin. There will be some new varieties for you to experiment with. Mouth-watering vegan Squash recipes which make you a squash expert. Squash is healthy and nutritious.
Squash is an excellent source of beta-carotene and potassium, and a source of Vitamin C  vitamin A  vitamin E, thiamin, niacin, vitamin B-6,  pantothenic acid, magnesium, and manganese, and folacin. If prepared with these delicious best vegan squash recipes, it is a delight to eat.
You can buy Squash locally grown and can store it. Butternut for example up to six-month Spaghetti Squash 4-5 weeks. Look at this amazing variety and start to discover new ways to prepare squash and pumpkin.
Your family and friends will adore you for meals with the 16  best vegan squash recipes.
Read also>Top Health Benefits of Squash + How to Prepare and Eat It
The Ultimate List Of The Best Vegan Squash Recipes
Curried Chickpea and Quinoa Stuffed Acorn Squash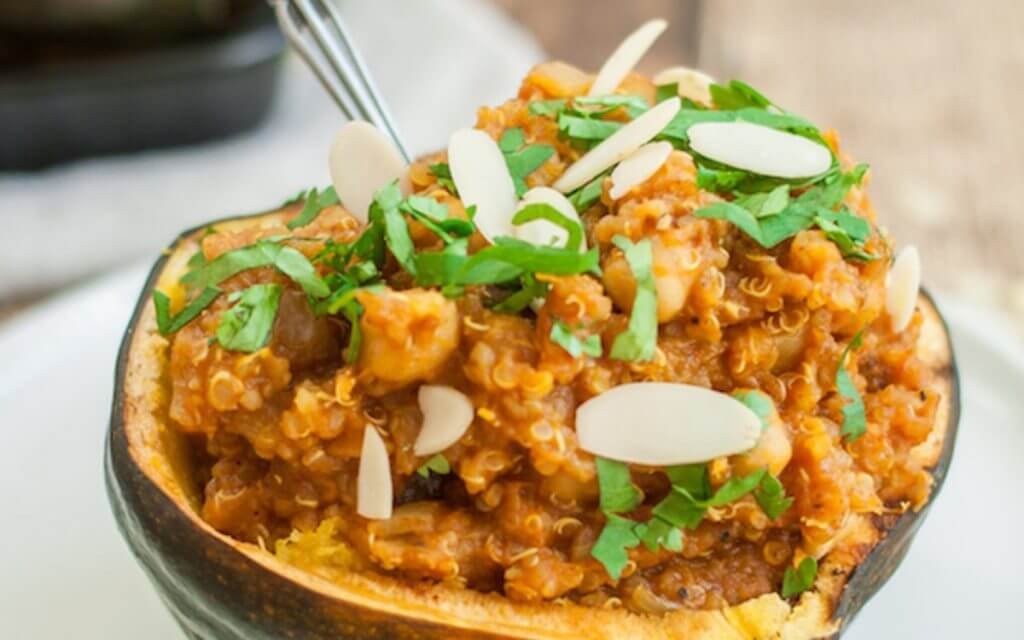 As far as fall comfort food goes, stuffed squash is among the best of the best — especially when you bring some fusion flavors to the table. This Curried Chickpea and Quinoa Stuffed Acorn Squash is made with bold and vibrant Indian flavors, balanced with some fresh herbs. Saving the squash shells for serving is entirely optional, but it definitely helps capture the mood of fall
Moroccan Pilaf Stuffed Squash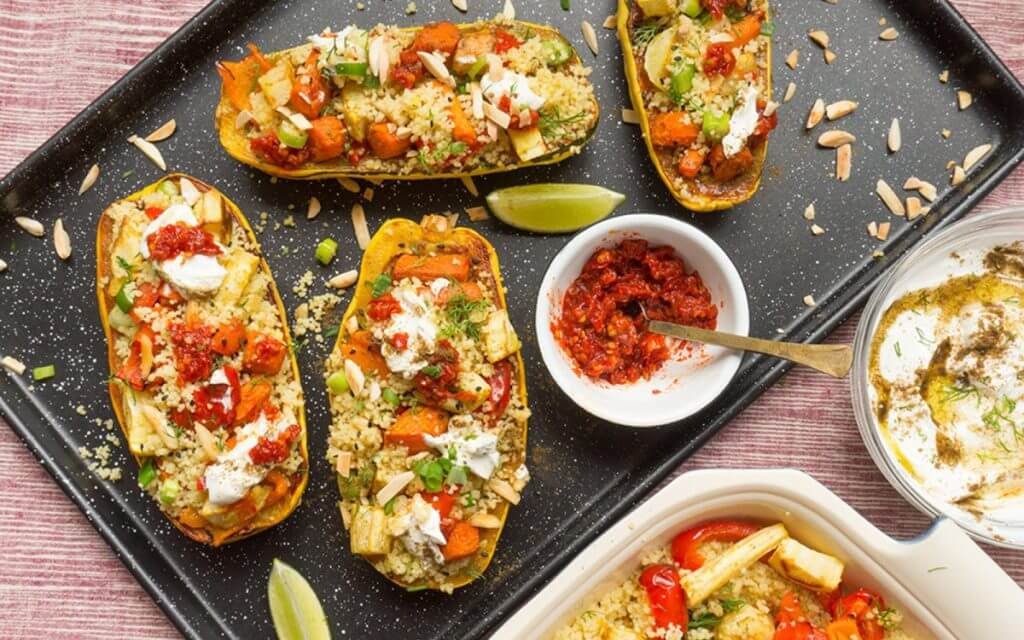 This savory Moroccan Pilaf Stuffed Squash is guaranteed to win you over! Seasoned with fresh ginger, dashes of Ras al Hanout and Za'atar and topped with harissa and kefir, the flavors are heartwarming and exotic. Stuff it into some tender, brightly hued delicata squash for a lovely and seasonal dish!
Quinoa and Sloppy Joes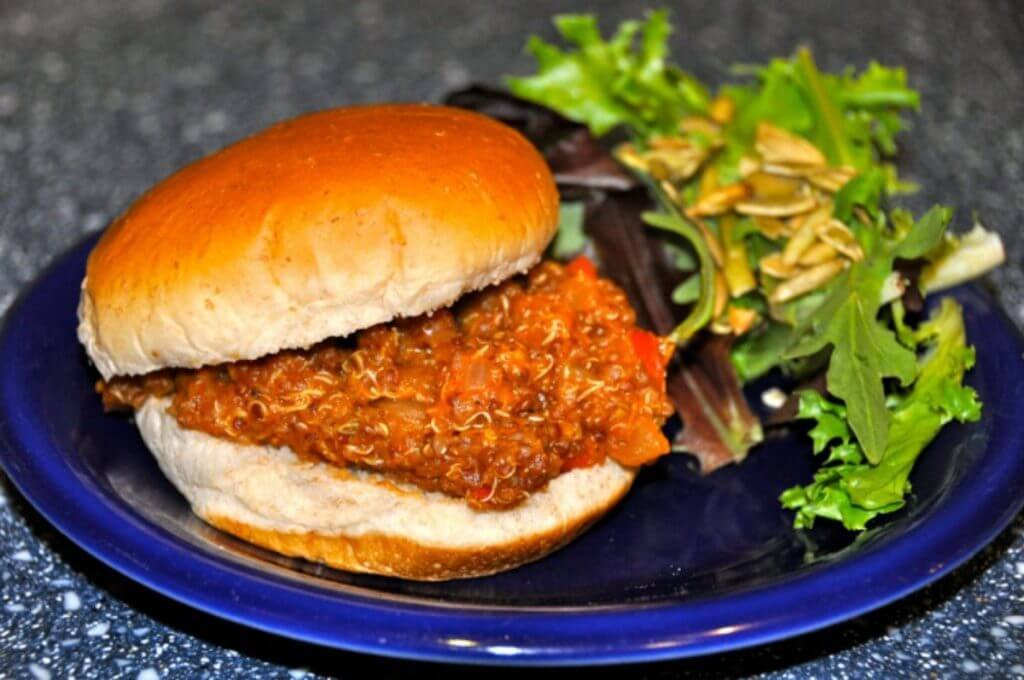 These easy and satisfying Quinoa and Squash Sloppy Joes swap out the chopped beef for quinoa combined with onions, garlic, bell peppers, spices, and roasted buttercup or acorn squash. The taste is thick, rich, and it's sure to keep you full — perfect for a cold night's hearty dinner! Pair it with a crisp side salad or a crunchy slaw
Black Bean and Spaghetti Squash Casserole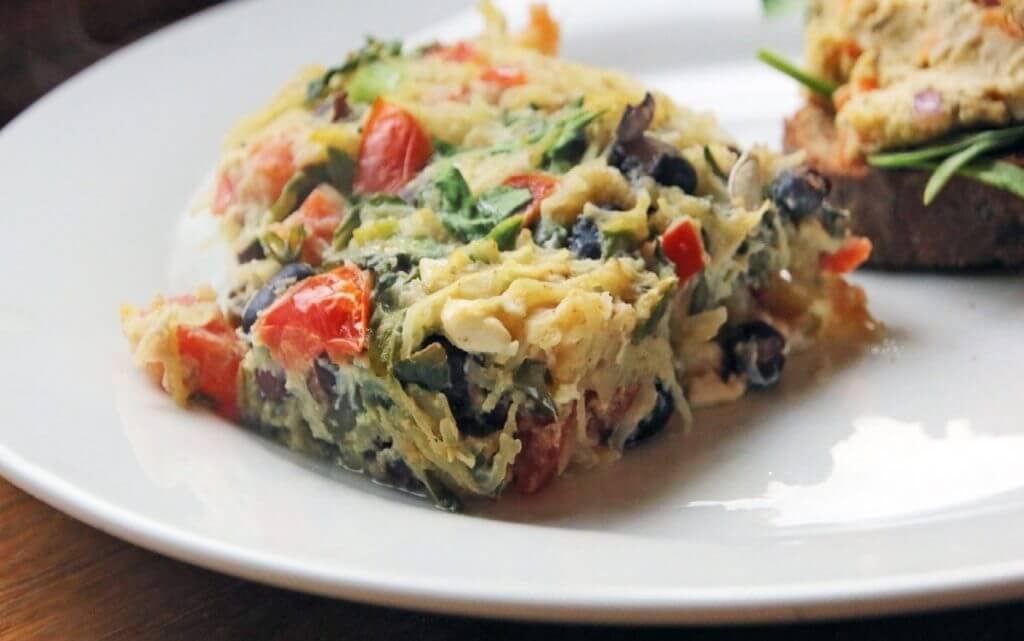 Looking for something quick, easy, and filling? Look no further than this Black Bean and Spaghetti Squash Casserole. Mix Spaghetti squash noodles with vegan feta, black beans, savory tomatoes, and spinach, then bake until warm and bubbly. Serve on its own or with bread on the side.
The Best Vegan Squash Recipes
Kabocha Croquettes
Also known as Japanese pumpkin, kabocha squash tastes like a velvety butternut squash, and it is the squash you have been searching for your whole life! You might find something similar to these Kabocha Croquettes served in Japanese restaurants called "kabocha korokke," but typically, they have eggs and little to no seasoning. Here, they are egg-free and seasoned with warm spices and shallow-fried instead of deep-fried
Curried Chickpea Stuffed Spaghetti Squash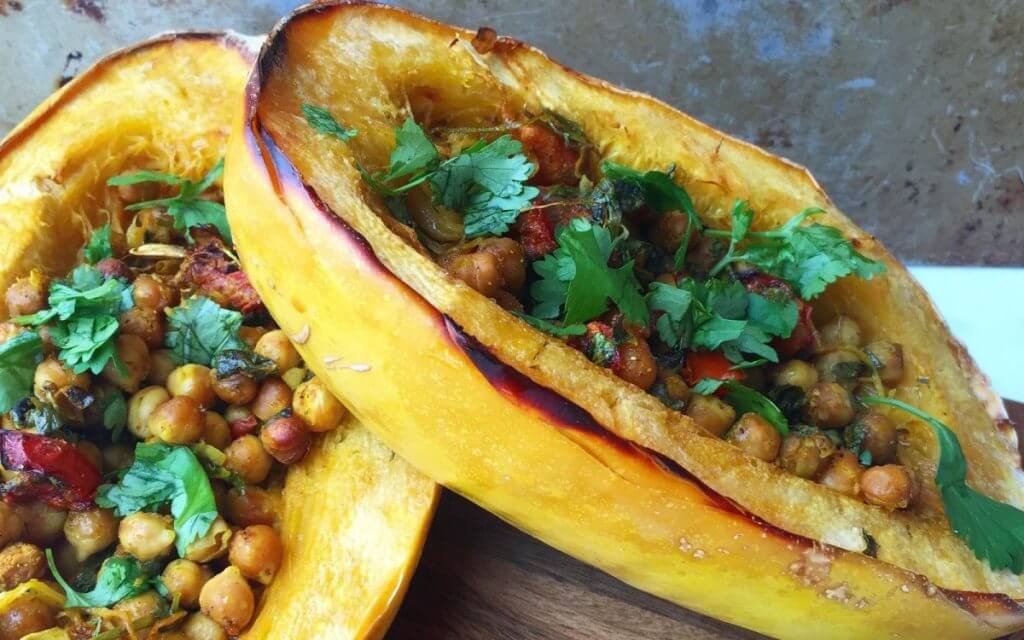 This Curried Chickpea Stuffed Spaghetti Squash has such amazing presentation, you'll be amazed at how quickly you can whip it up! Spaghetti squash is simply halved, scooped out, filled with deliciously seasoned chickpeas and tomatoes, and then baked. Chickpeas, like all beans, are rich in zinc, but the spaghetti squash provides a good amount as well. It's not your conventional curry at all, but it's just as hearty, flavorful, and filling
Burgers are perfect for combining a variety of different flavors and textures and creating something delicious easily. This particular recipe combines buttery chickpeas, sweet pumpkin, and dill to craft a breaded burger that is fresh and light but still satisfies. Top these burgers with arugula, avocado, relish, tomato, or any of your other favorite fixings!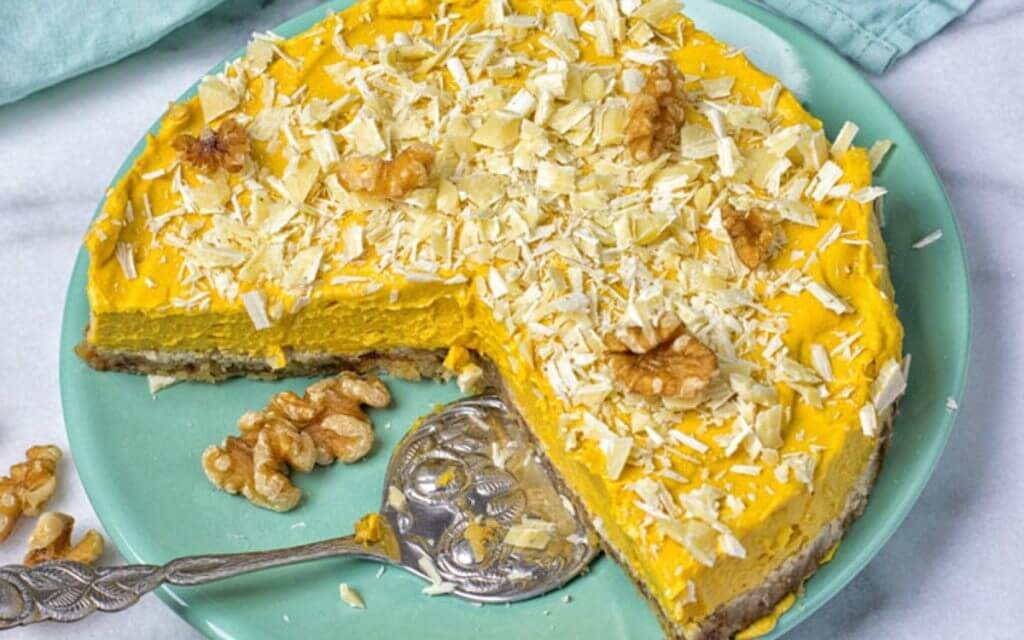 This stunning white chocolate pumpkin cheesecake is a dessert dream. It's creamy, sweet, and decadent with delicious fall flavors. Not to mention, it's made with minimal preparation and ingredients — no waiting hours between steps. Do yourself a favor and make this decadent cheesecake for your family, friends, holidays date night, or just yourself.
The Best Vegan Squash Recipes
Scalloped Butternut Squash
This Scalloped Butternut Squash has all of the ooey-gooey cheese deliciousness you crave, without having to use any actual cheese! Tender butternut squash, cashews, vegetable broth, and nutritional yeast, are blended together to create a velvety, silky cheese sauce that pairs perfectly with the potatoes and onions. This dish is ultra-comforting, supremely flavorful, and a guaranteed hit at any get-together!
Pumpkin Chai Protein Doughnuts
Doughnuts are one of those delectable treats that feel way too sinful to indulge in if you are trying to eat healthy. While that's usually the case, these Pumpkin Chai Protein Doughnutsprove that they can be made healthier. Made with gluten-free flour, coconut oil, pumpkin purée, and chai protein powder, these doughnuts are not only deliciously moist and flavorful, they're chock full of good-for-you ingredients! Add the sweet vanilla glaze for a bit of added decadence or enjoy them solo!
Chef Bryant Terry came up with this recipe during a cooking demonstration in Memphis, Tenn. "I went to the market and saw these beautiful squash and juicy pears," he explains. "With some crusty bread, you can actually make a meal out of it."
This pumpkin lasagna takes a traditional recipe, infuses it with iconic fall flavors, and makes it vegan to boot. You're welcome.
Pumpkin season is here, and why not kick it off with a bang? This vegan pumpkin lasagna recipe is a healthy, delicious, and celebratory way to enjoy the fall season's most prized ingredient.
The Best Vegan Squash Recipes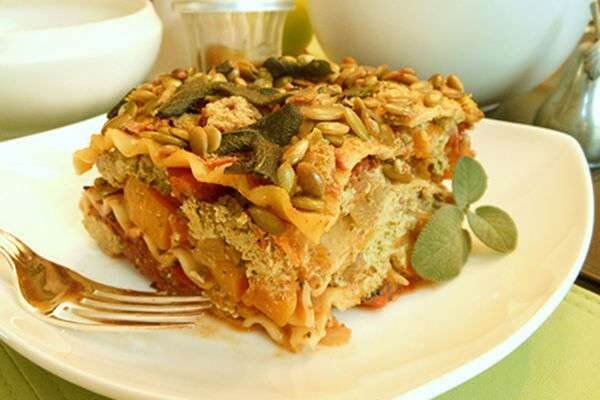 Try this golden lasagna, a perfect addition to your holiday feasts.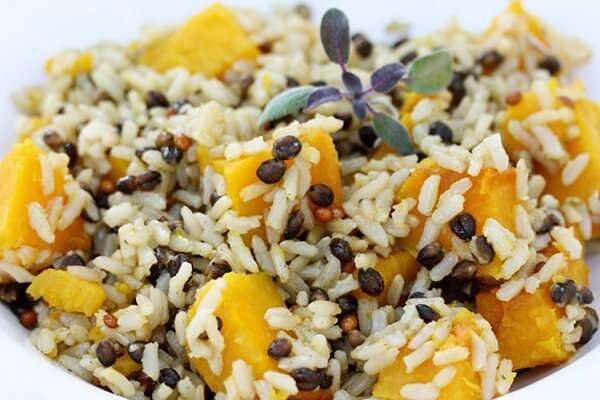 This is the perfect fall meal and you can replace Kabocha squash with yams if you'd like. This is a gorgeous and delicious dish.
This is an incredible raw soup that is tasty, light, and filling.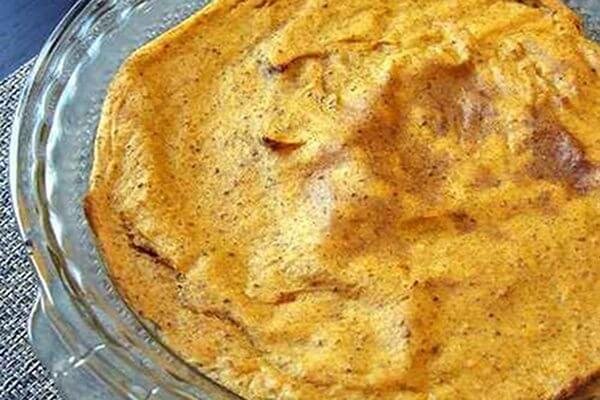 Butternut squash is packed with fiber, antioxidants, and anti-inflammatory nutrients. They are also high in beta-carotene. Try this spicy butternut squash pie to reap the nutritional benefits.
See even more recipes here
More Squash recipes The Best Vegan Spaghetti Squash Recipes Easy To Prepare