Best Recipes To Fill Your Jar With These Tasty Vegan Cookies
 Vegan Cookies, recipes for your Holidays
Holidays are coming, and time to make vegan cookies all egg-free, dairy-free, and healthy. Celebrate the holidays with a variety of cookies and find out which ones are your family's favorite.
The best part for the kids is the cookies during the holiday time. Good, there are many recipes here, and the jar can be filled. No need to hide them as the grandmas did.
Make enough of them because even as a gift, everybody loves to have cookies, surprise your friends and colleagues.
Have fun, get started, and try them all out.
 Recipes To Fill Your Jar with These Vegan Cookies
1. Dark Chocolate Pumpkin Gingersnaps
It's the season for pumpkin pie and pumpkin spice lattes but try these Dark Chocolate Pumpkin Gingersnaps instead! They're studded with dark chocolate chunks, and bold, warm autumn spices. This is one heck of a cookie!
2. Spiced Sugar Cookies with Maple Icing
Sugar cookies are a classic dessert, but these Spiced Sugar Cookies get a seasonal twist with warm autumn spices like nutmeg, cinnamon, and allspice. The maple icing is decadent and delicious.
3. Spelt Basil Chocolate Chip Cookies
The combination of flavors in these Spelt Basil Chocolate Chip Cookies may sound strange but it really makes a delightful cookie! The taste is more earthy than it is green. It is reminiscent of the smell after a thunderstorm. The earth is all upturned and the plants are splayed across the sidewalk and everything smells fresh and deep. That is what these cookies are.
4. S'mores Cookies (Minus the Campfire)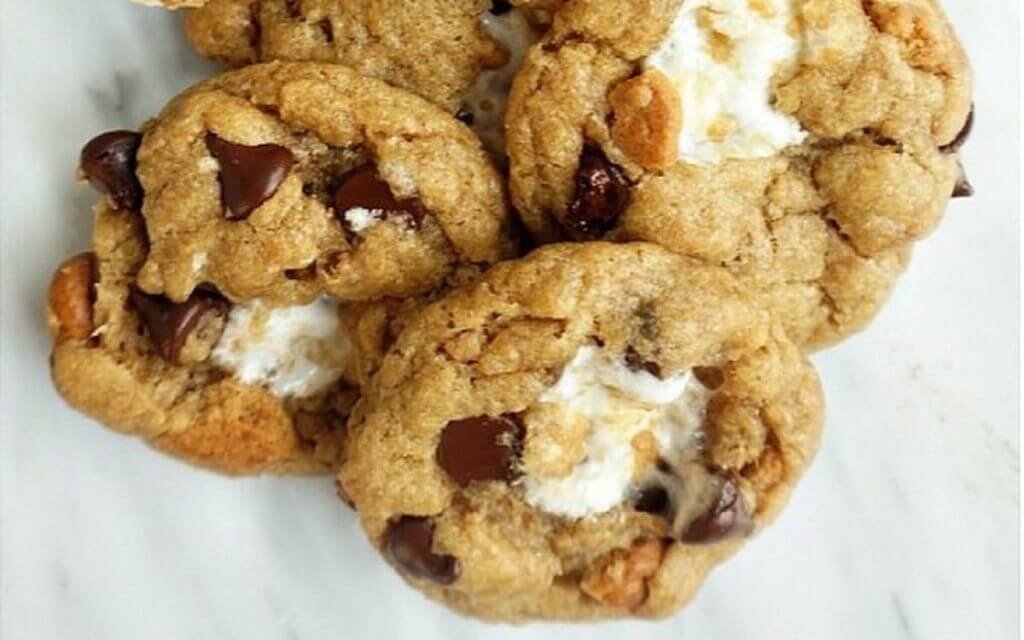 These S'mores Cookies are packed with the goodness of chocolate, marshmallows, and graham crackers: the classic flavor of s'mores! Make them the next time you want the "flavor" of camping without having to go to the trouble of sleeping in the great outdoors.
5. Big Chocolate Chip Pumpkin Spice Cookies
These Big Chocolate Chip Pumpkin Spice Cookies are going to rock your world! These big cookies will perfume your house with the sweet aromas of fall. With pumpkin, chocolate chips, and warm, fragrant spices, these are your new favorite cookies.
6. Vanilla Madeleines with Chocolate and Pistachio Ganache
These Vanilla Madeleines with Chocolate and Pistachio Ganache look sophisticated, but the trickiest bit is just being patient enough to decorate them. But once you taste how decadent the ganache is on the vanilla cookies, you'll be glad you found the strength to wait.
7. Pecan, Walnut and Ginger Cookies
If you're someone who tries to resist fall every time it comes around because suddenly, everything is made with pumpkin, let these Pecan, Walnut and Ginger Cookies guide you into the new season. Nobody's trying to hit you over the head with pumpkin spice or butternut squash, but autumn-y flavors like ginger and cinnamon and hearty, buttery nuts come together to make one seriously seasonal (and delicious!) dessert.
8. Funfetti Sprinkle Cookies
Colorful sprinkles make everything look happy! Revisit your childhood with these soft Funfetti Sprinkle Cookies! Made with non-dairy yogurt and vanilla, these are perfect for parties, special occasions, or a fun everyday treat.
9. Chocolate Chip Peanut Butter Stuffed Cookies
Imagine pulling some cookies out of the oven, you smell a little bit of vanilla and then a strong scent of peanut butter and chocolate! Yes, that's these Chocolate Chip Peanut Butter Stuffed Cookies! Biting into a plain chocolate chip cookie is pretty great, but a center full of warm, gooey peanut butter makes it an extra decadent treat. You could also totally eat the dough raw if you like … that's a pretty awesome dessert by itself!
10. Chewy Plantain Sesame Cookies
These Chewy Plantain Sesame Cookies are a real winner! The awesome flavors of sesame, plantain, and dates come together to create a chewy treat that is both tasty and good for you. Only five ingredients mean they're also easy to make so go ahead and indulge!
11. Chocolate Crinkle Cookies
These Chocolate Crinkle Cookies prove that you can have a delicious, warm plate of fresh cookies in less than 30 minutes. Plus, they're chocolate crinkle cookies, which are full of cocoa goodness and dusted in a light sprinkling of powdered sugar. They look like chocolate snowballs!
12. Mango Macarons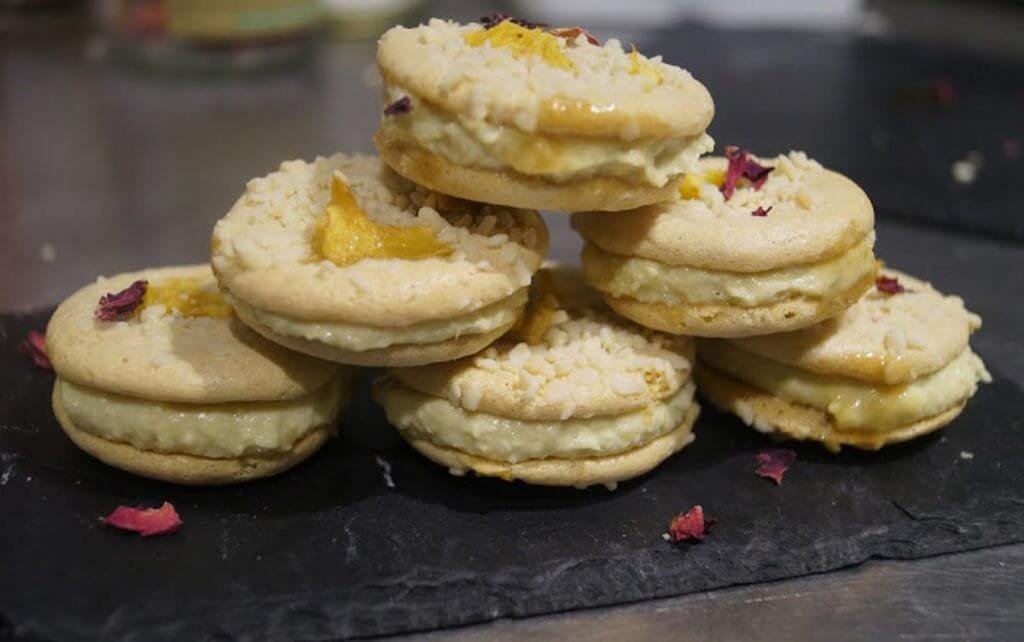 Your taste buds are about take a vacation to the tropics with these refreshing Mango Macarons. Aquafaba is the base for the crispy almond-mango shells, and they are filled with a luscious raw cashew-mango buttercream that can be whipped up in seconds!
13. Banana Bread Cookies With Coconut Cream and Chocolate Sauce
These Banana Bread Cookies taste like banana bread made with all healthy ingredients like buckwheat, groats, and chia seeds. Topped with coconut cream and chocolate sauce, these are so delicious plus they're raw, vegan, and gluten-free.
14. Caramel Apple Skillet Cookie
This Caramel Apple Skillet Cookie is packed with brown sugar and all that warm richness that you'd find in caramel, and there's something about a fresh-picked apple that is just incomparable. So if you make this skillet cookie, do it the day after you go apple picking. That way, you can check "pick apples" and "autumn baking" off your fall bucket list … and maybe also "eat an entire cookie by myself."
15. Butterbeer Cookies
Butterbeer is a mysterious flavor in the Harry Potter universe, and these Butterbeer Cookies are an interpretation of what that ubiquitous beverage might taste like. But even if you're not into Harry Potter, you'll still love these cookies! They are delightful sandwich cookies – sweet, buttery, warmly spiced, and topped with decadent, simple, homemade butterscotch.
Click here for 15 more awesome Cookie recipes
ARE YOU READY FOR A SPECIAL VEGAN CHRISTMAS CAKE?
10 INNOVATIVE VEGAN APPLE PIE IDEA'S