Why Spirited Fig Balls Are Sexy You Should Try Them
|
Spirited Fig Balls are sexy
Spirited fig balls are easy and fast to prepare so you can enjoy whenever you have the desire for them. They taste better if prepare  ahead,but they taste anyways and can make a romantic evening aromatic .
Not only are they good to indulge alone, but friends and family will love them .They can be enjoyed by everybody ,vegan or not.
The Spirited Fig Balls are gluten-free,egg-free, dairy-free and have only a bit of spirit which makes them more sexy.
Enjoy
Spirited Fig Balls: Gingerbread Brandy and Chocolate Amaretto
Need an impressive treat to serve for a holiday celebration or New Year's Eve? These spirited fig balls come together quickly (though they are best made ahead!), and boast delicious warm flavors of the season.  These spirited fig balls are an indulgence and worthy of serving to almost all of your guests, especially since they easily fit so many special diets, including vegan and even gluten-free (using the right cookies!).
ALISA FLEMING DAIRY-FREE DESSERTS, DAIRY-FREE RECIPES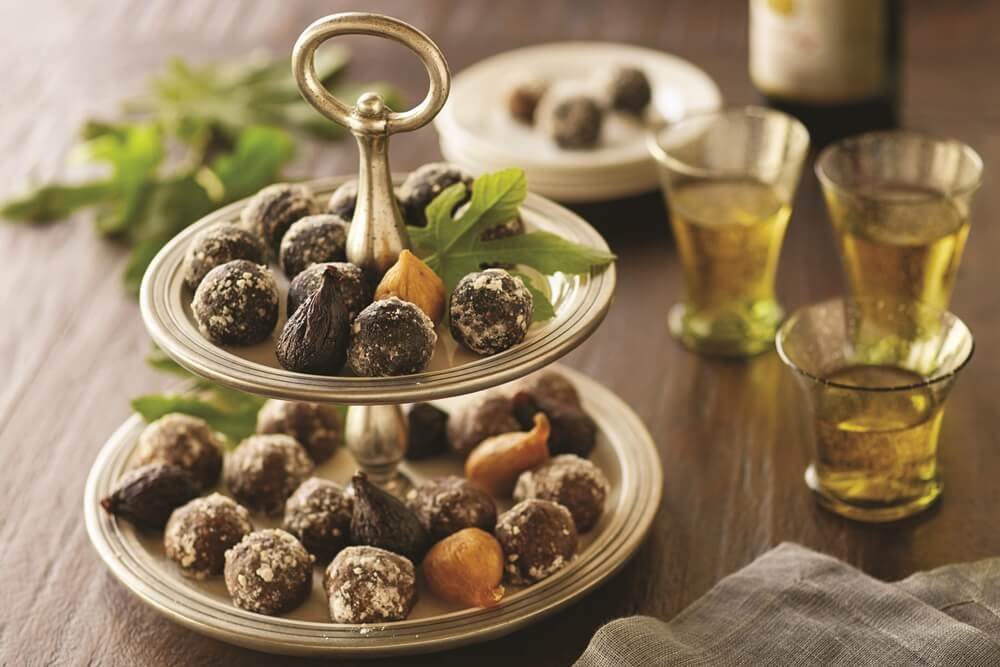 This recipe with photo was shared with us by Valley Fig.
Spirited Fig Balls: Gingerbread Brandy and Chocolate Amaretto
Prep time
30 mins<
Note that this recipe is best when made a day ahead or the morning before serving.
Author: Valley Fig
Serves: 65 balls
Ingredients
1¼ cups powdered confectioners' sugar, divided
¼ cup chopped, toasted pecans
¼ teaspoon salt
2 cups finely crushed dairy-free gingersnap cookies (gluten-free, optional)
1 cup stemmed, finely chopped California figs (like Blue Ribbon Orchard Choice or Sun-Maid)
½ cup finely chopped, toasted pecans
½ cup brandy
¼ cup dairy-free buttery spread or sticks, melted (see post above for options)
Instruction > get them here Fig Balls
ARE YOU READY FOR SOME DAIRY – FREE VEGAN CHEESECAKE?
TOP RAW VEGAN DESSERTS WILL CHANGE YOUR LIFE