Vegan Recipes For You – A Weekend Brunch And More
Vegan Recipes to enjoy A Weekend Brunch and more
Vegan Recipes for you to enjoy we have a Weekend Brunch with some Banana Pancakes designed by cook2nourish.com.
 Wholewheat Banana Coconut Muffins, recipe from the Desserted Girl in Mumbai.
The first meal is known to be the most important thing. But let's be honest, in everyday life, breakfast is occasionally a little too short, and you are content with the first e-mails of the day with a bowl of cereal in the office. It is all the better to take some time at the weekend and combine breakfast and lunch. Here are some Weekend brunch recipes for you.
All these recipes are prepared for you by ambitious ladies who love cooking and share their recipes with us.  All these recipes are healthy, tasty, and nutritious and created to enjoy. Prepare for your family and friends and indulge.
Vegan Recipes For You – A Weekend Brunch And More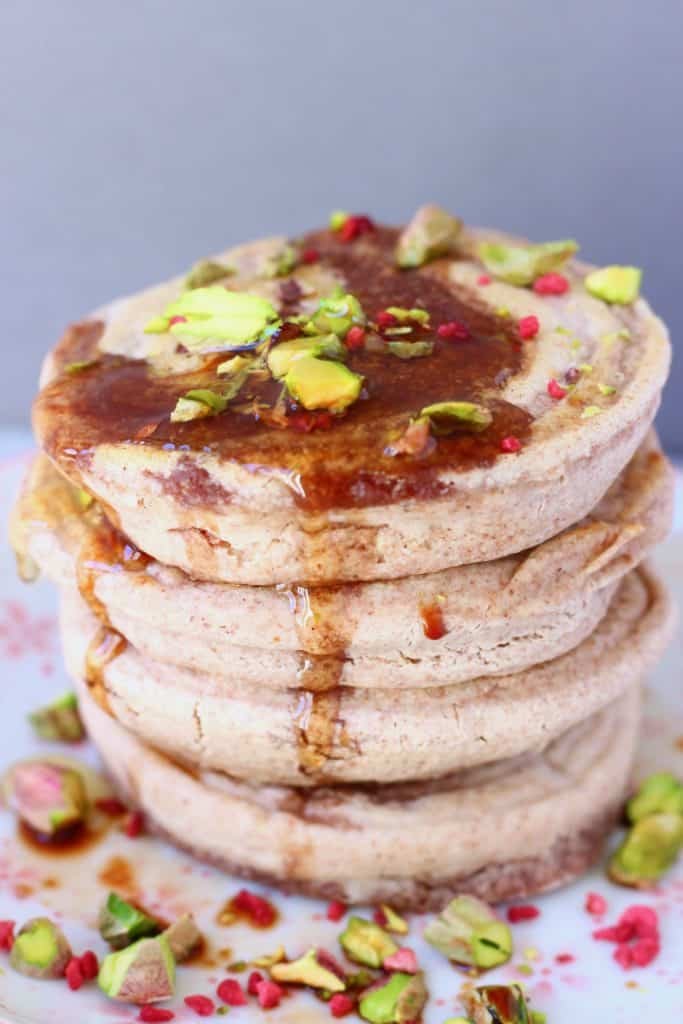 These Gluten-Free Vegan Buckwheat Pancakes are unbelievably fluffy, nutritious and have a slightly nutty flavour. They make the perfect satisfying breakfast!
This Vegan Smashed Eggplant Toast is such a great way to switch it up if you're getting bored of avocado toast!
These grain-free pancakes are delish! I was not sure what to call them – 'plantain' pancakes or 'banana' pancakes since these are with plantain flour and have bananas added in the batter
.
Happy brunching!
More Recipes for Breakfast here >Breakfast fun
 The Desserted Girl
Ok, so I know I endorse weeknight baking a lot. The trouble is sometimes the weeknight extends into the wee hours of the next weekday, when you really want to sleep, but the muffins take what seems like an eternity to bake and then there's the question of how to wait up till they are cool enough to be covered so that you can avoid the nightmares of leaving food lying around open.
No, this stuff only happens to me?
Luckily, sometime in the middle of the night, the super-light sleeper I married, woke up, neatly covered said muffins, and I slept on. True Valentine 😀
These muffins are soft, moist, tender. Filled with bananas, strawberries, and coconut. Made with whole wheat flour, coconut sugar, and a bit of olive oil.
Dairy-free, eggless, healthy fabulousness. Make sure you use very, very ripe bananas because they help sweeten the muffins. Coconut sugar does too, but on the whole, these are just barely sweet.
Strangely, even with all the various forms of coconut in there, the muffins are not overly coconut-y. Just the perfect tropical treat 😛
What to do > click here: Banana Coconut Muffins (Vegan)
 Click here for more Muffins or Cupcakes
This Vegan White Bean Scramble with Almond Bacon is super easy to make, full of flavour, and perfect for a healthy brunch!
These vegan apple cinnamon pancakes are the perfect weekend breakfast. I love to make vegan pancakes or waffles on the weekend and these apple cinnamon pancakes are so good!
Also, see >25 COMFORT FOODS MADE VEGAN YOU CAN ENJOY WITHOUT REGRET
VEGAN JUNK FOOD? HOW TO MAKE JUNK FOOD HEALTHIER (VIDEO
Join the Virtual Event: Grow your own vegetables & herbs