Why You Should Cook These Unusual Root Vegetables !
|
Celeriac, jicama, and sunchokes, does this sound unusual?
There are so many amazing exotic and unusual root vegetables in this world; it is truly an abundant world we live in. Many of the vegetables and roots come from other parts of the world, and we may not have seen them before, but there are also some that we do not know what to do with, how to cook them, or how to prepare them. Some we can eat raw, and some need to be cooked.
Explore below, look at these unusual root vegetables and find out how to prepare them. Maybe a delicious addition to our diet.
Celeriac, jicama, and Sunchokes: Exploring the world of unusual root vegetables
by Lois Abraham, The Canadian Press 
The author of "True to Your Roots: Vegan Recipes to Comfort and Nourish You" (Arsenal Pulp Press) has created 150 recipes featuring many of those "ugly" roots, tubers, and rhizomes that you see in the produce aisle but are perplexed about how to prepare.
Carla Kelly noticed a few years ago that vegetables like kale and squash were getting lots of buzz while plenty of others — carrots, rutabaga, turnips, parsnips — seemed to be overlooked.
And then still others — like kohlrabi, celeriac, jicama, Jerusalem artichoke, and lotus root — were really ignored.
"I thought, 'These poor old mashed potatoes on my plate are not getting any love and there must be more to root vegetables than just an afterthought."'
Kelly, who has written three other vegan cookbooks and has a blog, came up with muffins incorporating sweet potatoes and quinoa, carrot cake pancakes, taro hash brown cakes, and a strata layering potatoes, daikon, and sweet potatoes. For dessert, there's celeriac brownies, red velvet swirl coffee cake using beet juice, and cheesecake with parsnip and carrot mince.
"I think a lot of people will be pleasantly surprised … about how 'normal' they taste, about how they may look funny or may have weird names, or you might not have come across them before, but they are delicious, and they fill that need for comfort food if that's what you're looking for from your root vegetables. And you can be creative with them."
Look at these unusual root vegetables.
JICAMA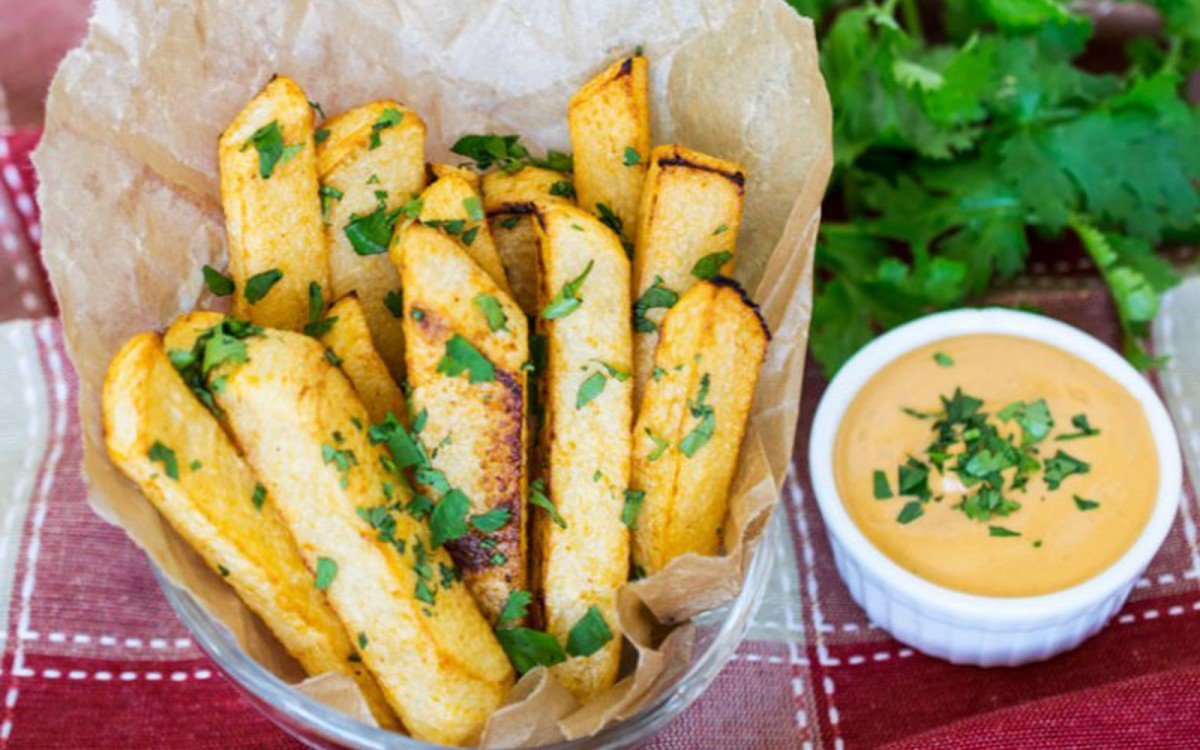 These crispy jicama fries are sure to satisfy! Tossed in cilantro, lime, and chipotle pepper and then baked to perfection, these are a healthy and tasty alternative.
Jicama can be eaten raw with dips or added to salads.
This crisp Mexican root vegetable, which looks a bit like a potato, tastes mild and sweet. It can be eaten raw with dips or added to salads. It retains its crispness when cooked or it's refreshing as a juice.
Kelly uses it in a fruit salad with melon and also in a tart with Asian pears.
"Both the Asian pear and jicama retain quite a bit of crispness when they're cooked and there's a lovely contrast in the tart."
See also>   5 Health Benefits of Jicama
CELERIAC
Roasting celeriac brings out a sweet flavour, delicious in hummus.
This relative of celery has a mild taste.
It can be challenging to prepare because the thick skin is hard to peel. The knobby bits at the bottom where the roots grow need to be trimmed because dirt gets trapped there.
But the effort is worth it.
"It blends really well, it gets really smooth, even silky," says Kelly.
Roasting brings out a sweet flavor, delicious in hummus.
Everything You Need to Know About Jerusalem Artichokes
SUNCHOKES
Sunchokes are mild with a hint of sweetness.
Some people call them Jerusalem artichokes, but they're from a native American plant related to the sunflower, says Kelly.
Sunchokes are mild with a hint of sweetness.
"They're a little bit neutral, like a potato," says Kelly.
"Those are a vegetable that's wonderful raw because they're really crisp and crunchy, and they make really nice juice as well, but also when you cook them, they get really soft and creamy."
Because the skin is very thin, scrubbing to get rid of the dirt alleviates a need for peeling. Besides, they're difficult to peel because they're knobby.
"They look like little bits of ginger — the offshoots look like hands almost," says Kelly.
The skin can be eaten, so you can leave it on when cooking.
KOHLRABI
Kohlrabi has thick skin that needs to be removed.
Also known as German turnip, kohlrabi is another mild vegetable with a very slight almost nutty flavor. The taste and texture are similar to broccoli and the vegetable can be eaten raw or cooked.
It has thick skin that needs to be removed. The leaves can be chopped and sauteed like spinach or other leafy greens.
It's wonderful in coleslaw, salad or as a crudite. When cooked, the texture is similar to a firm potato.
LOTUS ROOT
The stir-fried lotus root with green onions is a classic Chinese stir-fry vegan dish that will make an excellent addition to your dinner table.
Lotus root cannot be eaten raw.
Find some unusual recipes here.
See also Salsify The Healthy Root Vegetables From The Earth
See also The Best Probiotic-Rich Food To Keep Your Gut Healthy
You can still ATTEND  > The Regenerate Yourself Masterclass!
Online for FREE from November 28 – December 4, 2022