The Best Caribbean Vegan Recipes To Celebrate West Indian Culture
|
Caribbean Vegan recipes celebrate Carnival
Caribbean vegan recipes not only for a carnival ,they can be indulged every time . But here are the recipes inspired by the Notting Hill Carnival which is a celebration of the West Indian Culture in Notting Hill in the UK.
It takes place in August and it is a colorful event, the biggest Street festival in the UK with parades and dance . It is a family day,it is also referred to as Children day and takes place August 28+29.
All the best Caribbean dishes are available during the celebration and here are some Caribbean Vegan Recipes to enjoy for you. If you want to know more about the Carnival read here > Notting Hill Carnival  
Try the Caribbean Vegan Recipes and enjoy a West Indian meal !
It's Notting Hill Carnival time and that means one thing:
Tons of  food
So what are you planning to tuck into? Did you know that there's a growing, albeit established, the trend for eating vegan from Jamaica?
So-called 'Ital' (i.e. short for 'vital': vitality/vital for life), this belief system revolves around abstaining from animal products and eating instead from the earth: the plants, the fruits, legumes, etc.
The Best Caribbean Vegan Recipes To Celebrate West Indian Culture
Black beans and cauliflower rice
SaveNutritionicityBlack Beans and Cauliflower Rice81Whole Foods 4 Healthy LivingCaribbean
Produce
1 can Black beans
1 large head Cauliflower
3 cloves Garlic, fresh
1/2 cup Parsley, fresh
3 tbsp Pickled jalapeno, slices
1/2 cup Red bell pepper, fresh
1/2 cup Sweet onion, fresh
Baking & spices
1/4 tsp Cayenne pepper, ground
1 Sea salt and black pepper
Oils & vinegar
Cooking instructions from Veganicity
Hot and fruity Caribbean coleslaw
The Happy FoodieHot and Fruity Caribbean Coleslaw by Levi Roots. Swap heavy, creamy coleslaw for this Hot and Fruity Caribbean Coleslaw from Levi Roots' cookbook Grill it with Levi. The fresh and tangy coleslaw contains juicy mango and warming red chilies. It's the perfect side dish to serve with barbecued or grilled meats for an authentic taste of the Caribbean.78954The Happy FoodieThe Happy Foodie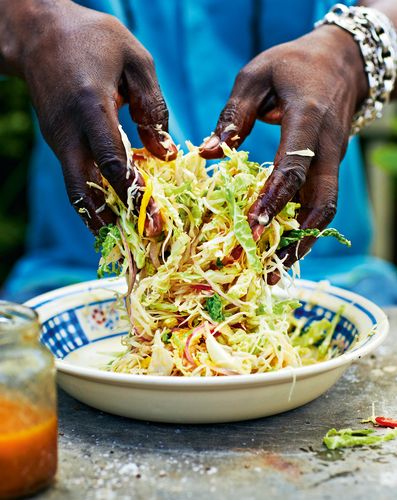 Produce
1/2 Cabbage, white
2 Chillies, red
1/2 Mango, small
1/2 Red onion
1/2 Savoy cabbage
Condiments
3 tsp French mustard
1/2 tbsp X hot reggae reggae sauce or hot chilli sauce
Baking & spices
8 tbsp Brown sugar, soft light
1 Salt and pepper
Oils & vinegars
100 ml Cider vinegar
100 ml Olive oil
Cooking instructions from The Happy Foodie
Caribbean sweet potato patties with spicy coconut and spinach sauce
SaveCook Eat Live VegetarianCaribbean Sweet Potato Patties with Coconut and Spinach Sauce35237Donna TorVegetarian and vegan
For the cakes:
1 large sweet potato, peeled & cut into 1″ cubes (550gr)
1 or 2 tbsp olive oil
1/2 tsp ground allspice
1/2 tsp ground cumin
1/4 tsp dried chilli flakes
1/2 tsp dried thyme
whole bulb of fresh garlic (outer leaves peeled off but still held together)
1 or 2 scotch bonnets chillies, deseeded & chopped
3 spring onions/scallions, chopped
salt & black pepper
a handful of fresh coriander leaves, chopped
the zest of 1/2 a lime
a few sprigs of fresh thyme leaves
For the Callaloo Sauce:
1 tin coconut milk, 400 ml
100-150 g fresh spinach leaves
1 small onion, chopped
the rest of the roasted garlic cloves, roughly chopped
1 scotch bonnet chilli (whole)
1 green or red pepper, chopped
1 tomato, chopped
1/2 tsp paprika
2 fresh thyme sprigs, whole
salt & black pepper
the juice of 1/2 a lime
a handful of fresh coriander, chopped plus extra for garnish
Cooking instructions from Cook Eat Live Vegetarian
Get all recipes here >Best vegan Caribbean recipes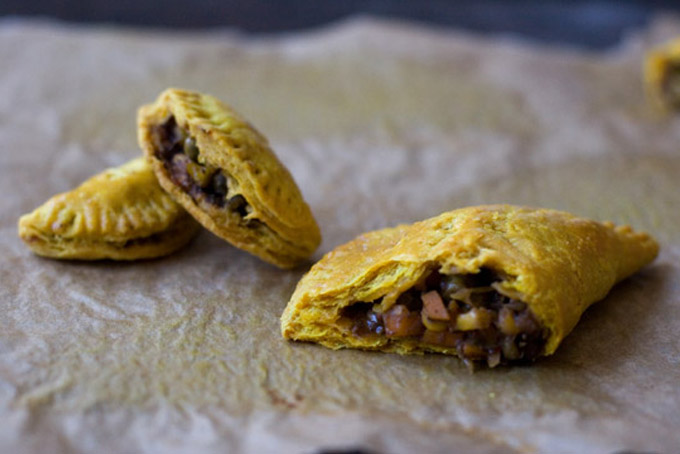 His Jamaican Veggie Patties immediately come to mind. The first time I read through the recipe I thought to myself – oh, they're hand-pies! And quickly filed them away in the lazy-day section of my brain. A richly spiced potato, pea, corn, carrot, and cabbage filling is wrapped with a turmeric-hued pastry crust made with coconut oil. Recipe here
More recipes here >The Best Vegan Recipes of all world
Take the 14-Day Challenge click here
If you need help with losing weight and keeping on track, the Bright Line Eating program is a great program to support. It is based on cutting edge psychology and neuroscience. Susan Peirce Thompson, Ph.D. It is focused on establishing healthier eating habits and is also compatible with a vegan diet.