Vegan Waffle Diversity From Sweet To Savory
|
Vegan waffle diversity is delicious and healthy.
A Vegan waffle diversity for every taste a recipe. From sweet to savory you can find the right ones for you and your family. Maybe you love all of them? Make every day another one of this vegan waffle diversity.
It is amazing what different grains we can use to make waffles her you can find some made of Millet, Bulgur, Spelt, Spaghetti squash, Carrots, Quinoa, and Zucchini. All of them are delicious and healthy. Savory is the Einkorn Zucchini Waffles,"Chicken" and Waffles and the Spaghetti Squash and Quinoa Savory Waffle, Coconut Milk, Spring Onion, and Cheese Waffles.
Sweet is the Spelt Waffles With Rosewater Maple Syrup, the protein-packed Peanut Butter Bulgur Waffles, and Butterscotch Carrot Millet Waffles and the Carrot waffles with Coconut Cream below.
Does this sound awesome? Try this vegan waffle diversity and enjoy one by one of these waffle recipes a day!
Vegan Waffle Diversity From Sweet To Savory
Think of these hearty holiday brunch waffles as a quicker delivery system for the flavors of carrot cake — minus the nuts and raisins. The coconut cream is surprisingly good.
We like separating the waffles into quarters, for easy eating. You'll need a large Belgian-style waffle iron. Recipe here
Butterscotch Carrot Millet Waffles
Imagine if you could devour a cake for breakfast every day. A yummy, soft, delicious, creamy, spongy cake that melts in your mouth. These Butterscotch Carrot Millet Waffles can make that possible. This is a breakfast recipe that requires minimum time and comes as close to cake as possible without actually being, you know, cake.
 Coconut Milk, Spring Onion, and Cheese Waffles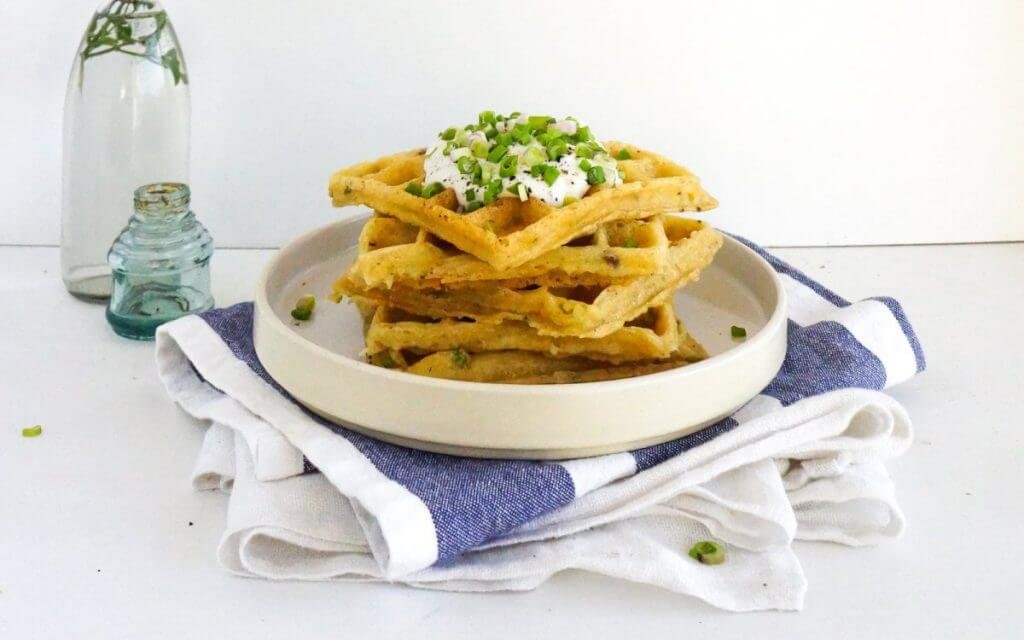 After you taste these Coconut Milk, Spring Onion, and Cheese Waffles, you'll never go back to sweet waffles again. The coconut milk, vegan cheese, and crisp green onions just go so well together! Top these babies with a dollop of vegan sour cream and some freshly cracked black pepper and dinner is served!
Spaghetti Squash and Quinoa Savory Waffles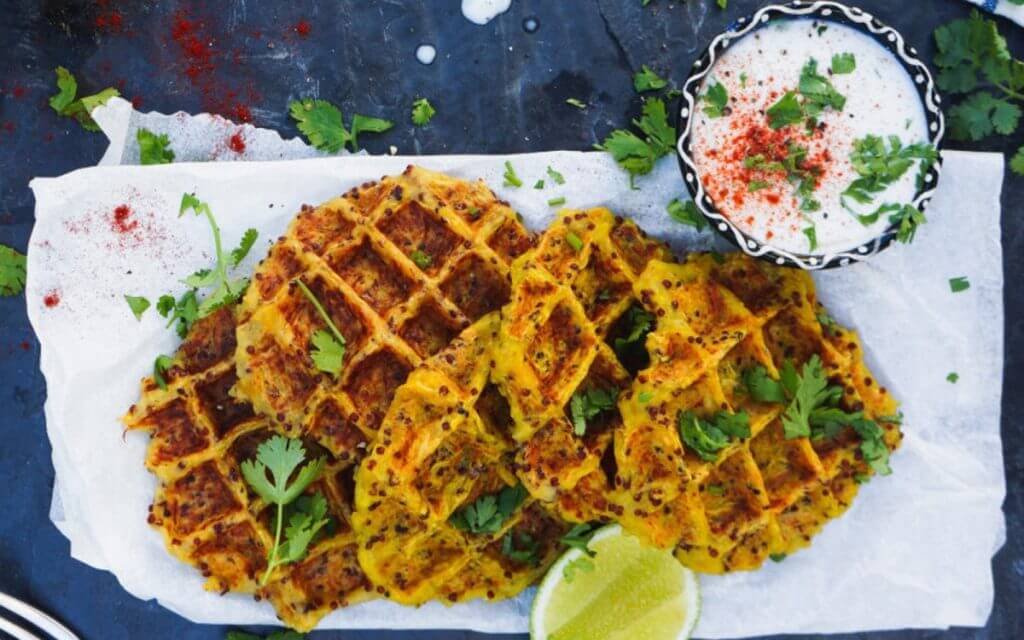 This Spaghetti Squash and Quinoa Savory Waffles are amazing. The outside is crisp while the inside is light and fluffy. These unique waffles pair perfectly with the accompanying coconut cilantro sauce. If you don't have a waffle iron, the batter can also be flattened and cooked like veggie patties.
'Chicken' and Waffles
Crispy fried "chicken" on top of a fluffy stack of waffles… What could be better?! Whether it's the hot sauce baked into the tofu, the sprinkle of rosemary, or the truffle oil in the waffles, this"Chicken" and Waffles is full of tasty surprises. With such a beautiful presentation, this is a must at your next weekend brunch. Don't forget the maple syrup!
Peanut Butter Bulgur Waffles
Consider starting your day with these protein-packed Peanut Butter Bulgur Waffles! If you haven't cooked with bulgur wheat before, this is a great place to start — the hearty grain gives these waffles a pleasantly chewy and crispy texture. Top with a generous drizzle of maple syrup and a pat of vegan butter for the ultimate breakfast.
6. Spelt Waffles With Rosewater Maple Syrup
These light and fluffy Spelt Waffles With Rosewater Maple Syrup are a perfect template for your favorite flavorings — the ones pictured here were flavored with matcha powder and beet powder. Regardless of what you put in them, they make a truly special breakfast when topped with crushed nuts and fragrant rosewater-scented maple syrup.
Einkorn Zucchini Waffles
Who said waffles had to be sweet? These savory Einkorn Zucchini Waffles are loaded with zucchini and fragrant basil. What's einkorn? Einkorn is wheat that's one of the oldest ancient grains. Untouched by modern agriculture, einkorn has also a different gluten composition and is more digestible than modern wheat flour. It's a good alternative if you have gluten sensitivity, however, it is not suitable for coeliacs. Serve these zucchini waffles with some chopped tomatoes. They make perfect for brunch, lunch, or dinner.
If you need help with losing weight and keeping on track, the Bright Line Eating program is a great program to support.
Created by New York Times bestselling author, Susan Peirce Thompson, Ph.D., BLE is a personalized, guided program that keeps you on track so you can finally experience a weight-loss transformation that lasts. Start Today for Just $20/month