Don't Make Zucchini Without Looking At These Vegan Zucchini Recipes
|
Vegan Zucchini Recipes you need to try
Vegan Zucchini recipes that are not boring. Zucchinis are healthy and depending on the season you can get them everywhere. In summer if you do not have them in your garden, you can get them at the local farmers' market.
Zucchini or courgette is a summer squash, in the UK  a fully grown zucchini is referred to as a marrow. Zucchini is low in calories and contains folate, potassium, vitamin A and B. A healthy vegetable that we should eat while we can get it in abundance.
Here are some delicious Zucchini recipes which are not boring at all. There is even a cake you can prepare, see the recipe on page 2.
Do you know what Batzina is? it is a delicious Greek zucchini recipe you need to try. Get started and look at all these delicious and not at all boring Zucchini recipes.
Enjoy!
See also > 8 Impressive Health Reasons to Eat More Zucchini — A Nutrient-Dense Food
Panko Crusted Zucchini Chips
These Panko-Crusted Vegetable Chips are the perfect movie snack! They're light and crunchy and should you want a little extra flavor, you can even add your favorite herbs and spices to the mix. Serve with your favorite chip dip, or enjoy them as is. You might want to double the recipe, though, because these will disappear fast.
Raw Mushroom Lasagna With Zucchini Cheese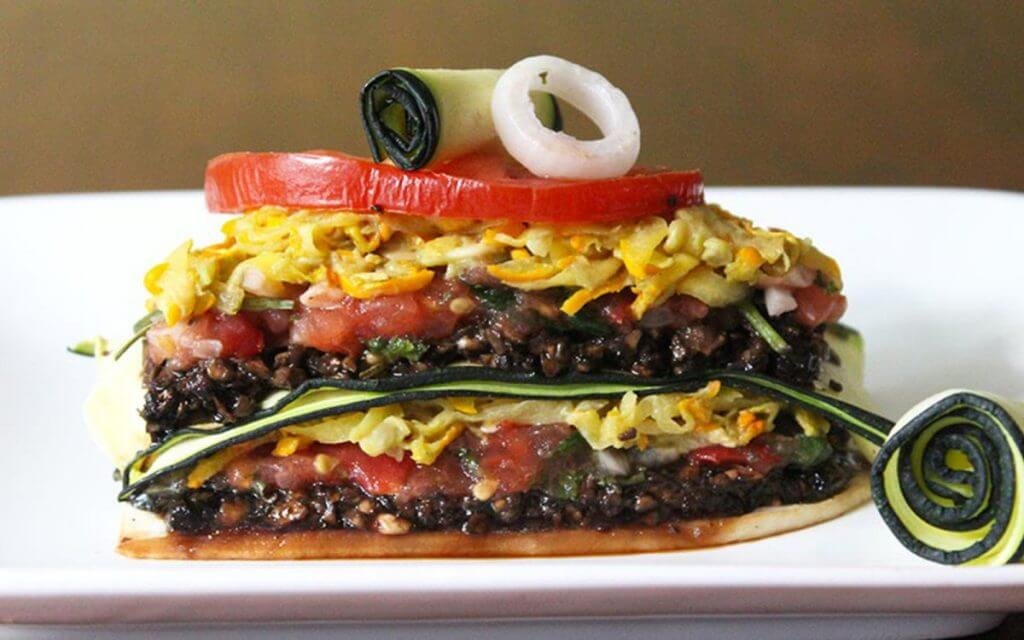 This delicious Mushroom Lasagna With Zucchini Cheese is filled with surprises. It's a raw, vegan lasagna made with mushroom meat, golden zucchini cheese, garlic herb tomato sauce, and eggplant/zucchini "noodle" layers.
Baked Zucchini and Amaranth Patties
These Baked Zucchini and Amaranth Patties are crunchy on the outside and creamy on the inside.  Serve these on a bun like you would with a burger, or on a bed of leafy greens, with salsa and vegan sour cream.
Summer Zoodle Glow Bowl With Creamy Avocado Lime Sauce
Zoodles are a fun way to switch things up if you want a lighter version of pasta. Don't be fooled, though – this Summer Zoodle Glow Bowl is filling. With edamame and the creamy avocado lime sauce, as well as ad any veggies, this dish is a fresh and flavorful meal that's perfect for warmer weather. If you think zucchini are boring, you're just not using them to their full potential. After trying these delicious recipes, you'll never think you have too much zucchini again!
Zucchini Gratin
This Zucchini Gratin is for those times when you crave something warm, rich, and nutritious but you don't want to spend too much time in the kitchen. The creamy cashew sauce transforms this dish so nicely that you might just discover a new kind of love for zucchini. It's a simple recipe that takes little time to prep for a flavorful and filling meal.
Zucchini Banana Cake
Feel good about dessert by adding veggies to it. This Zucchini Banana Cake is packed full of nourishing ingredients that are kind to your body!  Oats are very high in fiber and they're gluten-free!
Jalapeño Zucchini Fritters
For a surefire crowd pleaser, include these Jalapeño Zucchini Fritters at your next get together. They're flavorful with a spicy kick and have a crispy exterior with a soft center. Serve these with avocado cream dip for a fun and delicious appetizer. Make a lot — these will go fast!
Zucchini Carrot Slices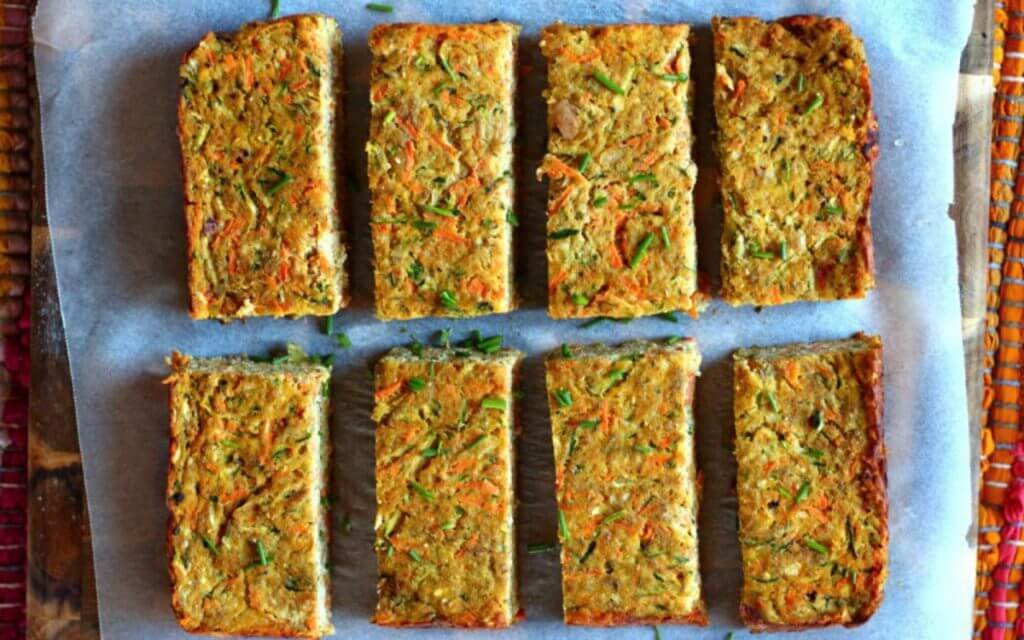 When you want a healthy but delicious snack, try these Zucchini Carrot Slices. Slightly sweet zucchini, fresh carrot, and cheesy nutritional yeast come together in this delicious and fluffy bread. Made with quinoa flour it's not as dense as regular bread.
Batzina: Greek Zucchini Pie
 This Batzina or Greek Zucchini Pie leaves out the eggs and cheese, using nutritional yeast for cheesy flavor and includes zucchini. It's thin, crispy, and savory and delicious when served both hot or cold.
more recipes here >Don't Let Summer End Without Trying These…
Lead image source: Jalapeño Zucchini Fritters