Mediterranean Vegan Recipes The Most Popular And Delicious
|
Popular Mediterranean Recipes made Vegan
These Mediterranean Vegan recipes are traditional not always vegan. But here, to the most popular ones, there are little changes to make them vegan. Many of these dishes are already vegan or easy to convert. Mediterranean food is healthy and full of ingredients which suit the plant-based vegan diet. Herbs and spices make them delicious and satisfying. Who did not hear of the popular dishes like Falafel, Tabbouleh, Börek, Gyros, and the flavourful Greek Mezze? The variety of flatbreads and spreads are amazing. This Mediterranean Vegan Recipes will bring diversity into our kitchen.
The Mediterranean cuisine is varied and healthy because it is particularly rich in vitamins and fiber. Learn, which ingredients make the Mediterranean cuisine so special and discover delicious Mediterranean Vegan Recipes.
Numerous studies prove that Mediterranean people are less affected by prevailing civilization disorders such as cardiovascular disease, hypertension, and overweight. Their secret is clearly a balanced and healthy diet, which includes a lot of vegetables, olive oil, herbs, and fruits. We have summarised for you the five basic elements of healthy cuisine around the Mediterranean.
The five basic elements of healthy cuisine of the Mediterranean
FRUIT AND VEGETABLES ON EVERY OCCASION: Salad as an appetizer, vegetables as a side dish and fruit for dessert – in the Mediterranean countries there is no meal without fresh fruit and vegetables.
LOTS OT LEGUMES: Legumes such as beans, lentils, chickpeas, and co. which are solid ingredients of the Mediterranean diet and can be combined with herbs and spices.
PLANT OILS: You will find Olive oil in every Mediterranean household and people use it for all dishes and preparations. The valuable in olive oil are being polyunsaturated fatty acids. Omega-3 fatty acids, in particular, have a positive effect on the cardiovascular system, since they improve the flow properties of the blood, reduce blood pressure and have an anti-inflammatory effect. But also linseed oil, rapeseed oil, and hemp oil are used.
HERBS: Rosemary, basil, coriander – herbs are omnipresent in the Mediterranean cuisine and give many dishes their special flavor. Their healthy ingredients and essential oils can stimulate metabolism, promote digestion and relieve inflammation. The popular garlic is particularly beneficial because it acts as an antibacterial, keeps the vessel elastic and prevents cholesterol deposits in the arteries. Spicy food with herbs does not only taste great, but you also need less salt.
Here are some Mediterranean Vegan Recipes for you to prepare and enjoy.
Mediterranean Vegan Recipes The Most Popular And Delicious
Chickpea and Eggplant Moussaka
Moussaka is a traditional Greek dish that is either eggplant or potato based. It is always multilayered, often with meat and cheese. In this Chickpea and Eggplant Moussaka, it all begins with an eggplant base, is drenched in tomatoey flavor, and is well seasoned, especially after baking in the oven. Incorporating chickpeas and featuring a yummy variety of vegetables, this moussaka will hit the spot in both nutrition and taste.
Chermoula-Spiced Karantita and Pomegranate Salad
Are you in the mood to try something a little different for a weekend breakfast that's big on flavor and minimal on effort? If so, this Chermoula-Spiced Karantita is just the ticket. And what could be better to accompany the spices of North Africa than a bright and zesty pomegranate salad? This is a dish of late-morning Mediterranean sunshine and sea — full of enticing, warm, and satisfying flavors.
Loubia B'Zeit: Mediterranean Green Beans With Tomatoes 
Loubia B'Zeit, green beans and tomatoes in oil, is a popular side dish in Mediterranean countries where the world's best olive oil comes from. In this dish, fresh tomatoes and green beans are braised in olive oil and tomatoes sauce until tender. Although it's best served at room temperature as a side to a larger meal, it's just as enjoyable while still warm.
Mezze Layer Cake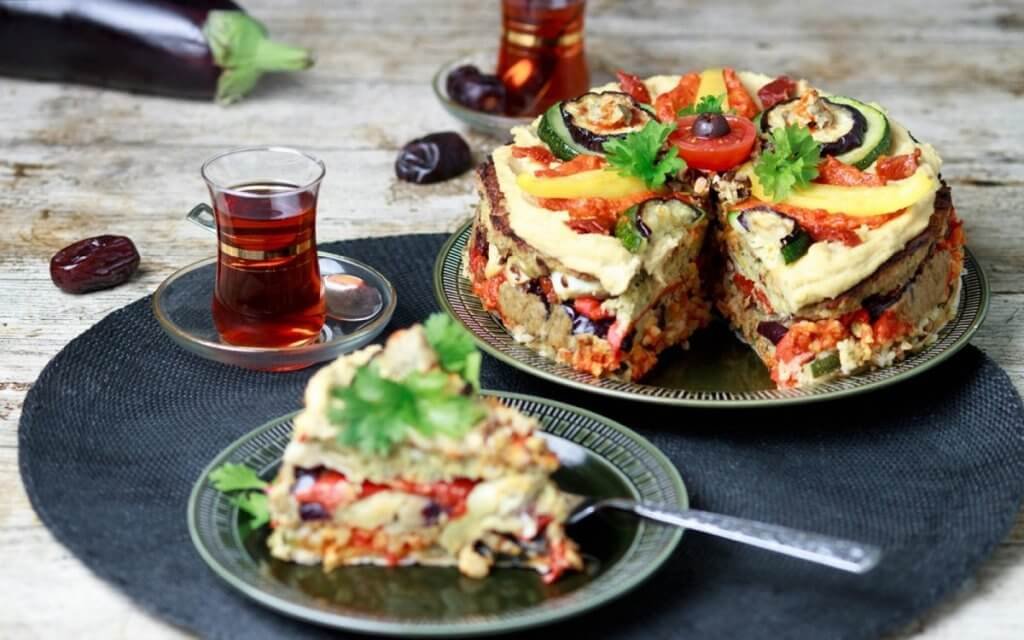 Need a show-stopping entrée for a party that's sure to knock everyone's socks off? You can go for a mezze spread or you can put it all together into one awesome centerpiece. This Mezze Layer Cake starts with a pita crust, followed by roasted zucchini, tapenade, a layer of bulgur, baba ganoush, eggplant, sun-dried tomatoes and other savory Mediterranean ingredients, and a layer of falafel batter … you get it, it's loaded with all the good stuff. Finally, it's baked until warm. Doesn't get any better than this!
Mediterranean Vegan Recipes The Most Popular And Delicious
Turkish Tofu and Spinach Börek
This Tofu and Spinach Börek makes for a Turkish feast from flavor paradise. Typically made with cheese and spinach between layers of buttery filo pastry, börek is surprisingly easy to veganize. Since ready-made filo pastry is often vegan already (check the packet first) it makes life much easier on all fronts and can be coated with vegan butter so you don't lose out on the buttery, golden kind of filo this börek demands. In place of cheese, crumbled tofu, with a dose of nutritional yeast to give it a cheesy hint, does a very fine job for the filling.
Portobello Gyros With Hemp Tzatziki
These Portobello Gyros With Hemp Tzatziki allow you to enjoy the delicious flavors of Greek cuisine, no meat or dairy required. Meaty Portobello mushrooms are tossed in Worcestershire sauce, rolled in a warm pita, and then topped with a creamy tzatziki made from hemp! Talk about a savory, umami explosion.
Quinoa Asparagus Tabbouleh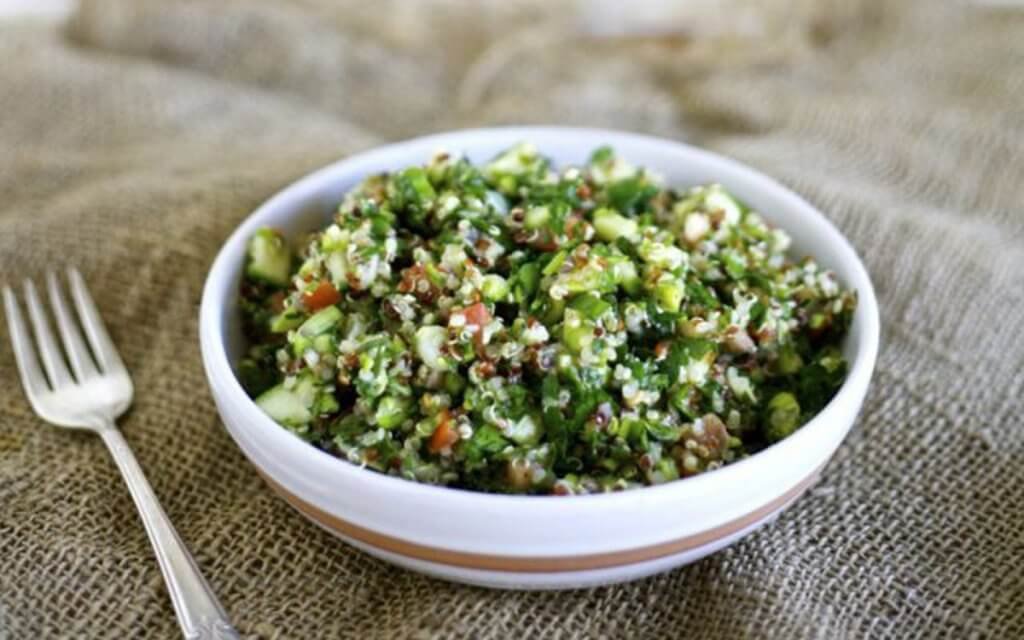 This Quinoa Asparagus Tabbouleh is the perfect side for your Mediterranean-inspired meal. Fresh asparagus, parsley, and mint add the taste of fresh greens while tomatoes add a light, savory flavor. Savor this fresh and crunchy tabbouleh as a first course or a side dish, or as a wrap for a light, but filling lunch.
Beet and Chickpea Falafel
What makes a falafel truly amazing is freshness. These vibrant Beet and Chickpea Falafel certainly aren't lacking in that! Serve these over a bed of salad with a coconut yogurt tahini sauce, or wrap them in a pita with plenty of greens
Greek Stifado with Mushrooms

Find even more Recipes  here> Recipes That Will Transport You to the Seaside
Also, see> Awesome Aquafaba recipes