You Will Love These Purple Antioxidant-Rich Vegan Recipes
|
Antioxidant-rich vegan recipes are Purple here.
Purple because of the antioxidant-rich plant-based ingredients like Blueberry, Blackberry, purple Cauliflower, Carrots, and more. Did you know that each color affects our psyche and body differently? Because each color has a typical wavelength and energy that transcends our bodies. For example, blue light acts as cooling and soothing, while red light is warming and stimulating. Purple stands for dignity, mysticism, and protection. The color of inspiration and art is extravagant and pain-relieving, cleansing, and purifying. Purple also supports concentration and self-confidence.
Anthocyanins are responsible for the blue and violet colors of fruits and vegetables. Anthocyanins protect plants against the UV light from the sun, bind free radicals generated by oxidative stress, and help attract animals and insects. In humans, anthocyanins, in addition to the antioxidant effect. They are improving vision, fight inflammation, and protecting the vessels.
Notice that the color alone has a cleansing and purifying effect. Now here are some delicious, colorful antioxidant-rich vegan recipes for you to try and enjoy the healing effect.
You Will Love These Purple Antioxidant-Rich Vegan Recipes
These silky mashed purple sweet potatoes are easy and quick to prepare, packed with unique flavors, and are remarkably healthy. They are also unbelievably creamy and rich, plus look at their outstanding vibrant violet color!
Flourless Lemon Cookies With Blueberry Whipped Cream
These Flourless Lemon Cookies With Blueberry Whipped Cream are dense, chewy, and delightfully lemony. Made with just cashew butter, lemon, and a bit of vanilla.  You can have these from oven to table in just 20 minutes. And amazingly enough, the gorgeous whipped cream gets its vibrant color 100 percent from blueberries!
Raw Purple Sweet Potato Pie
This Raw Purple Sweet Potato Pie exudes happiness and makes us smile just looking at it – and taking a bite is even better. The purple sweet potatoes give this pie its unique coloring and provide a creamy base for the dessert. This pie is a show stopper, so get ready for some compliments.
Purple Sweet Potato Gnocchi 
If not cooked creatively, pasta can get boring even for the fiercest lovers of the dish. To prevent this from happening, it's good to switch things up, be it the color of your pasta, the type, the shape, the filling, so on and so forth, like in this recipe for Purple Sweet Potato Gnocchi. It uses a purple sweet potato to create an eye-catching gnocchi dish that is as visually pleasing as it is delicious.
Colada Morada: Ecuadorean Spiced Fruit Stew
This spiced fruit stew, or Colada Morada, as it's officially called, is a family favorite in Ecuador. It's packed with fresh pear, orange, and antioxidant-rich blueberries and blackberries that are slowly stewed with a cinnamon stick, cloves, and juniper. Sprinkle a bowl of this with some chia seeds, berries, and other colorful toppings and it's picture-perfect!
 Blueberry-Vanilla Coconut Butter
You'll want to put this Blueberry-Vanilla Coconut Butter on everything. The melt-in-your-mouth smoothness, the rich texture, and the naturally sweet taste combine to make the perfect straight-off-the-spoon experience. The wild blueberries turn the coconut butter into a fruity treat, and when top off with a whisper of vanilla and a kiss of sea salt. Try this spread on toast, bagels, or just grab a spoonful right from the jar.
Raw Beet and Rosemary Tarts
These Raw Beet and Rosemary Tarts are a delicious way to introduce people to raw food! The purple filling is rich, yet subtle and light and the bases hold together well without needing to be dehydrated. This filling is really lovely and is great just as a dip or spread also if you wish to double the recipe and have extra.
Purple Mac and Cheese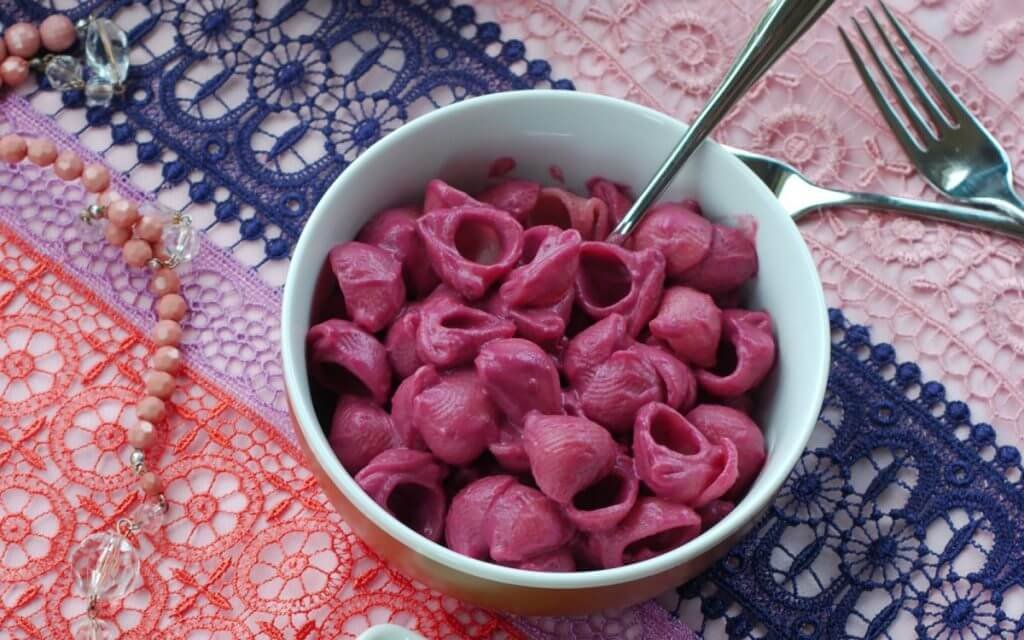 When mixed with vegetable broth and a bit of nutritional yeast, potatoes, and vegetables like carrots are able to create a deliciously creamy and cheesy sauce! In the case of this Purple Mac and Cheese, the potatoes and carrots both have purple hues, creating a beautiful and uniquely colored dish when tossed with mac and cheese. Get a little more color on your table with this creative entrée.
Steamed Purple Sweet Potato and Cocoa Rolls
These Steamed Purple Sweet Potato and Cocoa Rolls are a whole new take on tradition. They're gluten-free but still soft and chewy and sprinkled with a cocoa filling. They get their gorgeous color naturally: from purple sweet potato (also known as ube) purée.
Ube desserts are delicious, easy to make, and wonderfully purple. Made from real ube and made more amazing with the addition of ube extract, you'll definitely want to add these ube recipes to your recipe collection.
Also, see Easy Light And Healthy Meals That You Will Love To Prepare.
The Benefits of Glutathione & How to Ensure You're Getting Enough of This Vital Antioxidant