Awesome Vegan Aquafaba Recipes With The Chickpea Water
|
Awesome Vegan Aquafaba Recipes
Here are some awesome Vegan Aquafaba Recipes. We all heard of Aquafaba the chickpea water we can use from the canned chickpeas as an egg replacer. You may have used to pour it away down the drain before somebody discovered the phenomenal use for it. You not only can replace eggs, but it also can be used like egg white and mixed with any mixer it will get stiff and easy to use for
Meringues, for example. We had some recipes before which you can see here >KEEP THE 'AQUAFABA' where you also can read who discovered the useful Aquafaba. Chickpeas are very healthy for us and so is the liquid of them.  Here more recipes with  Chickpeas. Use the chickpeas and keep the liquid for the recipes below.
Aquafaba you can process to vegan egg whites and raw to meringue or baked to macarons – and all without bean flavor! About three teaspoons of Aquafaba can replace one egg. But not only sweets can be prepared with it: Even hearty things like burgers, cheese, butter or mayonnaise get their usual consistency through Aquafaba. Aquafaba is also easy to get and extremely cheap compared to other industrially manufactured alternatives for egg white
Is Aquafaba nutritious?
Since Aquafaba is a relatively new ingredient in use, there is not much research or information on it. However, this limited information is sufficient to take an idea about it. Read more about here A Better Substitute for Egg and Dairy?
Watch the video on page 2 where the Test Kitchen shows how to do the awesome  Aquafaba recipes. It may need some practice but there are unbelievable recipes and uses for Aquafaba. Even a recipe for Marshmallows you can try. With a little practice, you will be able to prepare Awesome Vegan Aquafaba Recipes.
Enjoy!
Awesome Vegan Aquafaba Recipes With The Chickpea Water
Vegan marshmallows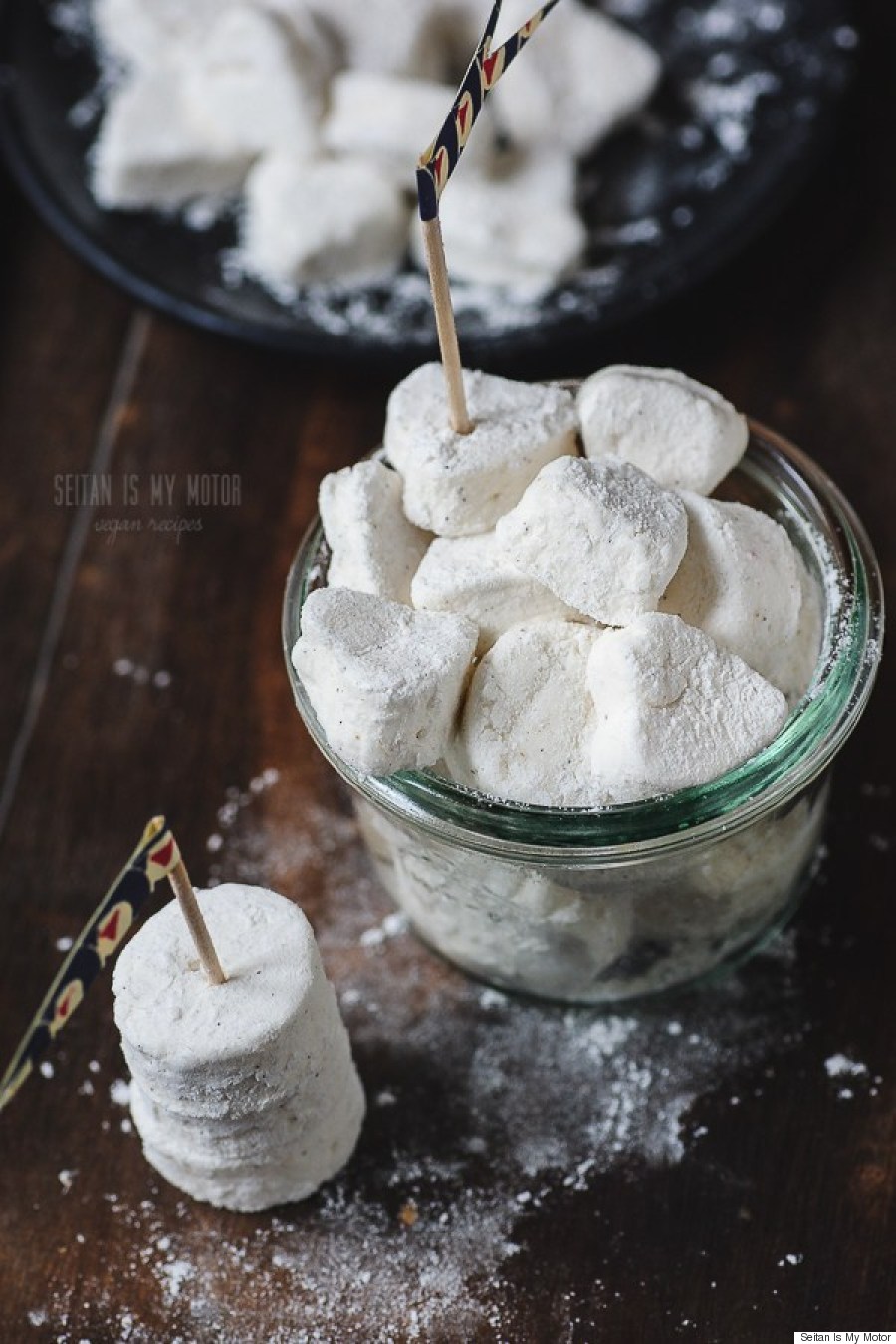 Marshmallows are spongy confections typically you can make with sugar, water, and gelatin, and coat with cornstarch. Constanze (Mihl), of the blog Seitan, Is My Motor, makes egg-free vegan marshmallows using aquafaba to replace the egg white, and agar powder to replace the gelatin. The result is soft and moist marshmallows that you can be roast to perfection! Get the recipe here.
Dairy-free ice cream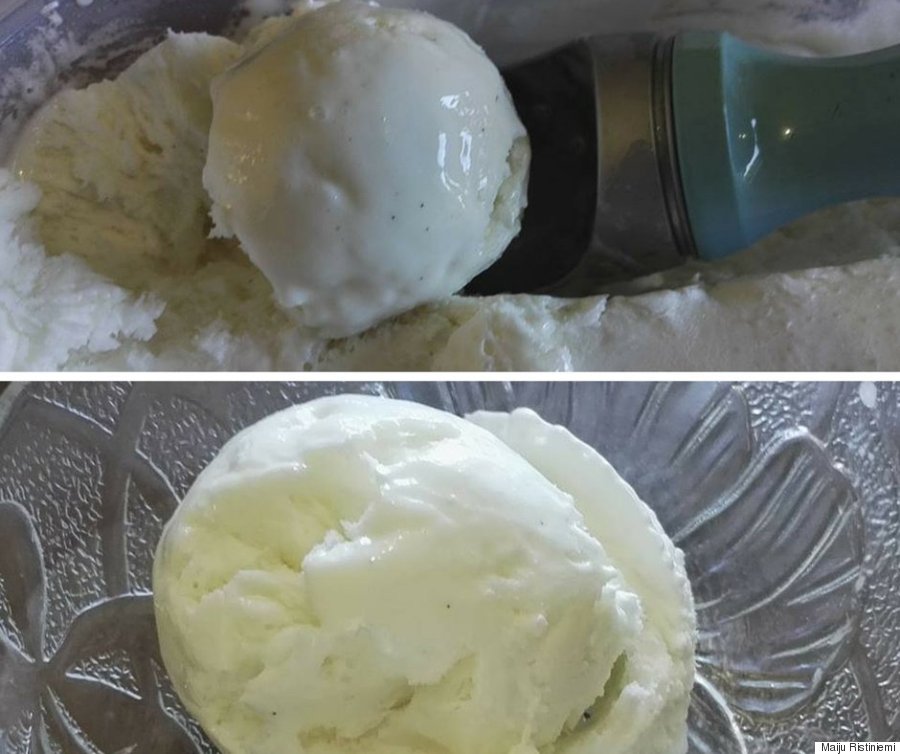 One of the biggest challenges with dairy-free ice cream is that lower fat milk alternatives can result in ice cream that's icy and hard. But using whipped aquafaba in dairy-free ice cream helps make the final frozen product creamy and soft like traditional ice cream. The best part is you don't even need an ice cream maker! Maiju Ristiniemi from Finland shares how she made soft coconut aquafaba ice cream, here.
Egg-free mayonnaise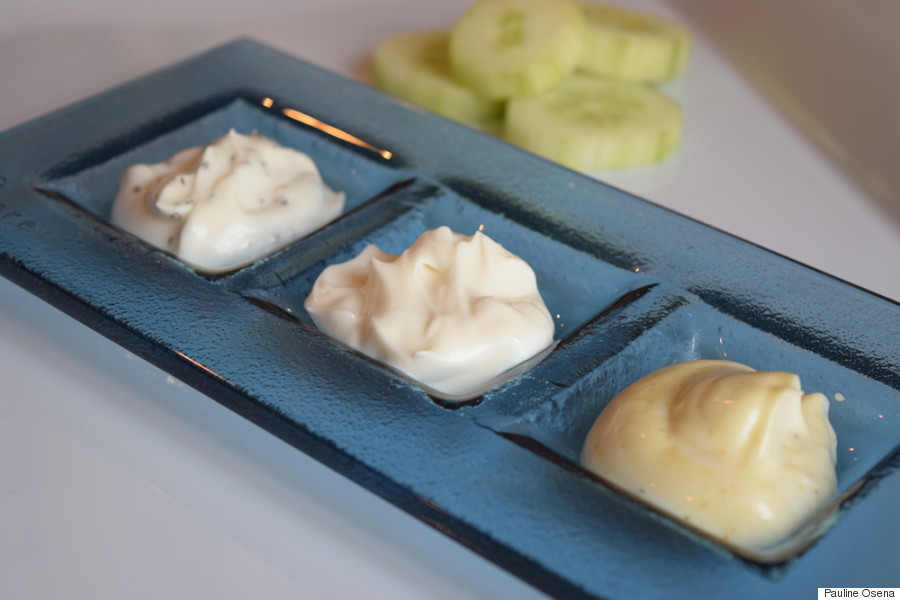 To make a delicious and creamy egg-free mayonnaise, simply replace the egg yolk used in traditional mayonnaise with three tablespoons of aquafaba, and whisk it with lemon juice and olive oil. Aquafaba mayonnaise can be seasoned and used as salad dressing, a dip or anything else traditional mayonnaise is used for. It does not separate and keeps fresh for up to one week refrigerated in an airtight container.Get the recipe here.
5. Dairy-free butter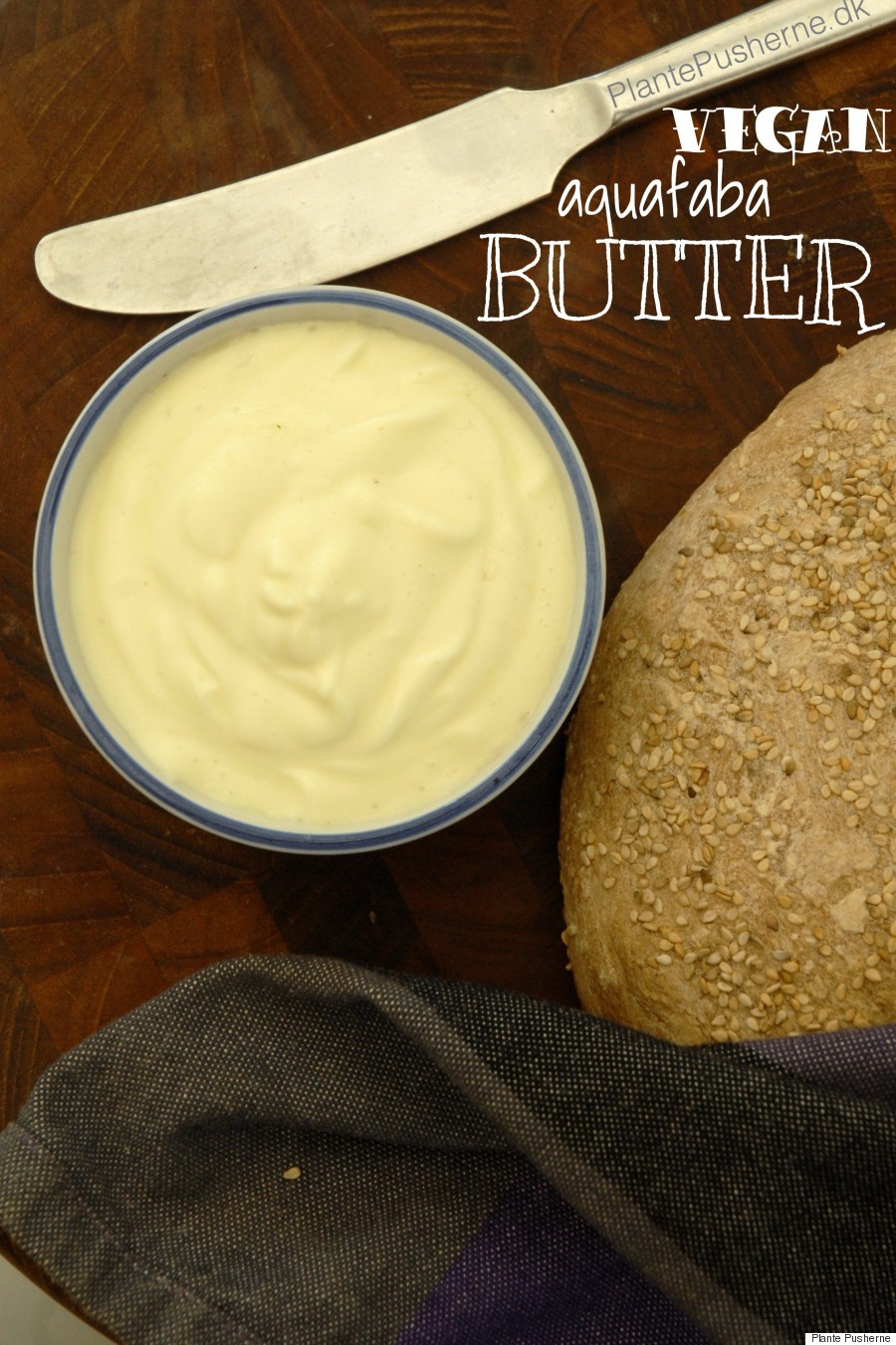 A dairy-free butter can be easily made with some aquafaba, coconut oil, olive oil, apple cider vinegar and salt. Nina, of the blog Plante Pusherne, uses simple ingredients and four minutes of processing time to whip up a delicious and buttery soft, vegan aquafaba spread. Get the recipe here.
Awesome Vegan Aquafaba Recipes With The Chickpea Water
Vegan lemon meringue pie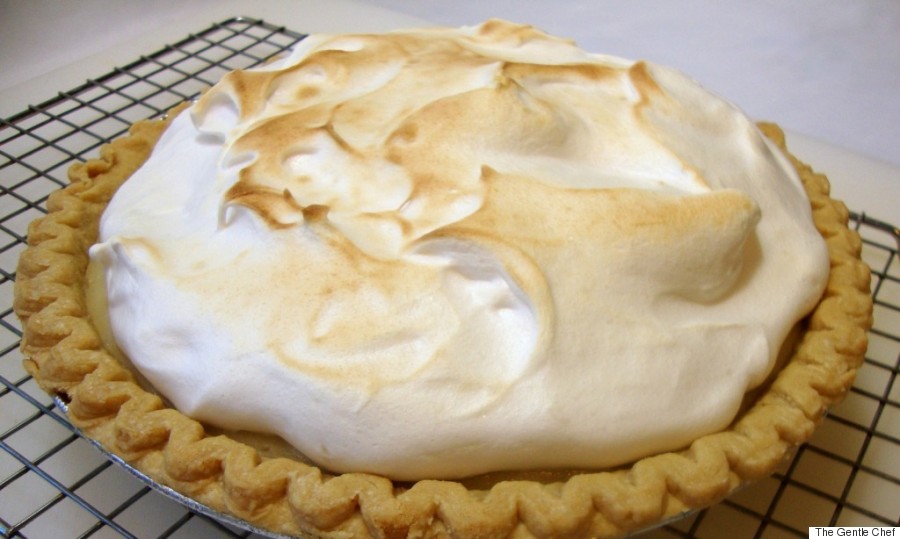 Lemon meringue pie is traditionally made with a shortcrust pastry crust that is filled with lemon custard and topped with fluffy meringue. To create a vegan lemon meringue pie, chef Skye Michael Conroy of The Gentle Chef made the lemon custard with silken tofu, cornstarch, sugar, lemon juice and zest, and the meringue with aquafaba, sugar and guar gum using the same whipping method as meringue cookies. Get the recipe here.
 Aquaqfaba Tested
Meringue Mushrooms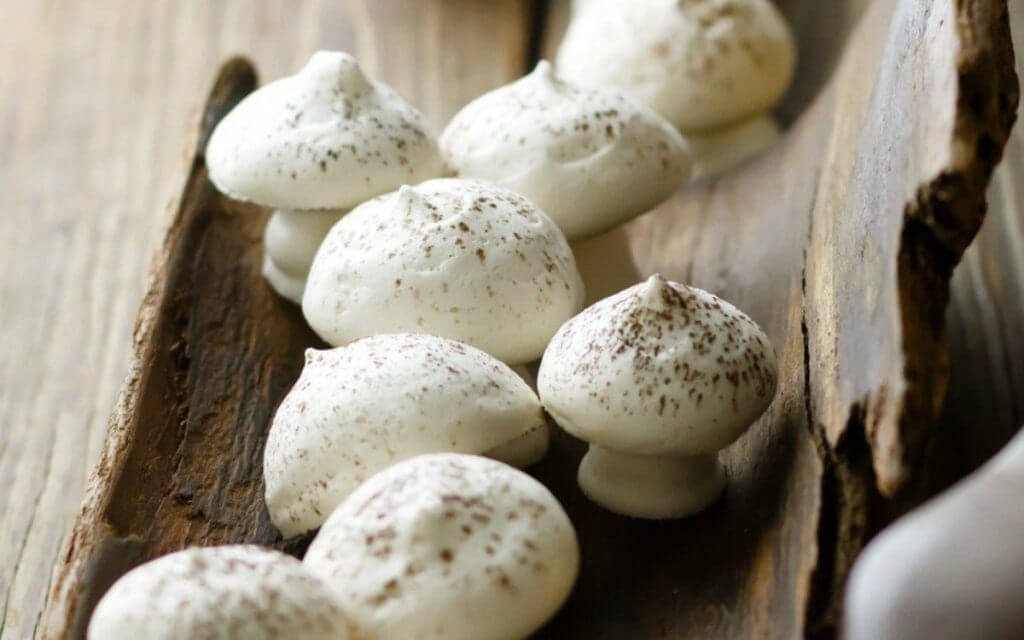 These aquafaba Meringue Mushrooms are crispy, sweet, and irresistible! Store them in an airtight container until you're ready to unleash meringue mushroom awesomeness at your next party. But be warned, they might be too cute to eat.
Ever since I made meringues with chickpea brine I've been wanting to experiment with different sugars. I'm not anti-sugar in the slightest but I felt like the taste of the meringues could be improved by the flavor of the sweetener. I'm a huge fan of maple syrup so I wanted to see if it would work in place of the icing sugar! It does!
Lemon meringue pie, made vegan! What was once the equivalent of the Holy Grail to most plant-based pie bakers is now easily within reach, thanks to the winning combination of tofu and aquafaba! This pie is the perfect combination of sweet and tart, and it's sure to be a hit at family gatherings or with just you and a special someone on a Sunday afternoon.
More Recipes below
AMAZING AQUAFABA RECIPES THAT WILL ASTONISH YOU
DON'T MAKE A MISTAKE MAKE SURE TO KEEP THE "AQUAFABA"
You may also like the recipes below
EASY INSTANT POT RECIPES TO BUY YOU MORE FUN TIME
VEGAN DESSERTS YOU WILL LOVE AND CAN ENJOY GUILT – FREE
Protect  Yourself and Your Family from the most common chronic vegan deficiencies — without taking a bunch of supplements.  Click here