Boost Your Immune System With Seasonal Vegetables
|
Vegan Recipes with Seasonal Vegetables
Seasonal vegetables provide a natural variety throughout the year. Good, if you know in which months which varieties are ripe and offered regionally. You can use them to create a healthy menu for your family.
For many reasons, it makes sense to eat locally grown and, therefore, seasonally available vegetables and fruits. It tastes better and avoids unnecessary environmental impact through long transport routes and excessive water consumption when growing in dry regions of the earth. What initially sounds like a restriction ultimately offers the opportunity to rediscover diversity as the seasons change.
Vitamins are left behind on long transport routes.
Imported goods are usually harvested and irradiated in an unripe state so that they survive the long transport to the point of sale. It is another reason why the valuable ingredient content is lower than that of seasonal fruits and vegetables from local cultivation. Many vitamins are also sensitive to light, oxygen, or heat, which is why long transport reduces the vitamin content further.
Quality at a fair price is available during the season.
All this speaks in favor of including seasonal vegetables in a healthy diet. In addition to health reasons, some further aspects are in favor of local and seasonal products, such as ecological reasons. But the taste and aromas also suffer from premature harvest, lack of light, and long transport times. To buy when the offer is the richest, at the same time, protects the purse. Therefore, seasonal shopping is also worthwhile for citrus fruits or tropical fruits and vegetables that are not from the region. The best quality at the lowest price is always right at the harvest time for the product.
If you want to know exactly where the food comes from on your plate, for health reasons and ecology, or if it is important to you to shop for seasonal and regional food, there are a whole range of useful alternatives. Even enable the city dweller can buy fresh produce directly from the producer.
Vegetable and fruit boxes from the producer directly to your home
Especially in big cities, delivery services for organic products and seasonal vegetables are very popular. Among the providers, there are also farmers who sell their products online and deliver them to local customers by a pickup truck. Knowing and trusting the farmer where you buy your vegetables is best. Read about here
Fresh and ripe fruits and seasonal vegetables are the healthiest
Vitamins and essential nutrients that make fruit and vegetables so healthy are present in the highest concentration when the harvest takes place only at optimal maturity, and the plants have received enough daylight and sunlight
Boost your immune system with seasonal vegetables
A healthy diet with fresh local fruits and vegetables is now particularly beneficial thanks to the rich offer. So use the autumn months to nourish your body with vitamins and get fit for the winter!
FALL HARVEST SALAD WITH MAPLE TAHINI DRESSING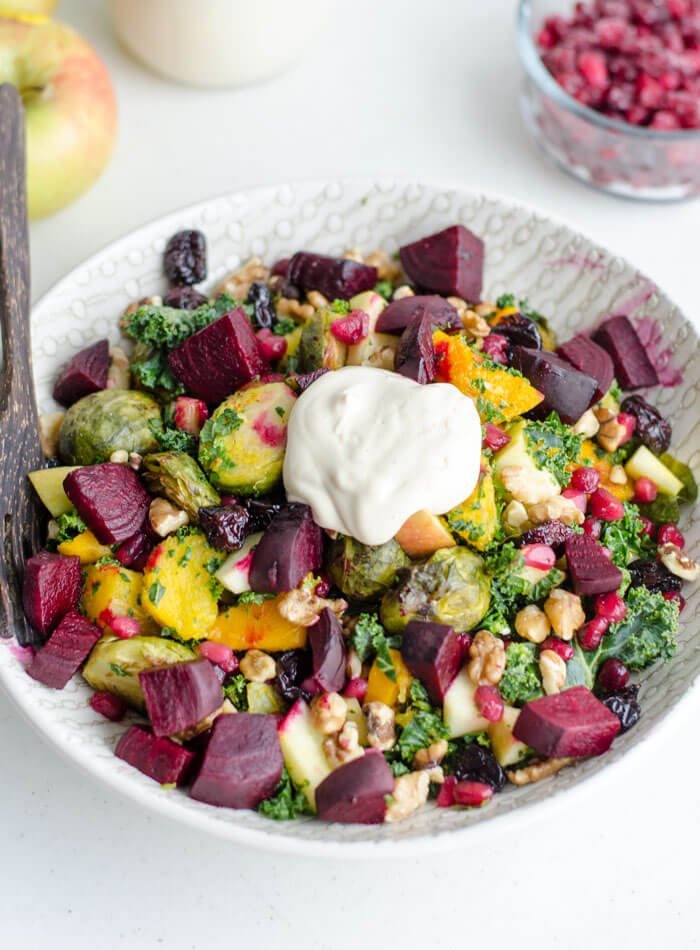 This Fall Harvest Salad with Maple Tahini Dressing is made with all the best Fall ingredients. We're talking butternut squash, Brussel sprouts, apple, beets, cranberries, and pomegranate, all topped off with a simple but perfectly sweet and tangy maple tahini dressing. This salad is vegan, gluten-free, oil-free, and absolutely loaded with nutrition. This beautiful Fall salad would be lovely served with your Thanksgiving meal.
Beets
The Beet meets the demands of modern and healthy nutrition. Nevertheless, it still adheres to the image of rustic people's food with an earthy taste. But you can prepare all kinds of delicacies from beets. The intense red pigment betanin can also be used in the food industry as a dye. They are usually cooked as a salad or as a pickle. They, too, taste as raw food in a salad or as juice. The leaf stalks and leaves you can use like spinach.
Beetroot is one of the healthiest and, at the same time, cheapest vegetables that are native to us. Its dye betacyanin slows creeping inflammation, has an antioxidant effect, and fights free radicals. Most of us know beetroot is just pickled, but the red vegetables have much more to offer and are very versatile in culinary terms – as these beetroot recipes prove.
Sautéed Beet Red Greens [Vegan]
The recipe is almost too simple to write down, but since I did like this particular combination, it is worth jotting down for my own reference.
Chocolate Frosted Cupcakes [Vegan]
It's not often that I say to myself,"Sister, you are a freakin genius!". But I said that one day (out loud, actually) after I came up with these most excellent chocolate beet-root cupcakes. 
Raw or Nearly-Raw Cold Beet Borscht
Russian Beet and Potato Salad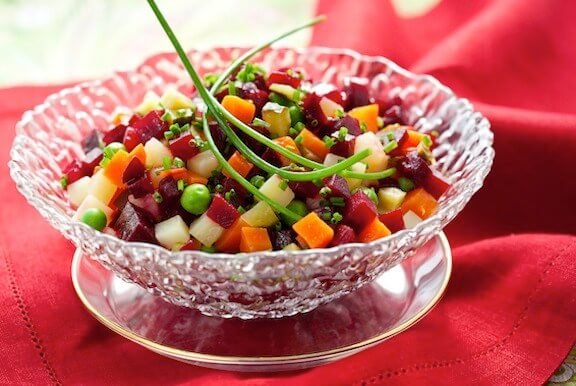 More recipes with beets 6 Exciting Vegan Beetroot Recipes That Will Astound You
Cruciferous vegetables – typical of autumn and winter
In the autumn, there are mainly local Cruciferous vegetables fresh from the field. Cabbage is rich in fiber and contains plenty of minerals and vitamins – especially potassium and vitamin C. With an average of 25 kcal per 100 g, cabbage is also extremely low in calories and therefore suitable for feel-good weight. 🙂
White cabbage, red cabbage, and savoy cabbage are very intense in taste. Grab cauliflower, broccoli, kale, and Brussels sprouts if you like them milder and more delicate. Cruciferous vegetables you can prepare in many ways. Whether as soup, stew, casserole, vegetable garnish, or salad – your imagination knows no bounds.
Help against the cabbage smell.
Unfortunately, cabbage dishes taste delicious but emit an unpleasant odor because of the sulfur-containing ingredients. Add a dash of vinegar or a splash of lemon juice to the cooking water, and the air in the room will be almost free of cabbage odor.
Broccoli
It is no wonder That broccoli is on the top list of healthy vegetables, especially when it comes to the healthiest vegetables. A cup of chopped broccoli contains 135% of the recommended daily amount of vitamin C. Broccoli also contains vitamin A, vitamin B-6, calcium, magnesium, potassium, fiber, protein, folic acid, and vitamin K1. The cancer-fighting properties that support eye health and antioxidants are all recommended as very healthy; in fact
Purple Sprouting Broccoli, Chickpeas, Kale, Sprouts, and Seeds
A superfood salad that will give you a lot of energy throughout the day, this Purple Sprouting Broccoli, Chickpeas, Kale, Sprouts, and Seeds is truly good for you! This recipe is also excellent for a calcium-rich diet, so be sure to make a lot.
Cheesy Broccoli Soup
This Cheesy Broccoli Soup is great for a cold day. It is vegan so it gets the cheesy flavor from nutritional yeast, and it has garlic and cayenne pepper for amazing healing properties. Top it with roasted broccoli and roasted potatoes for some extra crunch.
Crispy Lemon Ginger Tofu With Broccoli 
This recipe is an elegant take on a stir-fry with a sauce that will blow your mind. In this Crispy Lemon Ginger Tofu With Broccoli dish, the tofu is crispy on the outside and soft on the inside while the al dente broccoli shoots are tender and savory.
Broccoli Paté With Quinoa Chips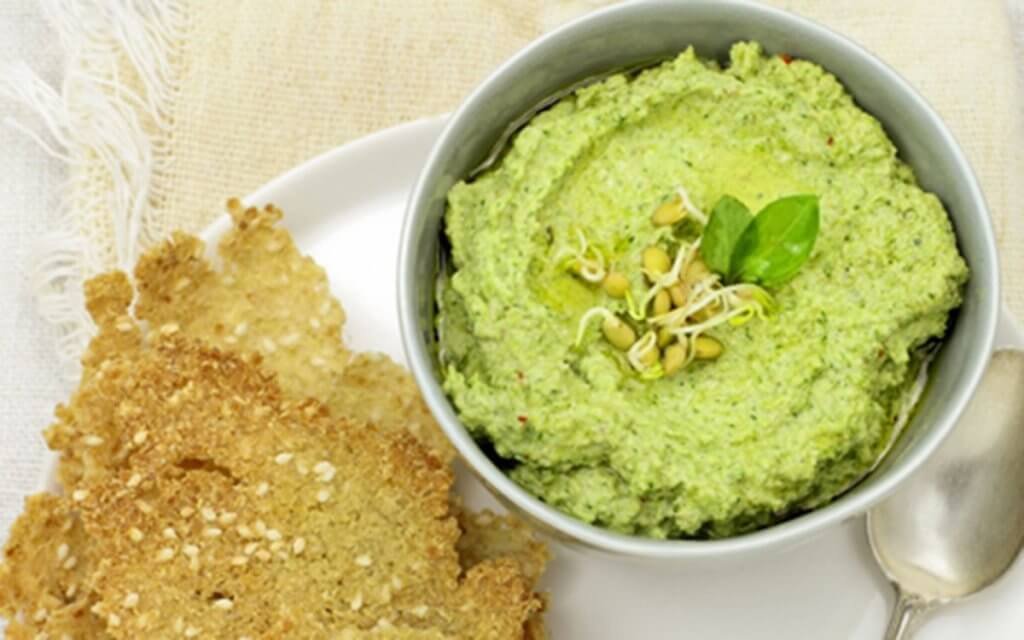 This Broccoli Paté With Quinoa Chips is a delicious appetizer or a snack, in short, it is always good, and you can also serve it on a bed of pasta if you want! Green, healthy, and full of nutrition!
Cabbage
There's a reason that so many people are turning to cabbage soup recipes for weight loss – most recipes for cabbage soup are simple to make, filling, and remarkably low in calories. With just a few ingredients and only one pot needed, our recipe for cabbage soup will definitely become one of your go-to cabbage recipes.
QUINOA & LENTIL STUFFED VEGAN CABBAGE ROLLS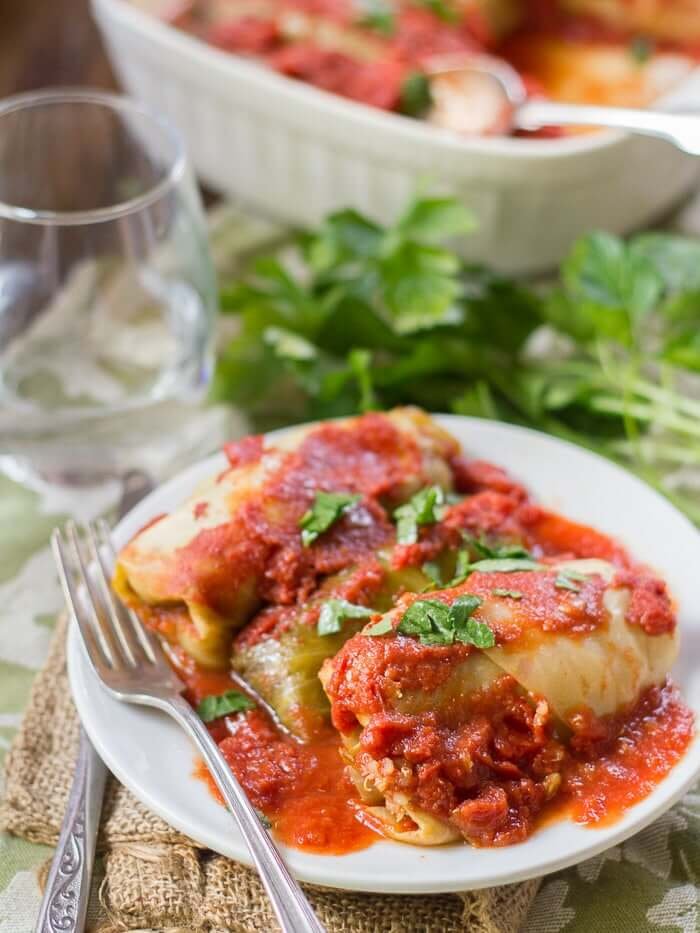 These stuffed vegan cabbage rolls are made with tender leaves of steamed cabbage wrapped around a savory, smoky mixture of quinoa and lentils, baked up in tomato sauce until piping hot.
Warm Red Cabbage Salad with Sweet Potatoes
Crisp-tender, just-cooked cabbage serves as a warm salad base for seasoned sweet potatoes. To build a meal around this dish, chef Michael Anthony suggests adding "a few other dishes, like roasted Brussels sprouts and roasted parsnips, for a variety of textures and to give the meal depth and a sense of progression."
Cauliflower
Cauliflower is one of the so-called "superfoods." It strengthens the immune system, reduces the risk of cancer, and contains numerous valuable nutrients. Also, Cauliflower is rich in vitamin C and includes many zinc and vitamins B3, B5, and B6. Cauliflower contains a lot of fiber. He is, therefore, very satisfying and is perfect for losing weight.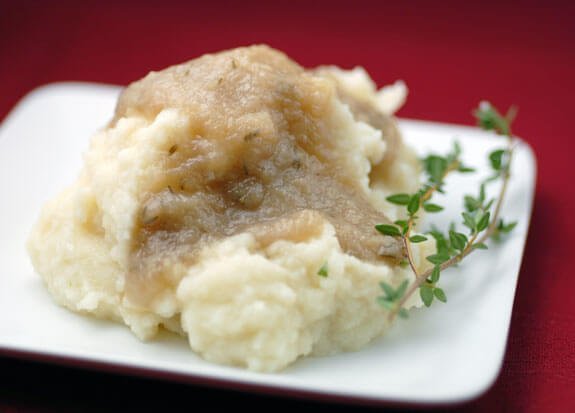 Luckily, this Mashed Cauliflower recipe fits the bill perfectly, allowing you to satisfy those cravings for the more common mashed potatoes without feeling sleepy and heavy afterwards. Cauliflower actually whips into an even fluffier mash than it's potato counterpart, and makes a great side dish along with your other holiday favorites.
CAULIFLOWER PATTIES RECIPE | VEGAN BURGER
How awesome are burger patties?! I love them, they are so easy to make, and they are furthermore healthy if they are not deep fried. I have been experimenting with all kinds of veggies like zucchini, carrots, celery, or cauliflower to make these fritters. This cauliflower patties recipe is my absolute favorite.
See more cauliflower recipes >Astounding Gluten-Free Vegan Grain Replacement Dishes.
Brussels Sprouts
They may not be everyone's favorite, but their abundance of vitamin K and vitamin C make these little buds a must for any well-balanced diet. Brussels sprouts are also an excellent source of omega-3 fatty acids, fiber, vitamin B1, folic acid, potassium, and phosphorus, to name a few. Their health benefits are numerous, including diabetes control, bone strength and fighting forms of cancer. Brussels sprouts are also super low in calories, which means that you do not have to worry about it at all when trying to lose weight.
Mediterranean Cauliflower Rice and Roasted Brussels Sprouts Salad
Look at the heartiness of this Mediterranean Cauliflower Rice and Roasted Brussels Sprouts Salad! This simple dish is filling but low in carbs. Cauliflower rice is combined with roasted Brussels sprouts, marinara sauce, olives, sun-dried tomatoes, and white beans to burst with Mediterranean flavor.
Orange Maple Glazed Brussels Sprouts [Vegan, Grain-Free]
Super simple brussel sprout side dish with all of the seasonal winter flavors! These flavorful and sweet sprouts are beautifully paired with coconut and walnuts.
Kale
It's pretty well known now that kale is one of the healthiest vegetables we can eat. Some people might be getting sick of all the media attention this veggie is getting, but you should remember that for an excellent reason. Think about it just 100 grams of Kale contains a crazy amount of vitamin C. It has 200% of the daily recommended vitamin C value and vitamin A  199%. But also light amounts of calcium, vitamin B-6, potassium, magnesium, Protein, and iron.
Sweet Potato Noodles with Kale and Walnut Sage Sauce [Vegan]
Coconut milk, walnuts, sage, and maple syrup work thoroughly well with shallot, kale, and garlic to create this delightful sauce. It's paired with sweet potato noodles as the ideal companion. This is an indulgent, fall-inspired dish you can throw together in 15 minutes!
Hearty Superfood Salad With Arugula, Kale, and Beets [Vegan]
This delicious salad is loaded with superfoods and hearty enough to satisfy even the biggest appetites! With all these amazing health benefits, this is the perfect time to eat this salad regularly! It's your body's first defense against cold and flu season.
Adzuki Bean and Kale Hummus With Sweet Potato Chips [Vegan, Gluten Free]
Chips and dip get a healthy, even more, delicious twist in this recipe! Rich sweet potato pairs perfectly with this adzuki bean hummus to keep you full. Tahini, salt, pepper, and garlic give the dip a flavorful kick, while added kale leaves give you a healthful dose of green veggies.
This delicious pesto packs a nutrient-rich punch, making it a true "super" food that's also super simple to prepare. The secret ingredient?…Kale!
More recipes with Brussel sprout and kale. Delightful Dinner Recipes You Can Fall In Love With
Pumpkin and Squash
Pumpkin and Squash are THE autumn vegetables! No other food we associate so much with this season is the orange Pumpkin and  Squash vegetables. And they do not only taste good but are also quite healthy.  Seasonal vegetables are bursting with valuable ingredients from vitamins, including beta-carotene as a precursor of vitamin A, and minerals, including potassium, magnesium, calcium, iron, or filling fiber. Many delicious pumpkin recipes are available here! 
Keep warm with a bowl of delicious Pumpkin Coconut Soup.
See also the squash recipes. The Ultimate List Of The Best Vegan Squash Recipes
Boost your immune system with these seasonal vegetable recipes to prepare for winter. To your health!