Easy Instant Pot Recipes To Buy You More Time For Fun
|
 Have fun with easy Vegan Instant Pot Recipes
Easy vegan instant pot recipes will make cooking a breeze. Vegan cooking is getting easier! Many people discover vegetable cuisine for taste reasons for themselves.
Many completely new dishes convince even skeptics. Even experienced chefs and gourmets enjoy a vegan diet and discover many special new tastes and flavors.
The range of kitchen appliances which makes cooking easy and fun is getting bigger. With good kitchen appliances, you also can have more fun cooking. They make cooking also quick and easy. Without these kitchen appliances, most of us would only half enjoy preparing meals.
The instant pot is an electric pressure cooker, perfect for potatoes, rice, stews but also for baking bread or cakes, programmable so he cooks and when you get home from work the food is ready. In addition even cheaper than a conventional pressure cooker. The instant pot or Multicooker, has even more features, such as a yogurt maker, slow cooker and he has a stainless steel pot.
If you have one you will love your Instant Pot. Click here for Instant Pot
Below you will find delicious Instant Pot Recipes quick and easy to prepare.
Easy Instant Pot Recipes To Buy You More Fun Time
Instant Pot Maple Bourbon Sweet Potato Chili
Bourbon adds a bit of a kick to this chili, while maple syrup brings a hint of sweetness that helps mellow out the heat. Top each bowl with crispy tortilla chips for a little crunch with each bite. (via My Darling Vegan)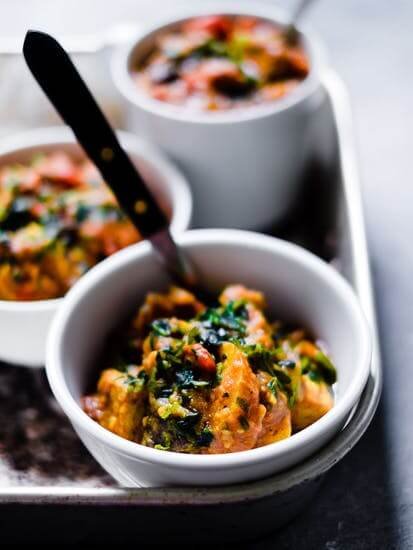 Meaty tempeh makes this dish one that's perfect for warming you up on cold nights. It's chock-full of veggies to keep you healthy, and the addition of prunes and dried apricots adds an intriguing sweetness to the dish. (via The Blue Bride)
Instant Pot Asian Steamed Dumplings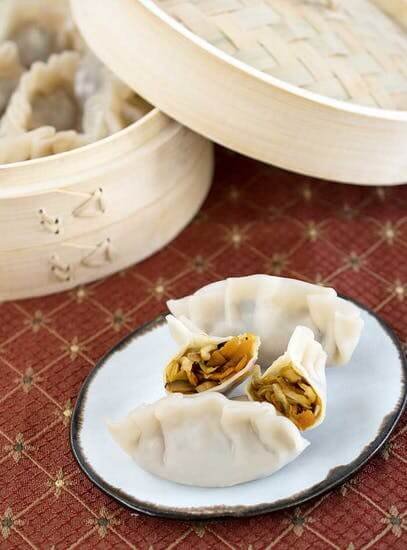 Making these dumplings in your pressure cooker is faster than ordering them for delivery. You can nestle your bamboo steamer right in the machine, and the dumplings cook up in minutes. (via Healthy Slow Cooking)
Instant Pot Quinoa Lentil Superfood Soup
Even though coconut milk makes this soup *taste* creamy and rich, it's still healthy! Add a variety of veggies, lentils, quinoa, and finely chopped kale and cilantro to the pot and cook until tender and fragrant. (via Simply So Good)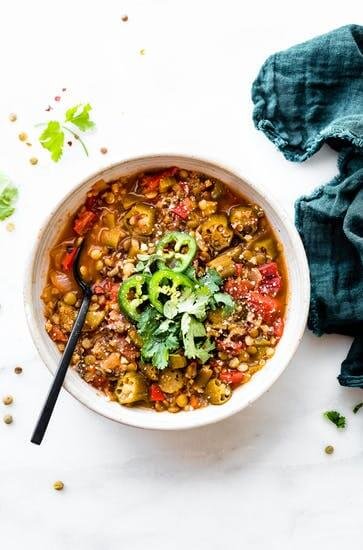 If a trip to New Orleans isn't in your near future, this 10-minute lentil gumbo should tide you over. Don't skip the okra — it loses its "slime" as it cooks, and helps thicken the broth. (via Cotter Crunch)
Instant Pot Pumpkin Walnut Chili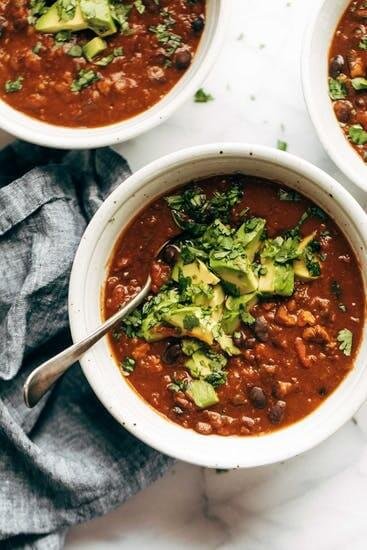 Instead of just beans, this vegan chili is filled with all sorts of good-for-you ingredients, including nuts, grains, and of course pumpkin. All become tender, saucy, and infused with flavor in the pressure cooker. (via Pinch of Yum)
See more recipes here >Vegan Recipes That Make Weeknight Cooking a Breeze
THE QUICKEST & EASIEST ONE-POT VEGAN RECIPES
If you need help with losing weight and keeping on track, the Bright Line Eating program is a great program to support. It is based on cutting-edge psychology and neuroscience. Susan Peirce Thompson, Ph.D. It is focused on establishing healthier eating habits and is also compatible with a vegan diet.
Join the new knock-your-socks-off membership of Bright Line Eating® Click here.