Eco Friendly Cleaning Hacks For Your Household And Kitchen
|
Use this Eco-friendly Cleaning solution for your home.
Eco-friendly cleaning does not have to be complicated.  Especially when spring is approaching,  many want to bring their home to shine. However, many conventional detergents are harmful to the environment, unhealthy, or toxic. Ecological cleaning is easy: You can learn how to get rid of the dirt in your home without harming the environment and your health.
Conventional detergents contain chemicals. Most manufacturers use detergent substances based on the scarce raw material petroleum; almost all products contain artificial fragrances, dyes, or preservatives. With such detergents, environmentally harmful substances enter the sewage. Synthetic ingredients are often problematic for our health because they can dry out the skin and mucous membranes, making them more susceptible to allergies and rashes.
See >13 Chemical Threats to Remove from Your Home
Eco-Friendly cleaning with home remedies
Cleaning with home remedies is significantly more environmentally friendly, less harmful to health, and less use of packaging. You can replace most of the significant cleaners with just a few home remedies – some of which you may find in your kitchen cabinet.
Make the Eco-friendly cleaning agents yourself; use these home remedies
Vinegar for cleaning
Vinegar is a classic in the household, both cooking and cleaning.
You can now use vinegar, citric acid, and soda (= sodium carbonate) from the kitchen for cleaning. These three classics, each diluted with warm water, become effective all-purpose cleaners with which you get almost everything clean. If you supplement your cleaning cabinet with soda (sodium bicarbonate) and soft soap, you can easily make virtually all your cleaning products yourself.
Home remedies that help cleaning
Soda helps against heavy dirt.
Soda is very versatile. Among other things, the powder can replace aggressive conventional oven cleaners: Mix the powder 1: 1 with water, give on crust in the oven, scrub after a few hours of exposure, and wipe. In combination with vinegar, you can get rid of clogged drains with soda: add two tablespoons of soda powder directly into the sewer, pour half a cup of vinegar afterward, leave to soak, and rinse.
Soda – helps against fat.
Even in the kitchen, it is not difficult to clean ecologically: Greasy surfaces you can quickly clean with baking soda. As a general-purpose cleaner or dishwashing detergent, they perform some purposes better than conventional cleaners. Soda also removes encrustations and makes white laundry shine. Just mix one to two tablespoons with one liter of warm water.
In the kitchen, soda is a great way to clean pots, pans, and baking trays: simply add about a tablespoon of soda powder to one liter of water in the pot and bring to a boil briefly (or empty the hot solution onto the baking tray). Then leave it on until the sponge can easily remove the dirt. Even the oven and the hood get clean with this soda solution.
A simple detergent can also be made using soda. Namely by finely rasping some neutral, fragrance-free soap (Castille soap or olive oil soap) and mixing it with boiling water and soda powder.
Vinegar and citric acid help against lime
Ecologically clean is easy: With lukewarm water and some vinegar essence, you get the bathroom to shine and get rid of limescale. The mixture is very suitable for window cleaning and even as a fabric conditioner in the washing machine. If you do not like the smell of vinegar, you can use citric acid. It removes lime stains just as effectively and has a pleasant citrus fragrance.
Potato starch is another 'weapon' for green cleaning. It is a natural enemy of lime. The easiest way is to eliminate limescale immediately after showering by directly rubbing dry taps, tiles, and the tub dry with a cloth.
Citric acid is excellent as a decalcifier as well as vinegar.
A solution of 2 to 3 tablespoons of citric acid per liter of water can be used to descale kettles or coffee machines. However, many recommend not overheating the solution but rather leaving it cold or lukewarm to act. Otherwise, new deposits (calcium citrate) can form.
To decalcify faucets, showerheads, etc., you can dissolve about one and a half tablespoons of citric acid powder in a quarter of a liter of water and let the liquid act on the calcifications or place the parts in the decalcifier solution. Afterward, rinse thoroughly and wipe off.
Chemical descaling agents in plastic bottles are not needed.
Also suitable as a decalcifier for washing machines and dishwashers is citric acid: Simply add about six to eight tablespoons directly into the empty machine and let it through at medium temperature completely.
Burnt pots or pans you also can clean with the powder: Mix a tablespoon with a cup of warm water, leave to soak in the pot, then rinse off.
The citric acid powder is also suitable as a fabric softener for white laundry. (As it has a slight bleaching effect, it is best not to use it for colored laundry.) It is best to dissolve five to six tablespoons of citric acid powder in one liter of water and to add about 50 milliliters of this liquid to the fabric softener compartment with each wash.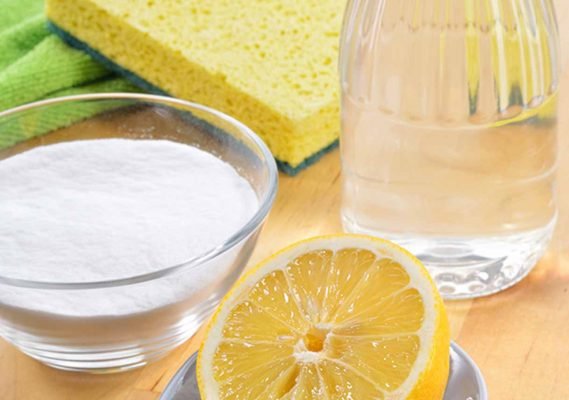 Another excellent use for the acid: remove yellowish stains from white clothing. To do this, you only need to soak the clothes in an acid-water solution (about 15 grams of citric acid per liter of water) for a few hours and then wash them in the machine as usual.
Also, use citric acid as a toilet cleaner: distribute about three tablespoons of powder in the toilet bowl and let it work for a few hours, brush, rinse, and finish.
Clean naturally with Castille soap.
A cleaning classic is Castille soap, also known as Green soap. The soap solution works by dissolving and absorbing dirt and oily substances. You can use them both for cleaning and washing; neither windows nor floors, dishes or laundry safely. For example, sustainable soap consists of water, potash soap, olive, and pine oil and is biodegradable.
Eco-friendly cleaning with reusable cleaning cloths & sponges
To avoid garbage, avoid using paper towels and other disposable materials. Use reusable cotton towels and cotton cleaning cloths. You can easily clean these in the dishwasher or washing machine at 60 degrees. Even old sheets, tea towels, and T-shirts are ideal as a rag.
When using sponges, make sure that they are not plastic but of natural origin. Luffa sponges, for example, are more environmentally friendly as they degrade faster when they end up in the trash.
Eco-friendly Cleaning- natural cleaners you can buy are a good alternative.
Instead of buying detergents, anyone best uses ecological cleaning agents. These cleanse with surfactants based on natural fats and sugars or renewable raw materials. They contain no synthetic fragrances, colors, or preservatives. Some manufacturers offer fragrance-free products for allergy sufferers. Many companies also pay close attention to organic farming. However, any cleanser, whether natural or not, should be used as sparingly as possible.
Start Spring cleaning with these Eco-friendly Cleaning alternatives.
Top 8 Nontoxic Cleaners You Can Use at Home
See also How To Make Zero Waste In The Kitchen