In Autumn Is a Good Time To Make Squash Gnocchi
|
Autumn time, Squash time, Squash Gnocchi time.
Here is a Squash Gnocchi recipe from our Great Vegan Bake Off winners; remember the Chocolate Beetroot Cake? If not, it may be good to look at and click the link above.
Autumn is the time when we can get a variety of locally grown squash at the market.
Here are recipes for Squash Gnocchi; how is this for the collection of vegan recipes? Add it to the collection for squash recipes, something good to cook in fall when the leaves are getting colorful and the wind is blowing. Here is another squash recipe; maybe you want to try this too? Butternut Squash Pasta now is the right time for this squash recipe.
Ready for Autumn? – Time For Squash
Squash Gnocchi
Autumn is all about those golden tones. Browning leaves warm golden afternoon sunlight and a host of yellows and oranges that equal squash season. Yes, October is here, and it's time to think of a million and one uses for all the squash that is coming our way.
This recipe has all the comforting goodness of gnocchi but with extra flavor and without the stodge.
It's a simple recipe to make, although rolling out and shaping the gnocchi is a bit of a faff. However, it can easily be made in advance, simply store the uncooked pieces in the fridge for a few hours or even freeze them for a few months.
Squash Gnocchi
Serves 3
450g Squash (Harlequin, Crown Prince or any that you can find), 175g Brown Rice Flour, 1 tbsp Flax Seeds, 3 tbsp Water, 1 tbsp Nutritional Yeast, 10 Cherry Tomatoes, 2 Large Handfuls of Spinach, 1 Clove of Garlic, Olive Oil
Begin by chopping the squash into smallish chunks and cutting or peeling off the skin.
Place the squash on a baking tray, drizzle with olive oil, and season. Roast for around 30mins at 180C until soft when you cut with a knife.
Set aside to cool slightly. Meanwhile, make the flax egg by grinding the flax seeds in a spice grinder or food processor and whisk together in a cup with the water. Leave for around 5 minutes until it becomes gelatinous.
Put the squash into a large mixing bowl and mash until only a few lumps remain.
Add in the flax egg and combine, then slowly add in the flour and bring together.
Turn out onto a lightly floured surface and kneed gently adding a little more flour if necessary to form a smooth dough that isn't too sticky.
Divide into 4 and roll each piece out with your hands to a form long, thin sausage.
Cut into 2cm pieces. Pinch the ends together with your fingers to create a slight crescent shape and imprint with the back of a fork.
Bring a large saucepan of water to boil, add in the gnocchi, and simmer for 2-3 mins. When they rise to the top and float, they are done.
Whilst the gnocchi is cooking, wash and chop the spinach and tomatoes. Gently cook together in a frying pan with the garlic until the spinach wilts.
Spoon the gnocchi onto a warm serving dish using a slotted spoon and gently mix in the spinach and tomatoes.
Here are other Gnocchi recipes.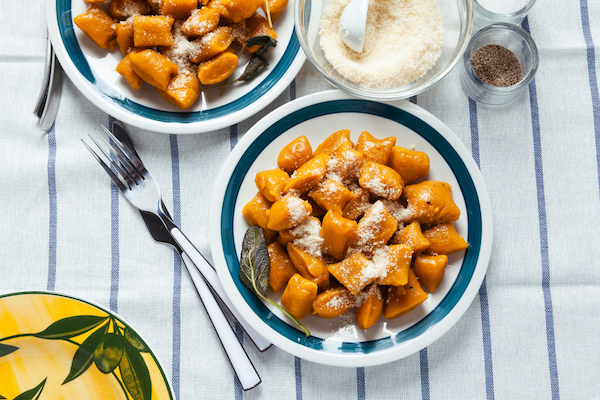 Soft, pillowy butternut squash pasta bites with only 3 ingredients and made from scratch! This squash-based version of classic potato gnocchi is gluten-free, egg-free, and totally vegan.
You will be surprised how easily you can make homemade gnocchi and even freeze and keep them for later.
Try these Spaghetti Squash Recipes
Gift yourself flawless skin with The Annmarie Skin Care 3-Step Trial of the most high-quality products. This pampering package is all-natural and guaranteed to hydrate, soothe, and rejuvenate your skin and lift your spirit. Only $19.99 with free shipping in the US & Canada.