Vegan Appetizers That Make Your Guests Line Up For More
|
 Vegan Appetizers you need on your table
These vegan appetizers will make your guests line up for more. No matter if they are vegan or not with these Vegan appetizers you will shine. If Thanksgiving, Christmas, a Birthday, or other events, these tasty and delicious treats will be a success.
Not everybody likes the taste of Caviar but this Beluga Lentil  (fake) Caviar on Blini will be liked by everyone. The  Quinoa Spinach Bites in the Gingered Orange Honey Dipping Sauce are irresistible and look at the colors of the 3 different Hummus. What a colorful and delightful roundup of recipes. Who does not like to try these crunchy Roasted Cauliflower Bites with Nacho Cheese?
See even more mouthwatering vegan appetizers. Walnut Meatless Balls and a South Indian recipe toasted Coconut with Sweet Potato, Stuffed Jalapeno Poppers, and a video that will show you how to make vegan Nachos. Nachos with Salsa everybody loves and the kids will be happy.
Prepare some of these Vegan Appetizers for your next events or if it is a big party maybe all of them and see the guests line up for more. Enjoy the taste of these plant-based, natural and nutritious treats. All guests, friends, and family can eat these vegan appetizers without regret.
Vegan Appetizers That Make Your Guests Line Up For More
This appetizer is a total fake-out and a lot of fun to serve. Serve these little morsels with a glass of Champagne and share them with some cool friends. Recipe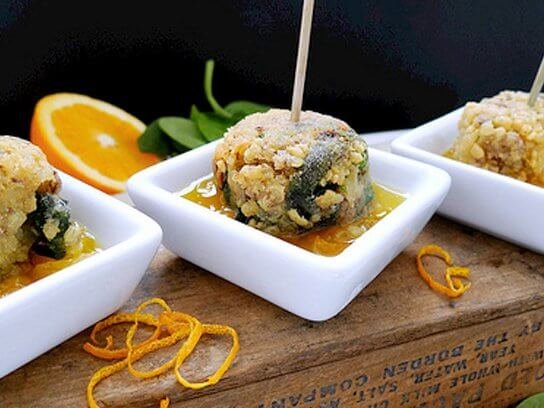 SUNDAY MORNING PANCAKES
Bean there, dunked that? Blog Sunday Morning Banana Pancakes takes trendy quinoa and rolls it into a finger-friendly treat
Roasted Cauliflower Bites with Nacho Cheese
FAT-FREE VEGAN
These morsels from Fat-Free Vegan Kitchen hit the same appetizer notes as buffalo chicken wings, but with a vegan tune
Vegan Appetizers That Make Your Guests Line Up For More
Erisheris are thick curries traditionally made with yams or pumpkin, toasted coconut, and whole kidney beans. They are hearty and earthy, with a tropical twist of coconut and curry leaves. My variation, made with sweet potatoes, crosses over beautifully to a fall or winter menu; I've even served it for Thanksgiving. This recipe is part of our menu for Sadhya, a South Indian feast. Recipe

Nothing puts a smile on people's faces faster while at the same time setting their tongues ablaze, like these grilled jalapeño poppers. Sans cheese, and debuting with a snazzy new look, these Shiny Happy Poppers are every bit a modern twist on what still remains a classic firebrand when it comes to pregame appetizers. However, a word to the wise: Having an ice-cold beer nearby is highly recommended, should this blaze get out of control Recipe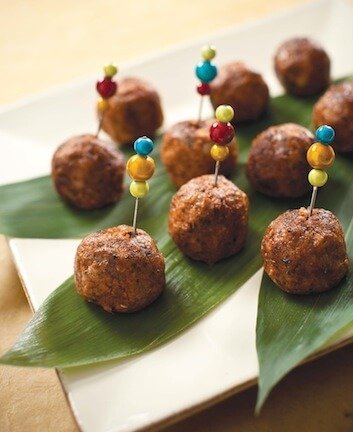 These meatballs are flavorful and replicate a traditional meatball quite nicely, but without the heaviness that comes from the meat. You get a nice punch of protein from the walnuts and immune-boosting benefits from the mushrooms, onions, garlic, and parsley. You can throw these into a typical tomato sauce and serve them over pasta or as a side dish with your favorite gravy. Recipe reprinted with permission from Kicking Cancer in the Kitchen* by Annette Ramke & Kendall Scott (© 2012 Running Press, a member of the Perseus Books Group). Recipe
See also >Are You Curious About What The  Most  Popular Viral Recipes Are?
3 STEPS TO YOUR BEST SKIN
LIMITED TIME OFFER Don't miss out!