The Top 10 Delicious Vegan Mango Recipes A Tropical Delight
|
10 Delicious Vegan Mango Recipes
Vegan Mango Recipes for you to indulge and enjoy. From spicy to sweet all delicious and healthy. Mangos are called the "King of fruits" and are truly incredible delicious. Mangos have a lot of health benefits. Read about here.
Mango is the absolute number one. No exotic fruit smells more beguiling, tastes more aromatic and provides juicier fruit flesh than the mango. They have been worshiped in their native India for more than 4,000 years. Even the Buddha liked to rest in the shade of the, up to 25 meter high mango trees.
The fruits have their status as the number one as well for the ingredient. The vitamin A and its precursor beta-carotene,  reaches absolute top values. Thus supports eyesight, immune system and elementary growth processes in the body.
Mangos  also are good for skin and hair ,a fruit that makes beautiful and lets your skin glow.
A recipe from India where the Mango with the botanical name  "Mangifera Indica" is native. Mango grows in tropical regions. We have a Mango Fennel Slaw and Mango Avocado Salsa and some other tropical salad recipes for you.
A delight to eat in the coming warm days. We do not want to forget some sweet treats made with Mango the king or fruits. On page two there are Vegan Mango Recipes for your sweet tooth
10 Delicious Vegan Mango Recipes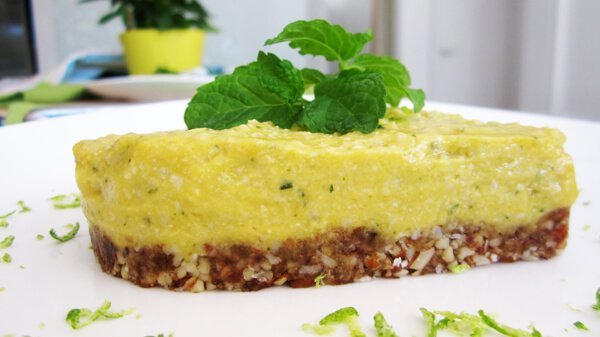 Raw cheesecakes  not baked (so they're a perfect summertime treat), and they're chock-full of healthy ingredients (so you can feel good about eating them… any time of the year!)
Mango Rice is a classic authentic dish with the perfect combination of fluffy rice and delicious raw mangoes. So watch and learn how to make Raw Mango Rice at home with Anushruti only on Rajshri Food.
Find the recipe on Anushruti's Website – http://goo.gl/EGkR6s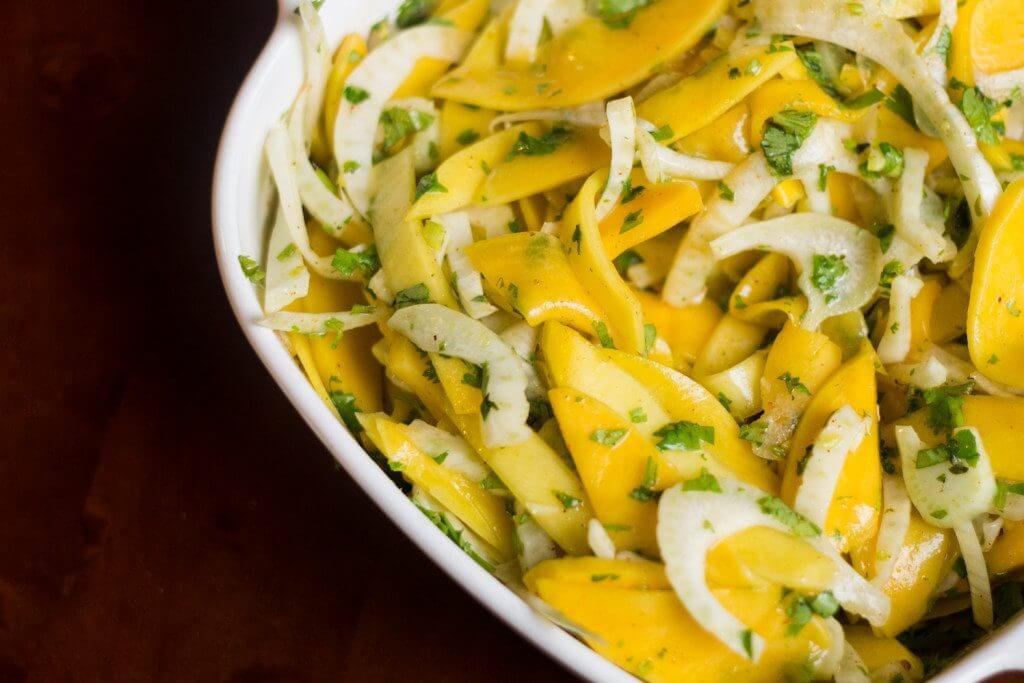 With its bright, bold flavour and crunchy texture, the bursts of lime and (optional) chilli, this fennel and mango slaw is as exciting bite of food as any plateful of salad will ever be. The facts that it takes less than 15 minutes to put together and requires only 5 ingredients don't hurt either. Make sure all of your ingredients are at their peak; as this is such a simple salad, every ingredient counts.
Chickpea salads are the best! Take no time to make and they are so filling and protein-rich. This version is great by its own or in a taco or wrap or just simply as a side dish at a grill party. The mint makes it extremely fresh, the chili makes it perfectly hot, it is crunchy, herby, flavourful and totally healthy. Yes, it's just insanely good!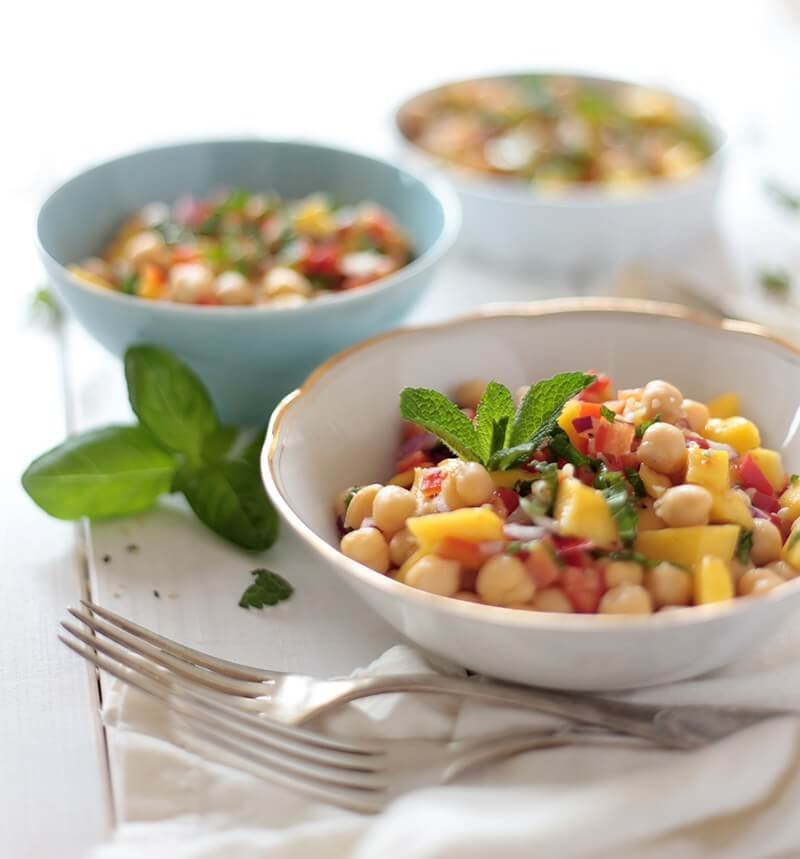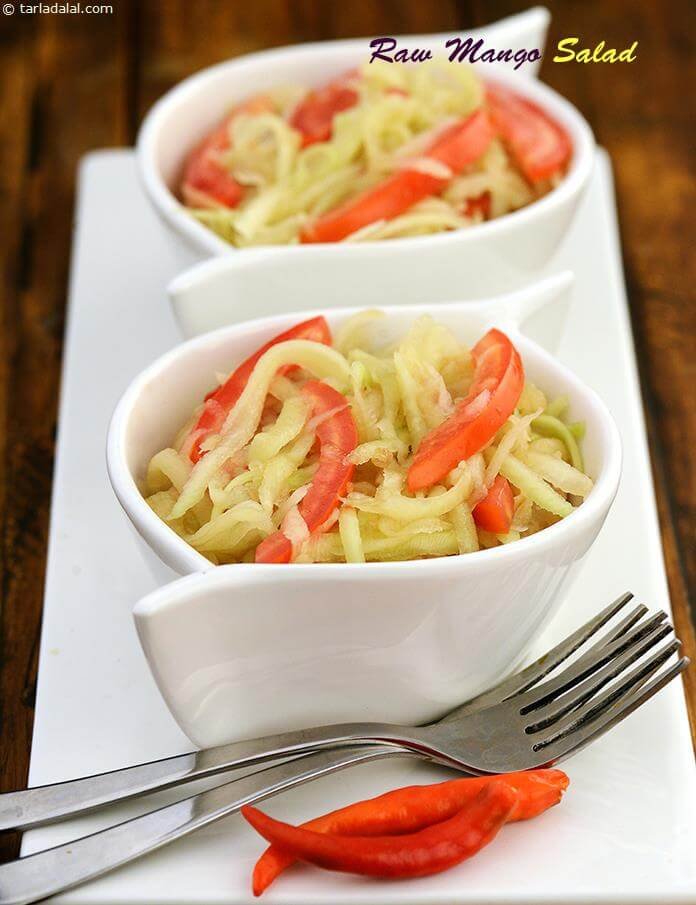 Peeled raw mangoes tossed with brown sugar, lemon juice and chilies transforms into a spicy, tangy salad that is unique in every respect. Serve it during a cozy family lunch or at a party; whatever the occasion, it will grab everybody's attention.
9 Delicious Vegan Mango Recipes
Happy spring, everyone! Can you believe that winter is already over? I mean, it may not seem like it out there, but before we know it, it will be July. Time flies!
What better way to celebrate the end of winter than with a bright and fresh salad? To be perfectly honest, I actually made this recipe a couple months ago, but found the photos on my phone this week and decided that it was about time I blog about it. The recipe comes from Bon Appetit magazine
I saw a shrimp-based version of this recipe in Chatelaine magazine a few years ago and have been serving-up veganized ever since. Instead of shrimp, I use tofu, and I marinade it for a little while before grilling it. The coconut rice is simple and delicious, and it pairs so well with the spicy tofu, cool cucumber, and sweet mango.
NOTE: Although the original recipe called for barbecuing the shrimp tofu, I find that it's equally good sauteed on the stove. So while it's a great summer recipe, this is also nice any time of the year when you're in the mood for something with a little tropical flair!
Coconut Rice Salad with Mango, Cucumber and Spicy BBQ Tofu
Exotic island-style creamy coconut rice is topped with spicy barbecued tofu in this cheerful vegan and gluten-free dish.
Mangos and avocados are definitely two of Mother Nature's most wonderful gifts…but have you tried combining the two in one dish? Now is the time with this delicious mango avocado salsa! The possibilities are endless with this one. Spread it on top of toast or crackers, or scoop some on top of a salad with an extra squeeze of lime.
It's the middle of January, and if you're in the northern hemisphere, this is about the time you start dreaming about your next getaway to a warmer place. If you can't escape from frigid temperatures, at least trick your taste buds into thinking they've just arrived to tahiti with a bite of this amazing raw vegan mango cheesecake.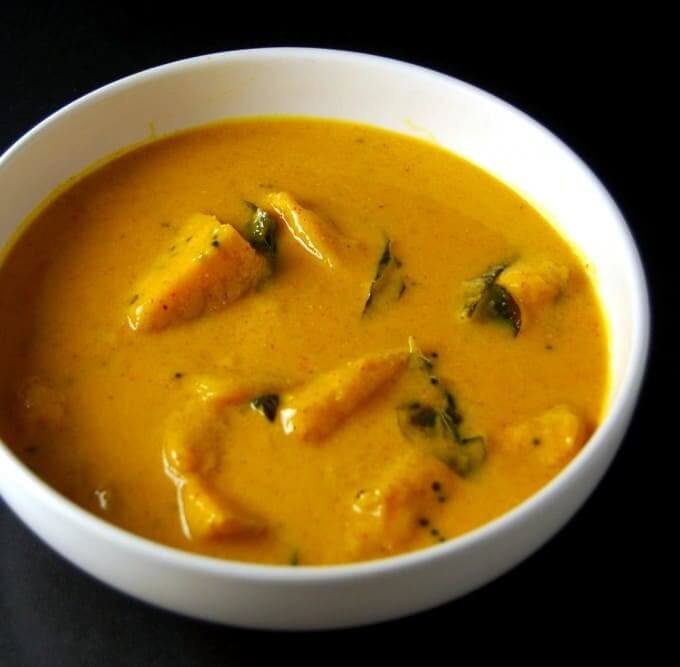 If you've never eaten a mango curry before, you have no idea what you've been missing. This simple summery stew is spicy, sweet, salty and savory, with a velvety smoothness that coats your tongue. A vegan, gluten-free, nut-free and soy-free recipe.
See also Start To Cook Here Are Super Easy Recipes You Will Love.