14 Unbelievable Delicious Vegan Chickpea Recipes
|
 Unbelievable Delicious Vegan Chickpea Recipes
Here are some unbelievable delicious vegan Chickpea recipes. The Chickpeas have not only a pleasant taste, but they are also healthy as well. Chickpeas are associated with a number of possible health benefits like Diabetes, Bone health,  lowering Blood pressure, Cholesterol, and is good for Digestion.
Chickpeas are a good source of protein, an excellent source of the trace mineral manganese, can boost your energy because of their high iron content. Studies have found chickpeas lower the risk of heart attack and due to high fiber content, chickpeas are excellent for weight loss diets.
Whether as a spread, in curries, falafel, or simply as a healthy snack in between chickpeas are all-rounders! In addition, they are still healthy and are real nutrient bombs.
Chickpeas are a good choice for everyone due to their nutritional value and ingredients! In addition to being figure-conscious but especially vegetarians and vegans can benefit from the miracle beads: In addition to high-quality protein, they are full of calcium, iron, and vitamins!
Not to forget the Aquafaba, the chickpea brine, the liquid from canned chickpeas. Read more about here >KEEP THE "AQUAFABA" and AWESOME AQUAFABA RECIPES THE CHICKPEA WATER and  AMAZING AQUAFABA RECIPES THAT WILL ASTONISH YOU
Enjoy these delicious Vegan Chickpea Recipes!
14 Unbelievable Delicious Vegan Chickpea Recipes

Simple doesn't have to mean boring! In this recipe, chickpeas, crunchy bell peppers, and vibrant cherry tomatoes are tossed in a homemade dressing. A multitude of spices goes into the dressing, bringing a flavor that balances out the freshness of the salad. This salad is a great take-along lunch to work, where you can enjoy it plain, or as a sandwich with greens and whole-grain bread.PREPARATION > Chickpea Salad
Easy-to-make, 3-ingredient, vegetable flatbreads that are full of delicious flavor and nutrition, yet free of eggs, grains, gluten, nuts, and dairy. They are perfect for sandwiches, snacks, and all manner of gnoshing!
Baked or fried, these homemade chickpea falafel make the perfect lunch! They're easy to pair them with so many things, whether it's a salad with lots of vegetables, a pita pocket, or a bed of grains with plenty of greens. Both methods of cooking have delicious results; the only difference is texture. The falafel is crispy when fried and tender when baked. Chickpea Falafel
More >IS THIS THE BEST VEGAN FALAFEL RECIPE YOU WILL EVER NEED?
I make these flavorful veggie burgers packed with garbanzo beans/chickpeas, corn, spices, veggies. The fiber and protein from the beans help to keep me full and the toppings add even more flavor and nutrition these are perfect for pan-frying or baking  READ THE REST OF THIS ENTRY →
This curry is jam-packed with protein from tofu, peas, and cashews — and it's so easy to make!
I love this recipe as it's simple, quick, healthy, and really tasty – which is everything you need in my book! Even though this chickpea curry only has a few ingredients it's packed full of flavor and I love adding lots of super healthy spinach! This curry can be eaten on its own as it's really substantial but is always delicious with flatbreads, or some whole-grain rice or quinoa. PREPARATION>15 MINUTE CHICKPEA AND SPINACH CURRY

This is my Mom's chilla recipe. It is also known as pudla. The classic Indian pancake made with chick­pea flour is a popular breakfast in North India. These chillas in the simplest form are easy and perfect for breakfast, a snack, or a side flatbread. For a veggie omelet version, add less water for a thicker batter and add leavening such as baking powder. Add finely chopped vegetables such as zucchini. (Recipe from Vegan Richa's Indian Kitchen Copyright © 2015 by Richa Hingle. Used by permission Vegan Heritage Press, LLC.)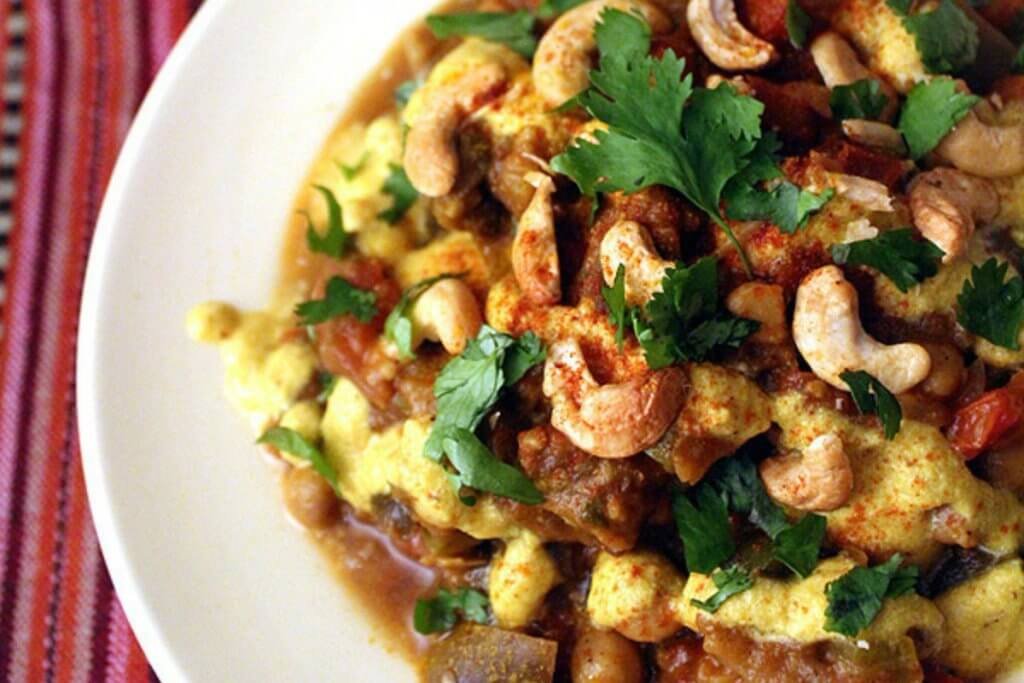 This is the perfect festive dinner. It is absolutely AMAZING. It's my favorite dish. The texture of the eggplant and chickpeas go so well together, and the sweetness of the dates and apricots blend perfectly with the cumin, cinnamon, nutmeg, and turmeric. Just thinking about it makes me smile. Eggplants protect the brain by fighting free radicals, and chickpeas help lower risk of colon problems Indian food is well known for its rich cuisine full of hot aromatic spices that can rock any taste buds.
One of such enticing dish is authentic Pindi Chole.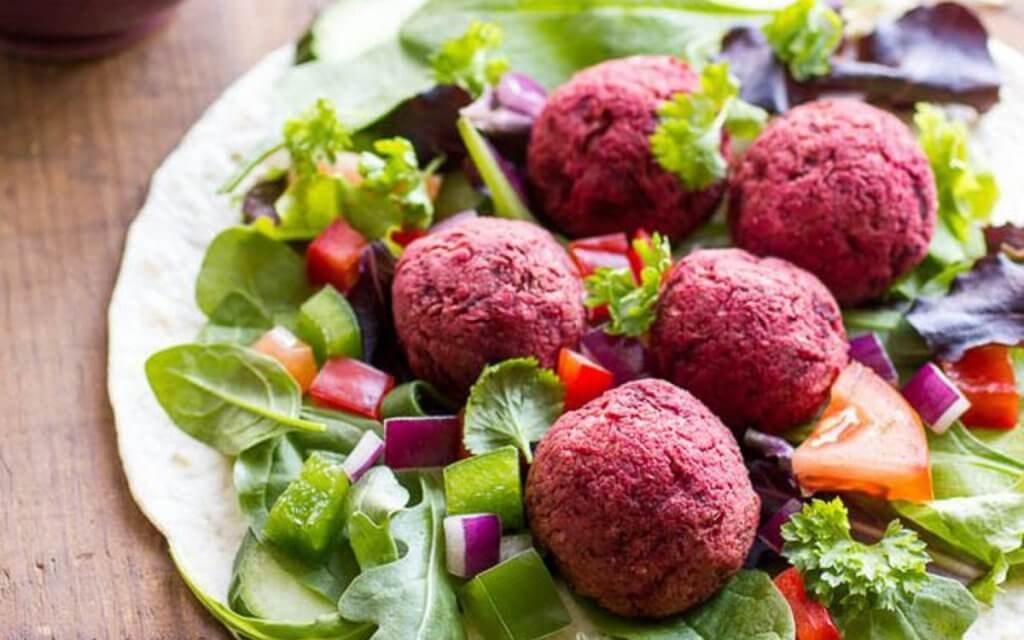 What makes a falafel truly amazing is freshness. These vibrant beet falafels certainly aren't lacking in that! Serve these over a bed of salad with a coconut yogurt tahini sauce, or wrap them in a pita with plenty of greens.
This is a really simple and delicious recipe for barfi (Indian-style fudge) made with dates and besan (chickpea flour). The besan gives the barfi a nutty flavor and a melt-in-your-mouth texture, and the dates are a unique addition! You can also throw in a handful of nuts such as pistachios, almonds, or cashews for an added burst of crunchy texture.
This is a delicious vegan curry packed with nutrition, protein, and surprisingly tasty. Here in this curry, I used a basic blend of turmeric, cumin, cinnamon, fenugreek, cloves, bay leaves, and coriander as a seasoning. Adding turmeric was all it took to turn the dish into a bright yellow curry and this is merely similar to the Thai curries. I used coconut milk for the creaminess but feel free to use cream/any milk of choice if desired.
Health Benefits:
Chickpeas are high in fiber and protein. You get a good dose of healthy fats, a bit of iron, and calcium, and if you cook your own dried beans, it's low sodium as well! But if using canned thorough rinsing would be helpful to reduce the sodium content.
Yields: 3-4 servings, Preparation time-30 minutes, Cooking time-30 minutes Procedure: Tofu-chickpeas curry
More recipes Are you curious about what the most popular viral recipes are?
See also > Garbanzo Beans: Health Benefits, Downsides, & Best Uses of Chickpeas
Take the 14-Day Challenge click here
If you need help with losing weight and keeping on track, the Bright Line Eating program is a great program to support. It is based on cutting-edge psychology and neuroscience. Susan Peirce Thompson, Ph.D. It is focused on establishing healthier eating habits and is also compatible with a vegan diet.