Inspiring Vegan Recipes Delicious Okra, Quinoa, And More
|
Inspiring Vegan Recipes you will love to try
Here are some inspiring vegan recipes you may love to give them a try. Some are with Okra, which is a very healthy and beneficial vegetable. Many do not even know it or did not try.
The main growing countries of Okra are India, Pakistan, and Nigeria. Mainly used in the Arab, African and Asian countries, but is also very popular in the northeast of Brazil, the southern United States, the Caribbean, Turkey, and Greece. It is one of the oldest vegetables and people planted it already more than 4,000 years ago. Originally she comes from Africa
Okra benefits
Okras have a tart-spicy, sour-piquant aroma, but still taste very mild. Also, you can eat the pods raw or steamed, fried, pickled or blanched. Above all, okra is extremely healthy and contains many important nutrients.
Also, its high content of fiber, antioxidants and vitamin C  makes the tender pod an absolute healthy food! Vitamin C stimulates the formation of white blood cells that protect you from pathogens and harmful substances. Together with the antioxidants, it strengthens your immune system perfectly.
Okra also contains calcium, potassium, and iron. The okra-derived beta-carotene has a protective function of your eyes. In addition, to beta-carotene, the antioxidant vitamin A is formed in the body. The green pods Contain folic acid, as well as vitamins B 1, B 2 and B 3.
These B vitamins, as well as the many high-quality proteins, help Okras among other things to make your Hair strong, and beautifully shiny. Also, the mucus and fiber help to keep the blood sugar level constant and stimulate digestion. In addition, excess cholesterol and metabolic toxins are easily released from the body. Okra is low-calorie.
Read here about  Quinoa >MILLET OR QUINOA WHICH ONE OF THESE HEALTHY GRAINS TO PREFER?
Try also the Raw Okra Chips. Have fun with preparing theses inspiring vegan recipes!
Persian Okra Stew with Potatoes – Vegan
3 Servings Ingredients: 500g Okra (ends cut) 300g Potatoes cut 1 1/2 cups Tomatoes chopped 1 Onion chopped 2 Bay Leaves 2-3 Cloves Garlic chopped 2-3 tbsp Tomato Paste 1/2 tsp Turmeric 1/2 tsp Chili Powder 1 tsp Salt 1-2 tbsp Lime or Lemon Juice 2 cups Water 2 tbsp Oil
In Texas, okra is practically a state vegetable,  offered fried at every BBQ joint and road stand. Well, okra aka bamieh also people in the Eastern Mediterranean shores love very much, especially in Egypt, Lebanon, and Syria.
LOADED VEGGIE QUINOA PASTA
This Loaded Veggie Quinoa Pasta is a simple, delicious and nutritious meal! Perfect to make ahead for lunch or as a side dish to your next BBQ. (Gluten Free & Vegan)
CAULIFLOWER TIKKA MASALA
Ingredients: For the rice: 1 cup Jasmin rice 1 tbsp vegetable oil 2 small cloves garlic 1/2 tsp turmeric 1 cinnamon stick 1 tsp cumin 3 small bay leaves 1 cup vegetable stock For the tikka: 2 onions 2 small cloves garlic 1/2 tsp turmeric 1 tsp chilli flakes 1.5tbsp rose petal masala* 2 tbsp tomato puree 1 cup chopped green beans 2 cups okra 1 cup chickpeas 3 tomatoes, quatered 2 cups coconut milk (1.5 tins) 1/2 cauliflower 1 small butternut squash (steamed) Garnish: Cilantro Okra
INDIAN QUINOA AND CHICKPEA STIR FRY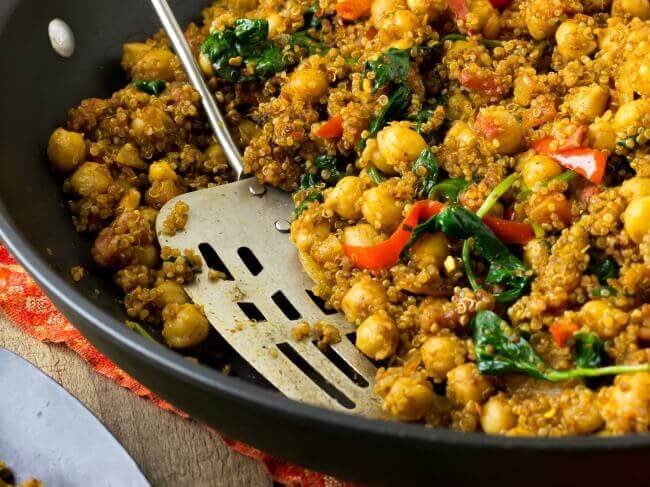 Easy to make, great nutrition, wonderful Indian flavors – this Indian Quinoa and Chickpea Stir Fry has it all. It's perfect for #MeatlessMonday, or any day you're craving a fun, healthy, easy meal.
Raw Okra Chips [Vegan, Gluten-Free]
Raw Okra Chips [Vegan, Gluten-Free]These are un-fried, raw, and good for you! Salty and crunchy just like potato chips but with a hint of okra flavor. Okra is packed with vitamins and minerals, high in dietary fiber, and low in calories!
See also Easy Light And Healthy Meals That You Will Love To Prepare
Vegan Turmeric Quinoa Power Bowls
Combine that turmeric quinoa with fresh kale, turmeric roasted potatoes, paprika roasted chickpeas, and a delicious avocado for the most epic Vegan Turmeric Quinoa Power Bowls!
BHINDI KI SABZI / OKRA STIR FRY
Bhindi ki sabzi is a scrumptious stir fry vegetable dish made with okra. Okra is a slimy vegetable but once nicely it is nicely friend, it tastes awesome. Some call it lady finger and we call it bhindi in India.Bhindi ki sabzi is a simple dish which can be served with some Indian flat bread like naan.
Battered Okra Fritters 
This recipe for battered okras will give you the perfect dish to bring to a party. The batter is seasoned and provides a crisp golden shell that is complimented by the tender okra inside. Plus, these Battered Okra are simple, quick, and incredibly easy to make.
Speaking of mashed potatoes, potatoes aren't paleo. However, I love potatoes and so every now and then I indulge myself. Thankfully, unlike some other non-paleo foods, potatoes don't seem to bring out a reaction in me and so I don't feel too guilty when I eat them.
The flatbread came out so delicious – loved biting into the cranberries and olives.  And don't forget the red onions. They are the star! You cannot skip them!  And the pesto cum sauce complemented it perfectly.!
More Recipes Easy Light And Healthy Meals That You Will Love To Prepare