Quick And Easy Vegan Instant Pot Recipes Will Save You Time
|
Quick and easy instant pot recipes – more time for fun 
You will love this quick and easy instant pot recipes. Unfortunately, we live in a time when people are eating fast food and unhealthy ready meals. Good that the plan-based vegan movement makes people more passionate to cook at home again. Cooking can be so easy and healthy.
We all want to eat healthy and delicious food. Who would not rather have a healthy vegan meal on the plate than the delivery pizza? However, good intentions fail all too often in everyday working life. If you have a full-time job and are too tired in the evening you do not want to stay in the kitchen for a long time. But with a little practice, a few tricks and the right basic equipment, you can bring a crunchy, hearty meal to your table in no time at all. And the best thing about it – it's really fun too.
The right kitchen equipment
You only need the right kitchen equipment. There are many kitchen tools today which let you have more fun while cooking, like a blender, mixer, juicer, and the instant pot, for example.
If you do not have an instant pot, you should definitely buy one. It will not only save you a lot of space in the kitchen but also time for preparation. It's almost like magic because you can even prepare quick dishes with the instant pot.
And that's not all: cooking in this way is fun, relaxing and will help you to put the work stress behind you. With the right basic equipment and a little organization, you can bring a delicious, healthy meal to the table after work.
The instant pot is an all-rounder
There are many reasons that speak for this functional all-rounder.  The instant pot can not only cook, but also bake, and roast. You can be creative and invite and enjoy yourself with friends.
Anyone who has ever tried it will soon give up the ready-made meals.  Your instant pot can work all by itself and you can make delicious dishes with the quick and easy instant pot recipes.
In a few minutes, you can create a quick dish and healthy vegan meal. Fast food does not always have to be unhealthy. On the contrary, the 5 minutes quick instant pot recipe below is a delicious vegetable dish, vegan, wholesome and with only a few ingredients.

Quick and easy vegetable dish
Ingredients: 400 g of potatoes, 400 g mixed vegetables (frozen), 200 ml of water
For the sauce: 20 g peanut butter, some Tahini, 10 g of hemp seeds, Salt, pepper, paprika, some water
The preparation of the vegetable dish
First, you peel the potatoes and cut them into small pieces. Give the potatoes and the deep-frozen vegetables with the water in the Instant Pot. You can cook the vegetable mix for about 5 minutes.
In the meantime, you can create a quick sauce. For this purpose mix the peanut butter, some Tahini, and the hemp seeds. Season this sauce with salt, pepper, and paprika. Finish.
When the potato mix is ready cooked, you can serve and just pour the sauce over the potato vegetables directly on the plate. Of course, you can also use other sauces.  You can also prepare this meal with other vegetables. Try it yourself, you'll be thrilled.
The vegan lifestyle also will keep you slim read here > Helpful Tips See How To Be Slim With A Plant-Based Diet
Cauliflower tikka masala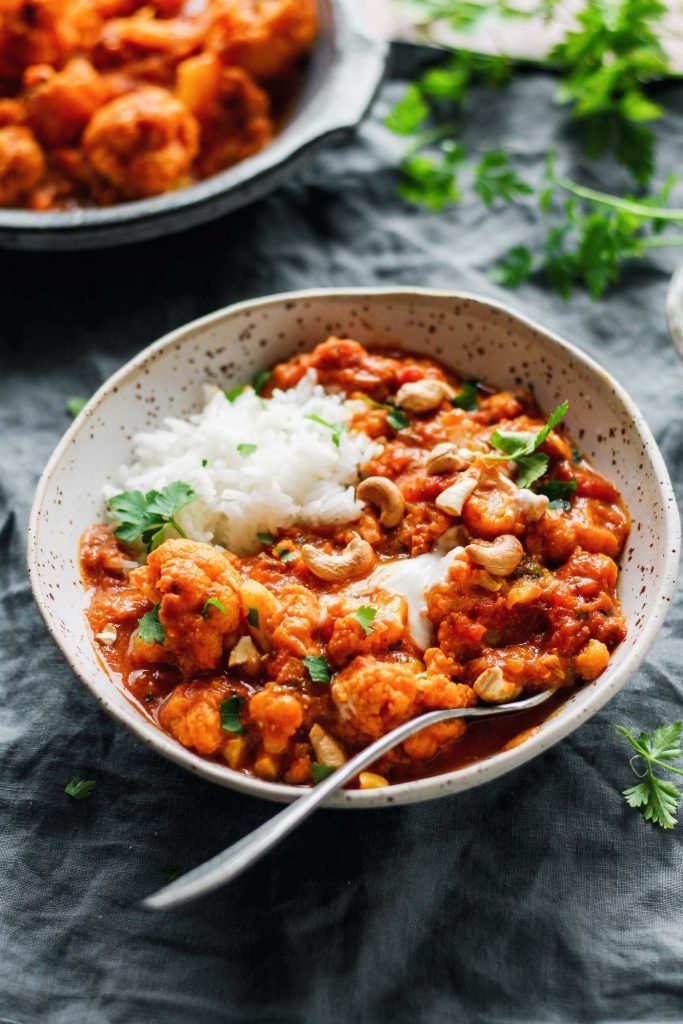 It's easy to get caught up in all the other things cauliflower can be transformed into (pizza crust! rice!) and forget how enjoyable it actually is in its original form. In this recipe from Fill of Plants, cauliflower—along with rice—are the primary ingredients in this vegan tikka masala. The Instant Pot allows the cruciferous superstar to really soak up the spices. Cauliflower tikka masala
Green Coconut Curry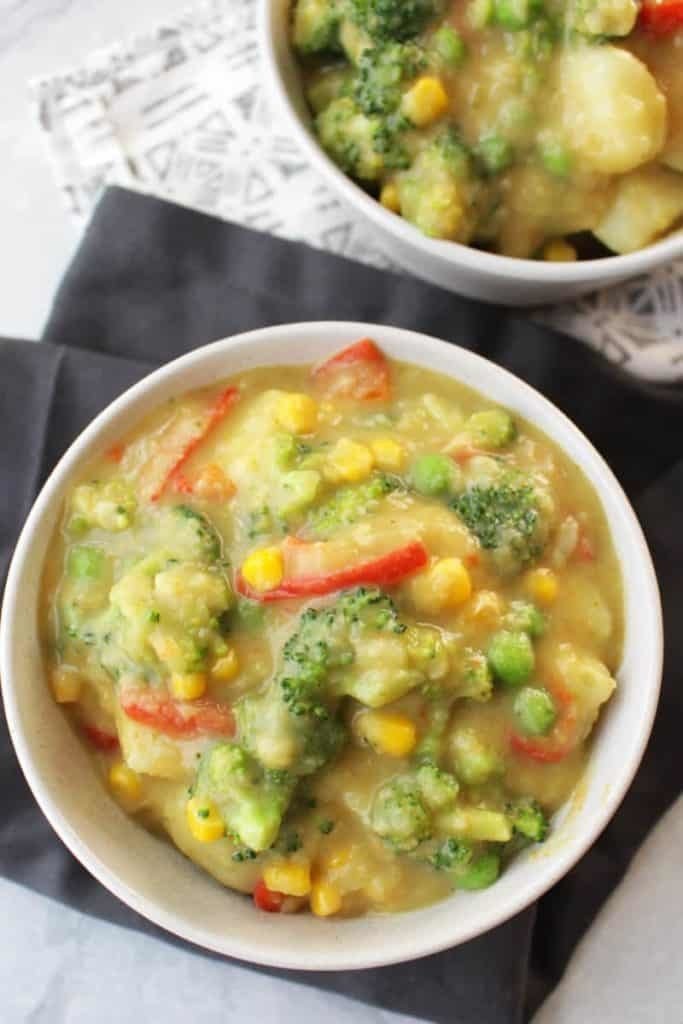 Here are some more delicious, healthy vegan instant pot recipes. Easy Instant Pot Green Coconut Curry by Karissa's Vegan Kitchen. Curry lovers, behold this wonderful instant pot green coconut curry edition of a beloved classic. Curry has never been easier to make than ever before. Thank you Instant Pot!
Vegetable Lo Mein
Vegetable Lo Mein by Raising Generation Nourished
I think of Lo Mein as takeout comfort food. Even though you know it's full of grease and sodium, it always hits the spot. Luckily, this recipe makes it easy to create your own healthy version of this classic menu item. Get the recipe here.
Vegan Instant Pot Quinoa Chili:
Vegan Instant Pot Quinoa Chili: Vegans needing a protein boost will feel recharged after eating a bowl of this quinoa, red bean, and black bean chili. (via Well Plated)
Quinoa Burrito Bowls
Quinoa Burrito Bowls by Detoxinista
Another protein-packed meal, these healthy burrito bowls will make you forget all about Chipotle. In case you didn't know, combining grains like rice and quinoa with beans creates a "complete protein" Get the recipe here.
Vegan Gumbo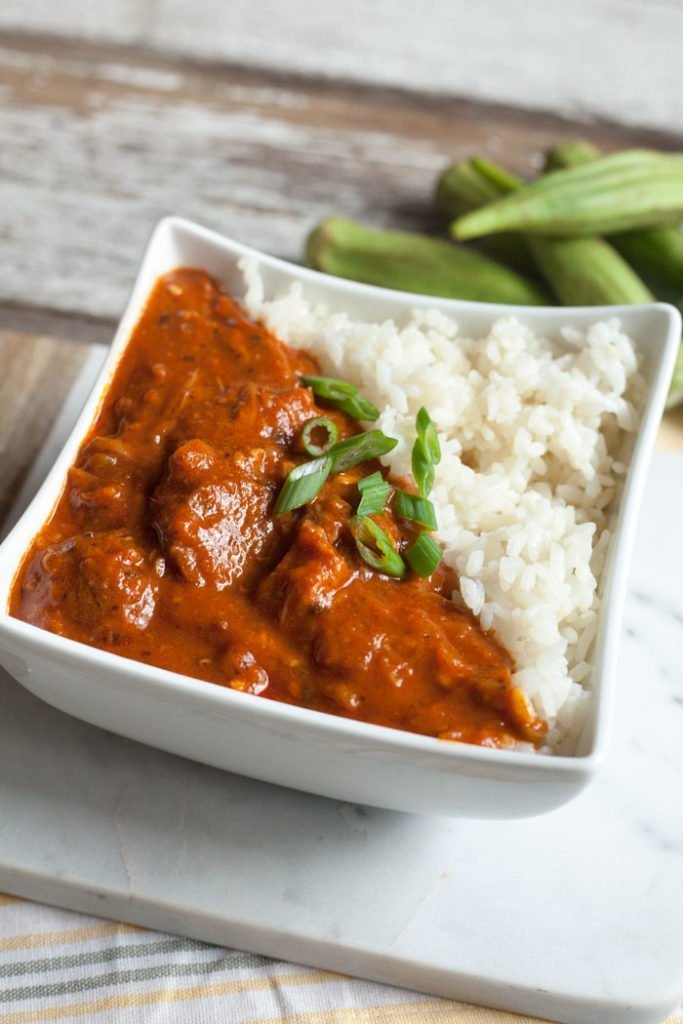 Vegan Gumbo | Instant Pot Gumbo Recipe. Gumbo is the official state cuisine of Louisiana. It is a hearty stew that traditionally made with a strongly-flavored dark roux, chicken or seafood stock, meat or shellfish, what Louisianans call the "Holy Trinity" of vegetables: celery, peppers, and onions; and often okra. You are going to love this one.
Thai Peanut Tofu Pineapple Curry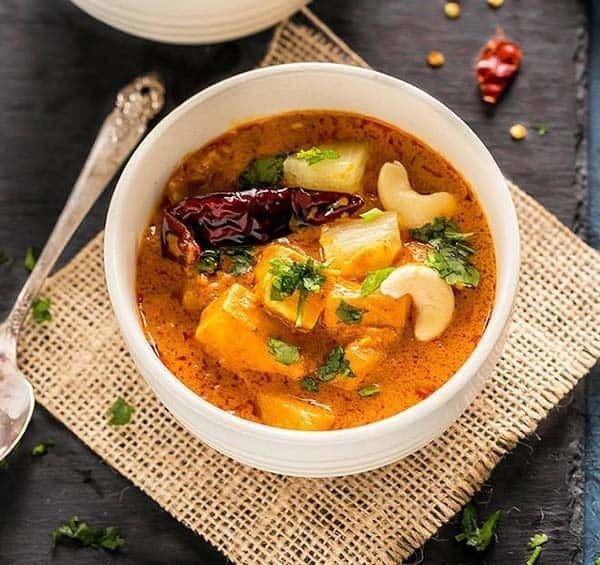 Thai Peanut Tofu Pineapple Curry by Cook With Manali
Asian cuisine is typically very accommodating to vegan diets, due to the lack of dairy and abundance of vegetarian staple foods.
Take your Asian-inspired repertoire up a notch with this Thai recipe. Get the recipe here.
You will find even more quick and easy instant pot recipes that will save you time in the kitchen and let you have fun in this cookbook below.
Vegan Instant Pot Cookbook: 5 Ingredients or Less – Quick, Easy, & Healthy Mediterranean Plant-Based Recipes
See also How To Eat Yourself Happy – Your Gut Influences Feelings
and 15 Affordable Vegan Recipes That Are A Healthy Good Deal
Protect  Yourself and Your Family from the most common chronic vegan deficiencies — without taking a bunch of supplements.  Click here