Savory & Sweet Vegan Recipes From 3 Continents
|
Savory & sweet vegan recipes a selection from 3 continents
Savory & sweet vegan recipes from Europe, Australia, and Asia. Pesto Carrot Gnocchi, a tasty and easy Beetroot Garlic Houmous, and a delicious Blueberry and Nectarine upside-down cake.
These recipes are proven delicious and healthy all made with locally and partly homegrown ingredients. From Australia we have some Samosa inspired Veggie Patties and tasty Tomato soup with Garlic Cashew Cream. And finally from India Thai style Sticky Coconut Rice with Mango and Thai Style Tofu, Pineapple, and Vegetable Rice. A selection of Savory & sweet vegan recipes from 3 continents.
Try them all and enjoy the variety of these savory & sweet vegan recipes!
Savory & Sweet Vegan Recipes From 3 Continents
A super speedy recipe to liven up your houmous. You can't beet some roasted beetroot AND garlic, and this makes a really sweet flavour combination. Forget your pickled beetroot THIS is where you can truly appreciate the awesomeness of beetroot.
<Recipe here
These vegan and gluten-free carrot gnocchi require just 5 simple ingredients (plus sea salt). Carrots are steamed and puréed. Then, they're folded into a mixture of almond flour, arrowroot starch, nutritional yeast, and sea salt. Oat flour is slowly mixed in until a firm-tender dough is formed. The dough is quartered, rolled into ropes, and sliced into bite-size pieces. Each piece is gently rolled down the back of a fork, leaving an imprint that allows sauce to cling to the gnocchi. I recommend pairing these delightful little pillows of pasta with herb-infused olive oil or vegan butter.
Making a nectarine upside-down cake is certainly a test in optimism. Everything goes in the oven with the nectarines tucked underneath the batter. Until you remove the cake from the oven, and let it cool, you don't know for sure what the bottom is going to look like.
Savory & Sweet Vegan Recipes From 3 Continents
class="entry-title">
I love creating veggies burgers/patties. I especially love experimenting with different flavour combinations. My samosa inspired veggie burgers/patties were a MASSIVE hit with hubs and I'm super excited to share the recipe with you all.Ingredients
I love slurping my way through a BIG bowl of homemade soup and tomato is my absolute favourite.
I've discovered a new kind of comfort food. This thing. A Thai-style rice pudding if you will. Warm, gooey, coconut-y and made oh-so-colourful with Alphonso mangoes. Ahhh.
I've been wanting to make this for ages, and now that mango season is finally here, I made a million trips and calls to various different stores for sticky rice.The recipe is from here, with reduced sugar and a bit of guesstimation on the amount of rice needed. Using pre-cooked rice is convenient, though I did have to improvise a bit when I realized the coconut milk wasn't soaking in the way it would have if the rice was just off the stove. More on that in the method below.Recipe here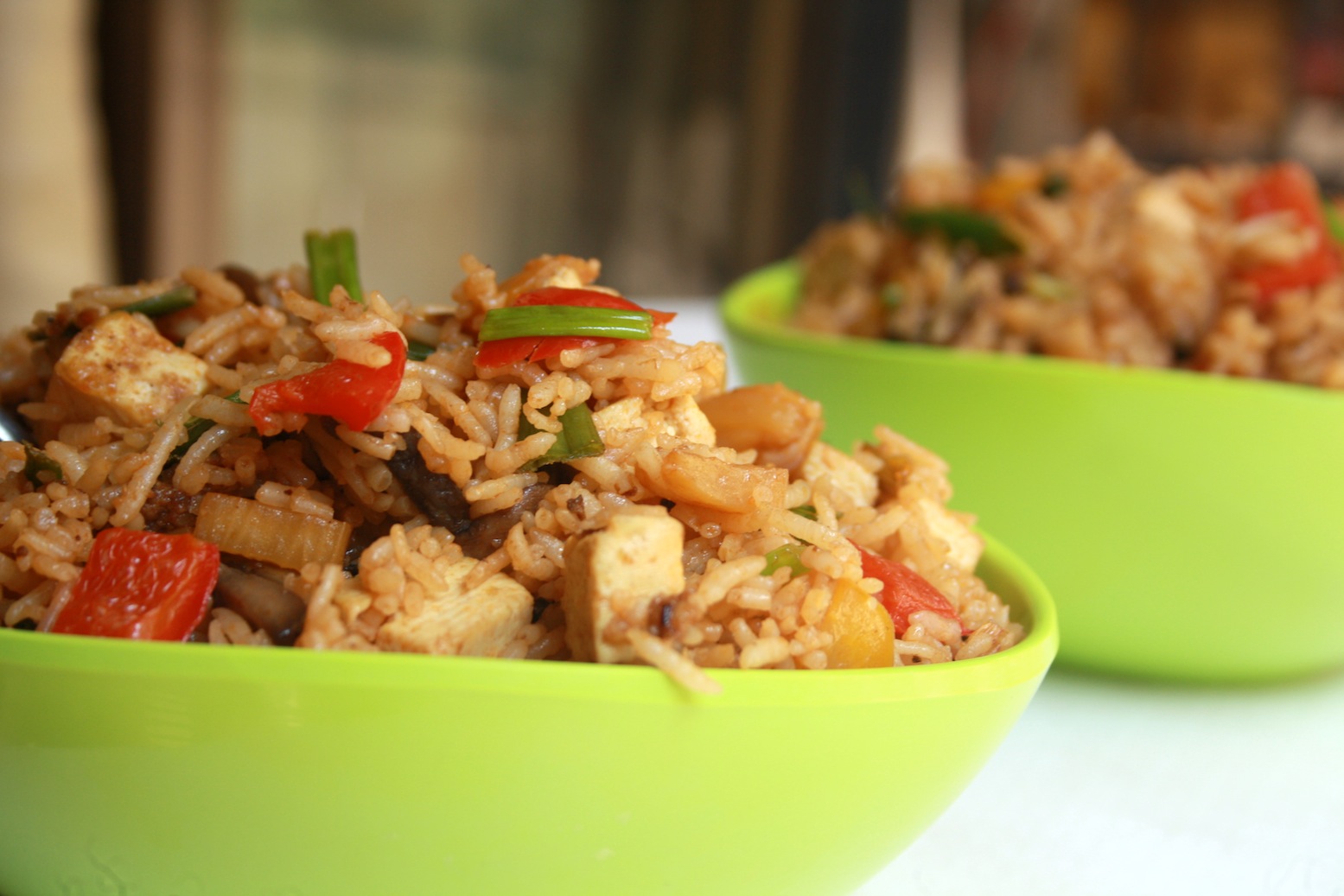 Someone pass me a pair of chopsticks. And a fork for backup. Ordinarily, I'm not a fan of pineapple added to anything that's not cake, or a muffin, but after this salsa, I grew up. I'd bookmarked this recipe along time ago because I hadn't seen a prettier bowl of rice in my life.I changed around the recipe to match my tastebuds and whatever I had in the kitchen, making a special effort for the pineapple because it was just divine. The Nam Prik Pao (such fun to say) was absolutely meant for it. Recipe here
Take the 14-Day Challenge click here
If you need help with losing weight and keeping on track, the Bright Line Eating program is a great program to support. It is based on cutting edge psychology and neuroscience. Susan Peirce Thompson, Ph.D. It is focused on establishing healthier eating habits and is also compatible with a vegan diet.