Why Now Is The Right Time For Tropical Fruit Recipes
|
For Tropical Fruit Recipes, it is now the right time.
Tropical fruit recipes like this Passion Fruit, Matcha, and Coconut Layer Cake, Papaya, and Coconut Yogurt Breakfast, Chinese 5-Spice Pulled Jackfruit Spring Rolls, and this cooling icy Lychee Sorbet is below.
Find even more of these delicious tropical fruit recipes. Now is the right time to get all the tropical fruits fresh on the market. The end of the summertime is the right time to try all these tropical fruit recipes and enjoy them with fresh ripe, and colorful fruits.
Now is the time of abundance, and we do good to get a boost for our immune system to stay healthy and vital. Many of these tropical fruits we can only find fresh and ripe in the summertime.
Who does not prefer to eat them fresh instead of canned or frozen? Get ready to try all the tropical fruit recipes and enjoy the abundance of the summer!
 Now Is The Right Time For Tropical Fruit Recipes
Everybody knows about pineapples, coconuts, bananas, mangoes, and our beloved avocados, but there's more tropical goodness where those guys came from. Frozen puréed dragon fruit, which looks like a pink scaly dragon egg in its true form, is becoming more and more popular in grocery stores. It can transform most anything pink,
Tropical fruits are in season for only a short period of time, so we should make the best of them while the getting's good.
Passion Fruit, Matcha, and Coconut Layer Cake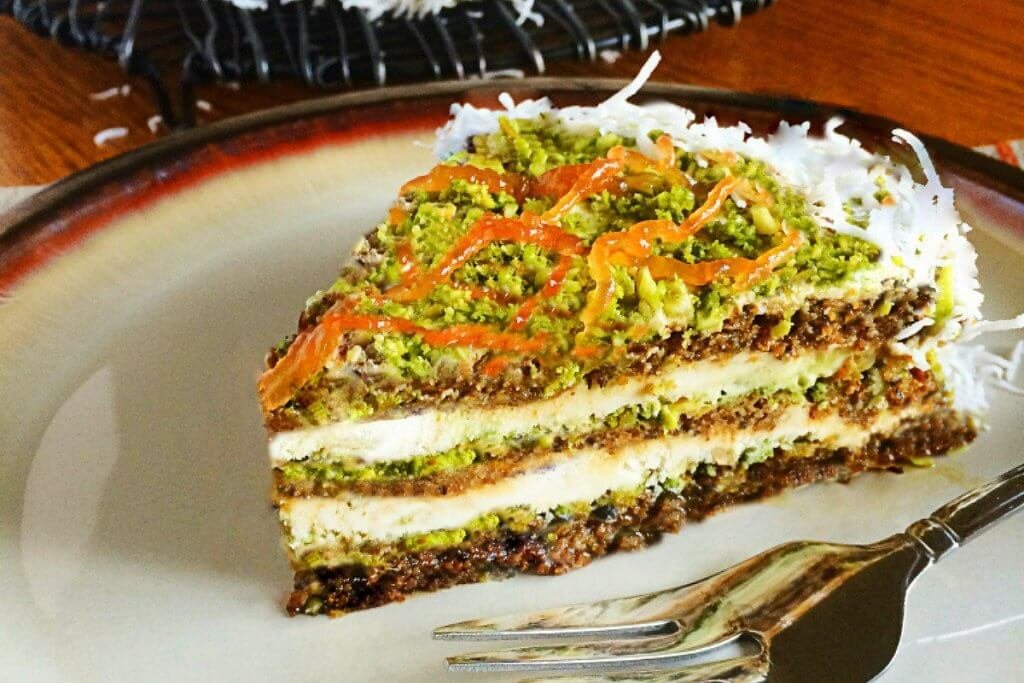 There's something about a cake soaked in liquid that's always made sense. It adds another dimension and intensity. Yet, it's not soggy, just super moist and delicious. Now, imagine a cake with tropical flavors, whipped cream, and tea-soaked cake and you get this amazing Passion Fruit, Matcha, and Coconut Layer Cake. This layered tea cake is definitely for grown-up taste buds since matcha is an acquired taste, unless you grew up eating and drinking green tea, but either way, this is definitely a cake worth talking about.
Papaya and Coconut Yogurt Breakfast
Papaya is such a marvelous tropical fruit, making this Papaya and Coconut Yogurt Breakfast a must-try. Full of living enzymes, it is great for digestion and is also full of antioxidants, Vitamin C, and Vitamin A. It is high in fiber and folic acid, it is an anti-inflammatory and also supports the immune system. Teamed up with the coconut yogurt, which is full of gut-friendly bacteriathis is a wonderful combination and prescription for a happy belly.
Chinese 5-Spice Pulled Jackfruit Spring Rolls
These Chinese 5-Spice Pulled Jackfruit Spring Rolls are delicious while eaten fresh, but don't be scared to store them for a future munching session. Spring rolls are one of those foods that really lets you be creative and play around with fillings and dips — try making yours as colorful as possible! Apart from being delicious and nutritious, they are also pretty easy and quick to make.
Lychee Sorbet
Lychee is a tropical fruit that tastes like grapes, watermelon, and strawberry combined. Now imagine that as an icy sorbet! This Lychee Sorbet is the perfect dessert for summer – sweet, seasonal, and refreshing. The recipe uses canned lychees, but if fresh are available, go for those
Raw Mango Cupcakes
Raw dessert made easy! The crust of these Raw Mango Cupcakes is a mix of almonds, sunflower seeds, and Medjool dates. The divinely creamy mango filling is a mix of mango, fresh turmeric, fresh ginger, lime, and creamed coconut. If your mango is very sweet you can omit the maple syrup if you like as it'll be sweet enough.
Rich Pineapple Curry
The inspiration for this Rich Pineapple Curry hails from Malaysia. Traditionally served with prawns and made with plenty of oil, this version is oil free and uses tofu (because tofu is boss). Any dish in Malaysia or Indonesia that has the word "Lemak" in it is guaranteed to be rich and delicious. This is no exception.
BBQ Chickpea Pineapple Pizza
In a pizza rut? You need to try this unique BBQ Chickpea Pineapple Pizza! It has two types of sauce, plenty of chickpeas, a kick from jalapeño, and some juicy pineapple. It's smoky, spicy, tropical, and sweet flavor will keep your taste buds guessing and your tummy happy.
Click here for even more tropical recipes.
More recipes here > 5 Delicious Exotic Vegan Recipes For You