6 Jaw-Dropping Dazzling Jackfruit Recipes In Vegan Style
|
Some Jackfruit recipes of this truly incredible fruit.
It is the new Vegan meat and looks really like it, below you can see it as vegan bacon and the texture is similar to meat as well, in this Jackfruit recipe.
Jackfruit is the fruit of a tree with the same name. This tropical tree is huge (30m) and is native to the Indian subcontinent and is also cultivated in countries like Thailand, Malaysia, Indonesia, and Brazil. The scientific name is Artocarpus heterophyllus and is related to fig, mulberry, and breadfruit. Jackfruits are known as the largest tree fruits and some weigh near 30kg.
Jackfruit has a lot of health benefits, read about it here
16 Amazing Health Benefits Of Jackfruit 
We have some dazzling Jackfruit recipes here for you to try this miracle fruit, like the enchiladas, curry, crab cakes, salad, and this delicious Jackfruit " tuna" melt sandwich.
If you want to know more about this amazing fruit read this article here about "the miracle crop" 
Try these amazing Jackfruit recipes and enjoy!
You may like also these recipes>JACKFRUIT PULLED PORK SANDWICHES
6 Jaw-Dropping Dazzling Jackfruit Recipes In Vegan Style
Yeah, I invented new vegan bacon, especially for the Virtual Vegan Potluck 3.0. It might just be the meatiest and most versatile vegan bacon yet… You're welcome.
Since I can't just serve you bacon, (I mean, I could, but this is supposed to be the appetizer course). I'm sharing my take on some special bite-sized BLTs. For size reference, the plate I'm using in these photos only has a 3-inch diameter.
Recipe here >MINI JACKFRUIT AND KIMCHI BLT SLIDER BITES
Jackfruit is a fruit (thus the name) from South/Southeast Asia.  Depending on its type, the flesh can be rather hard and fibrous or soft and sweet.  When cooked, it can take on the flavor of whatever you choose to season it with, and it has a shredded meaty texture. It can be a very versatile ingredient in the vegan kitchen and can be found in most ethnic markets.  It's available packed in water, brine, or syrup.  If you are using it for a savory recipe, be sure to choose one not packed in syrup.  I decided that the texture of this fruit, cooked in a spicy tomato-based sauce and packed into corn tortillas, covered with subtly spicy enchilada sauce and cashew crema, would be something that would taste amazing and not intimidate my family.
Get the recipe here >JACKFRUIT ENCHILADAS
Jackfruit is en Fuego right now as a sort of vegan meat substitute for tacos, barbeque, etc. I'm not sure who first thought of the idea, but I learned about it from clean Green Simple and the most-definitely-not-vegetarian-but-always-entertaining Chadzilla.
Jackfruit is an enormous fruit that is used throughout Southeast Asia. When ripe, it has a relatively mild tropical fruit flavor. When young and green, the fruit has a very slight flavor, but a fascinatingly shreddable texture
Recipe here >Larb Jackfruit
The "tuna" salad for this sandwich is made with shredded jackfruit (is there anything this fruit can't do?) and mashed white beans, then mixed with mayo, dijon mustard, and pickled relish, just like I like it.  The jackfruit is cooked briefly and seasoned with kelp granules, giving it that seafood taste.  It was absolutely perfect.  For the sandwich, I topped the salad with a generous helping of Trader Joe's new vegan mozzarella shreds.  For store-bought vegan cheese, this stuff is awesome.  It melts and stretches better than Daiya, in my opinion, and it did not disappoint in this sandwich.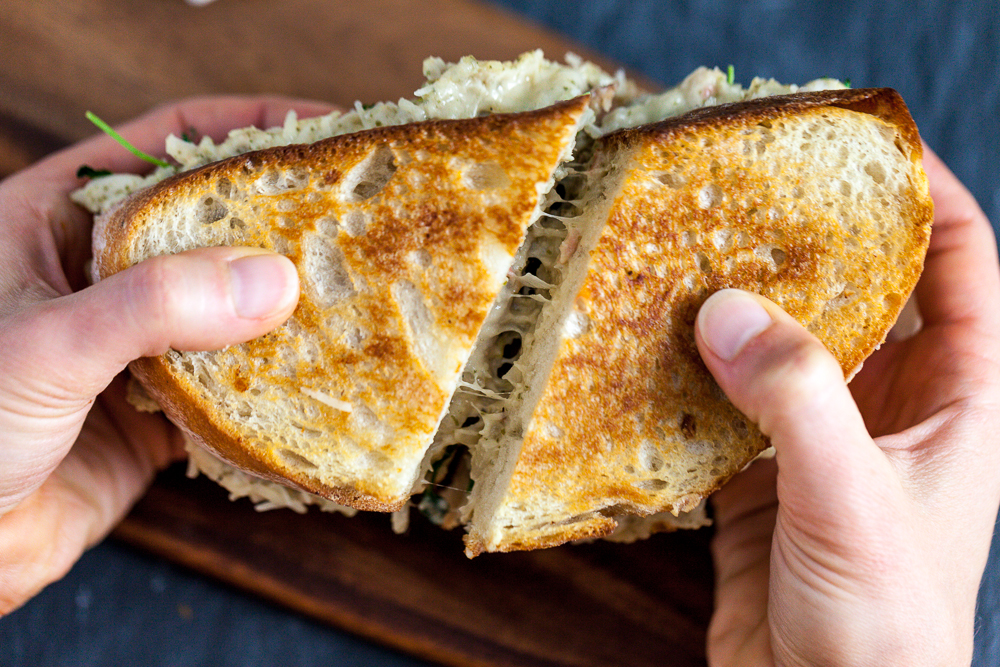 JACKFRUIT "TUNA" MELT SANDWICH  Instructions
The first (and only time) I've ever had Jackfruit was at a little vegan restaurant in Los Angeles called Pure Luck. I read on Yelp that it is now closed, which is unfortunate because that place was such a find. Their entire menu was built around jackfruit, they didn't have any soy or fake meats, just jackfruit (Just Jack! fruit LOL). I think I had some kind of BBQ jackfruit sandwich… I don't remember exactly what it was but I know it was delicious
Get Recipe here> Jackfruit Curry with Bell Peppers and Cashews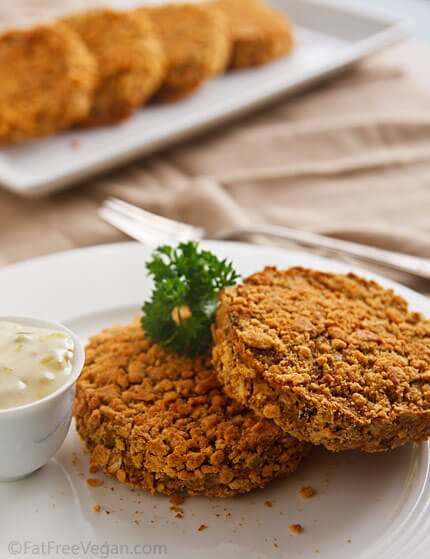 I've been experimenting off and on with young green jackfruit ever since I heard of jackfruit carnitas. Harvested before it has a chance to become sweet, green jackfruit "shreds" as it cooks until it has an uncanny resemblance to pulled pork. It doesn't have much flavor itself, which makes it ideal for soaking up the flavors of barbecue sauce, curry, Thai chili, lime, or anything else you throw at it
Recipe here > Jackfruit "Crab" Cakes
More recipes > Fantastic Original Indian Jackfruit Recipes
Join the new knock-your-socks-off membership of Bright Line Eating® Click here.
The Bright Line Eating program can support and accompany you. It is a program based on cutting-edge psychology and neuroscience. Susan Peirce Thompson, Ph.D., created this program using the experiences and knowledge of her weight loss journey. The program focuses not on willpower but on establishing healthier eating habits. This unique approach is helping people every day to lose weight by changing their lifestyle and eating habits.