Now Is The Time To Enjoy These Grilled Corn Recipes
|
Enjoy exceptional Grilled Corn Recipes
Here are some grilled corn recipes with ideas you will enjoy in this BBQ season. Grilled corn is a hit you can see it more and more often on people's grills.
The corn must be peeled first. Now, you place it directly on the grill. The corn has to be turned again and again so that it will soften from all sides. Salt the corn only shortly before the meal. Not only vegans and vegetarians love grilled corn. Here are some recipes with Grilled sweet corn. See what you can do to expand your menu.
Did you know, for example, that there is yellow as well as red and black corn?
The corn varieties which are available and are suitable for consumption are all called sweet corn, also known as edible or vegetable corn. They have a sweetish taste because the transformation from starch to sugar is slow.  Sweet corn is harvested when the kernels are soft and sweet, making it ideal for eating.
The corn flasks are not fully ripe and harvested at the stage of milk ripening. The grains are round and smooth, and milky liquid escapes on slight pressure Some other corn varieties have larger flasks and is used as a feed or are ground and used for bread, oil, polenta, popcorn.
The vegetable has a rich nutrient combination. Besides about 72% water, corn contains carbohydrates, proteins, and valuable minerals such as potassium, calcium, and iron. In addition, provitamin A, various B-vitamins and vitamin C. Buy only organic corn to avoid GMO.
Enjoy these grilled corn recipes with your friends and family!
Now
Is The
Time
To
Enjoy
These
Grilled Corn Recipes
 Grilled Romaine Salad With Corn and Avocado: Grilled lettuce and corn come together in this appetizer with fresh basil, creamy avocado, and a vinaigrette that'll make your tastebuds POP. (via Floating Kitchen)
 Summer Grilled Corn Salad With Cilantro Lime Dressing: This salad is covered in summertime bliss with a medley of grilled corn, bell peppers, cherry tomatoes, black beans, velvety avocados, and a refreshing cilantro lime dressing that will blow your mind. (via Vegan Huggs)

Peanut Udon Noodles With Grilled Vegetables: Nothing beats a tasty and filling noodle bowl topped with crunchy peanuts, and this one makes things even better with the addition of grilled corn. (via Last Ingredient)
See also >BEST VEGAN RECIPE IDEAS FOR YOUR NEXT COOKOUT EVERYONE WILL LOVE
THE BEST YUMMY VEGAN PICNIC PARTY RECIPES EVER
 Grilled Peach, Corn, and Zucchini Quinoa Salad With Lemon-Basil Vinaigrette: Get grill happy by throwing peaches, zucchini, and corn over those grates — then toss them with quinoa to create a hearty and mouthwatering salad. (via The Simple Veganista)
Grilled Corn and Berry Hummus Flatbread: If you *really* want to take advantage of summer goodies before they're gone, this simple flatbread smeared with hummus and topped with blackberries, cherries, and grilled corn is perfect. (via Running to the Kitchen)
Arugula Pesto Cauliflower Rice Bowls With Balsamic Tempeh and Mushrooms: This cauliflower dish is a total winner with a blend of balsamic tempeh and meaty mushrooms piled on top. (via Plant Based Jane)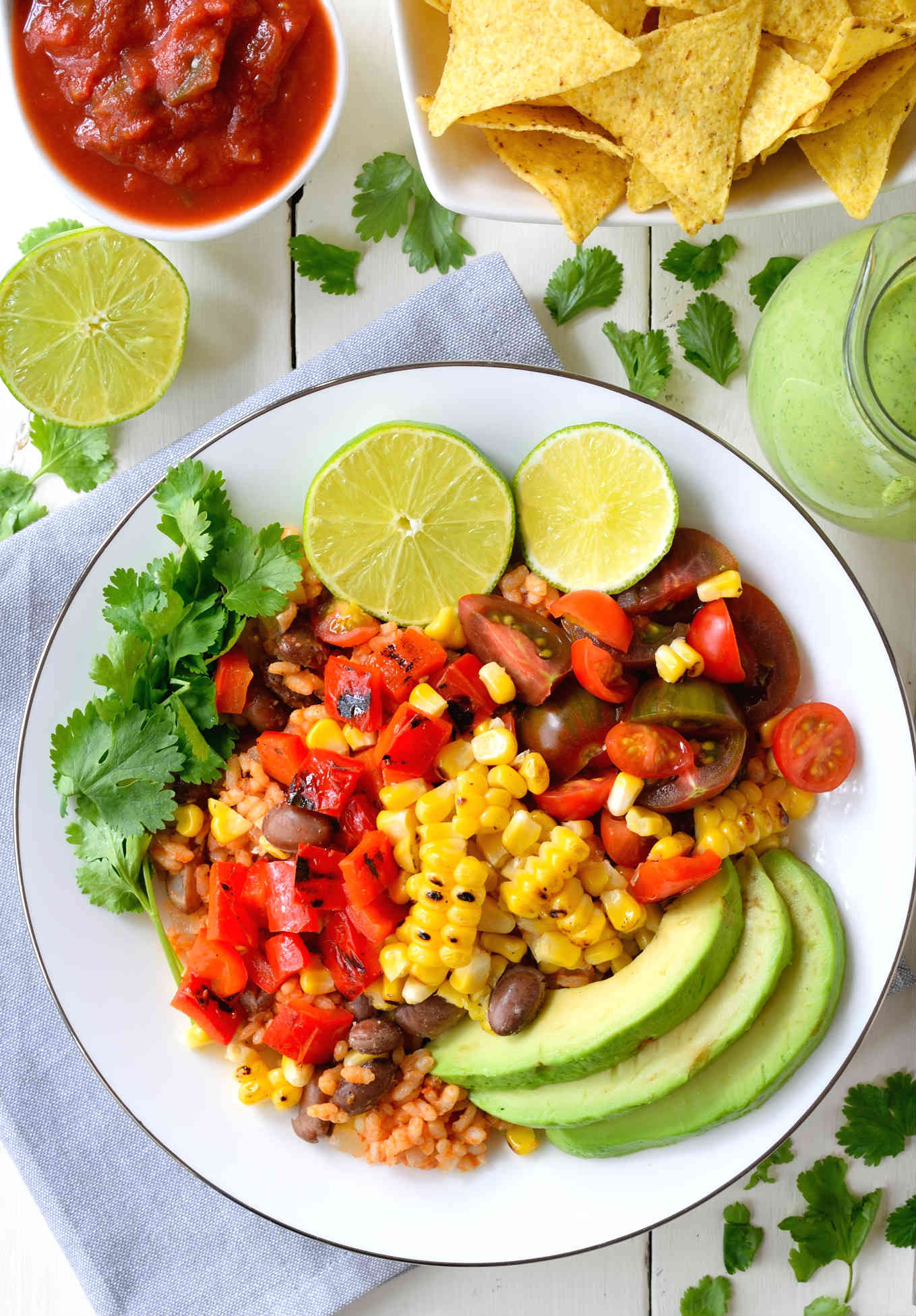 It can be challenging to fit in all your servings of veggies in a day. Lucky for us, this recipe makes it easier than ever.
This bowl is packed with fiber, vitamins, and minerals thanks to its long list of grilled veggie ingredients. Recipe here: Cilantro and Citronella
Find more here > Corn Recipes
Read also > Is Corn Healthy?
Corn is one of the most widely eaten foods in the world. It's also incredibly versatile. You'll find it in baked goods and bread, popped as a snack, grilled on the cob, fed to cows, used to fuel cars, and as the base ingredient for a huge range of processed foods and additives. But is corn good for you? And how do you choose the healthiest corn to eat?