A Sexy Recipe Diversity America Latin Lover's Can Enjoy
|
 Try this sexy recipe diversity of  Latin America
Find sexy Latin American recipes. The term Latin America summarizes the Spanish and Portuguese speaking countries of America together. Therefore, Latin American recipes are a mix of Tex-Mex recipes such as tortillas, tacos and guacamole, and South American specialties. Meet classics of Latin American cuisine in vegan styles such as ceviche, empanadas or enchiladas in delicious variations. In this handy list of  Latin American recipes is a selection of the best sexy recipe diversity of Latin America. Enjoy the journey through Latin American Recipes!
A Sexy Recipe Diversity For America Latin Lover's
Chipotle Sausage, Peppers, and Guacamole Flatbreads With Cilantro Cream
This dish of Chipotle Sausage, Peppers, and Guacamole Flatbreads has all the flavors of Latin American cuisine you could ever want.  Spicy vegan chipotle sausages sautéed with bell peppers, bring the heat while creamy guac, and cool cilantro cream keep your palate cool at the same time. Serve this on top of flatbread or roll it up like you would with a burrito. Fun fact: a chipotle pepper is actually a smoked jalapeño pepper, rather than its own kind of pepper. The more you know!
Mushroom Ropa Vieja
How do you make a vegan ropa vieja? The answer: Portobello mushrooms. In this Mushroom Ropa Vieja, juicy, beefy Portobello mushrooms are cooked in a rich sauce of sofrito, olives, and cumin with delicious colorful vegetables.
Chorizo-Spiced Potato Enchiladas
These Chorizo-Spiced Potato Enchiladas are really tasty!  Simple to make, although not completely fuss-free, this is well worth the minimal effort.
Salsa de Palmito: Brazillian Hearts of Palm Salad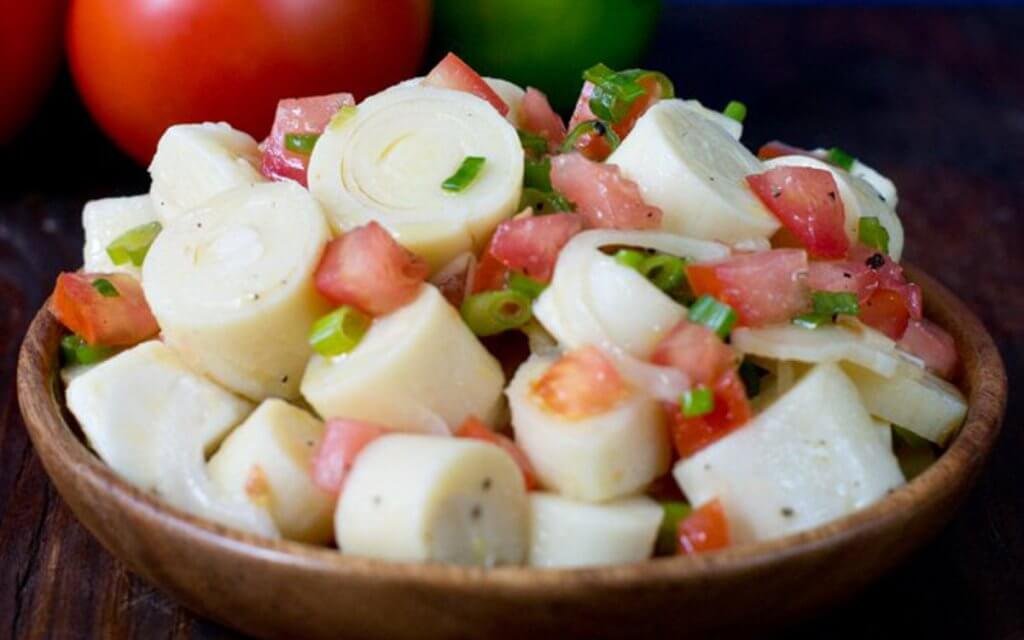 This simple and refreshing Salsa de Palmito is perfect for your summer barbecue.  If you've never tried hearts of palm before, this salad is a great place to start.
Frijoles Negros: Cuban Black Beans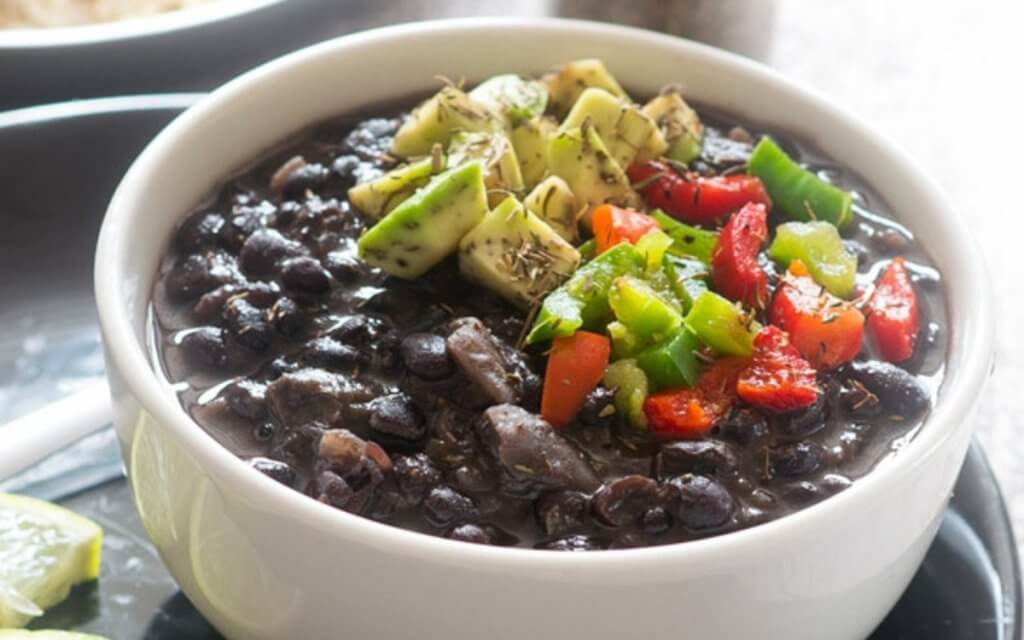 You haven't truly experienced black beans until you've tried a delicious Latin American version. These Frijoles Negros are rich, bold, and incredibly tender. The trick is the seasoning: onions, garlic cloves, black pepper, bay leaves, cumin, and oregano. Simple, but oh so very good.
Mango Lime Tres Leches Cake
Traditional tres leches cake is made from sponge cake soaked in three types of milk: evaporated milk, condensed milk, and heavy cream.In this dairy-free recipe for Mango Lime Tres Leches Cake, vanilla sponge cake is soaked in a mixture of soy milk, coconut milk, and coconut cream are used to create a dessert that's moist and decadent. Topped with coconut cream frosting, fresh mango, and lime zest, this cake tastes like a cross between a mango margarita and a traditional tres leches cake. It's not overly sweet, making it perfect for any celebration.
Roasted Poblano Cilantro Empanadas
These Roasted Poblano Cilantro Empanadas are full of flavorful goodness! The poblano adds the yummiest roasted pepper flavor and the combination of poblano, cilantro, and melty vegan cheese cannot be beat. The slaw becomes a beautiful bright pink and adds the much needed fresh crunchy quality to the mix. The beauty of empanadas is that they are easy to reheat, which makes them great for when you're on the go.
Cauliflower Ceviche
Ceviche differs from country to country. This Cauliflower Ceviche is closest to the Mexican version which contains onions, tomatoes, and peppers. Serve in an avocado for a fun presentation and with plenty of tostadas or chips!
For more recipes look here
See also >ARE YOU READY TO ENJOY VEGAN COMFORT FOOD AT HOME?