Thai Recipes To Enjoy And Get A Magical Vacation Feeling
|
Get into vacation feeling with these Thai recipes
Do you like Thai recipes? The Thai cuisine is world famous and one of the tastiest in the world. So many different dishes, flavors, and culinary delights are waiting that you can discover and try.
The Thai cuisine combines influences from China, India, and Indonesia, while maintaining an independent character. That's what makes it so appealing.  Thailand's cuisine is very popular everywhere.
Exotic ingredients make the Thai recipes a taste experience. With fruity, spicy and very aromatic ingredients, you can create tasty dishes.
Eating food is one of the most beautiful and important activities of the Thai people and an elementary part of the culture. Food is Fun and Sanuk (Thai for fun).
No wonder, if you go to Thailand, you can find small mobile food stalls on every street corner or beach. Here you get from the baked banana to fried noodles almost everything that makes sense. Everywhere and at any time of the day and night it is sizzling and cooking. Typical are the fresh ingredients. Also the variety of spices the people use in Thai recipes, especially chili, lemongrass, and coconut milk.
In contrast to Western food: appetizer, main course, dessert, with a Thai menu all meals (including soups) and the rice, Thai people serve at once.
Thais like to eat very hotly. So sharp that Westerns can feel this sharpness as very unpleasant. In an emergency, some tomato or cucumber can help, But better not to drink anything, it will only make it worse. Good that in the tourist areas usually, they cook the dishes very mild and the degree of severity is specified in the menu.
The Thai recipes are ideally recipes and dishes that complement each other in the flavors. For example, something spicy they combine with something sweet and sour. Ideally at least two dishes and a bowl of soup are served. However, they serve the dessert at the end and usually it consists of fresh fruit.
In this post, you will find plant-based Thai recipes and you can make them as tasty and hot as you which. But you absolutely have to try these Thai recipes below once and get a magical vacation feeling.
Thai Recipes To Enjoy And Get A Magical Vacation Feeling
Peanut and Lime Thai Soba Noodle Salad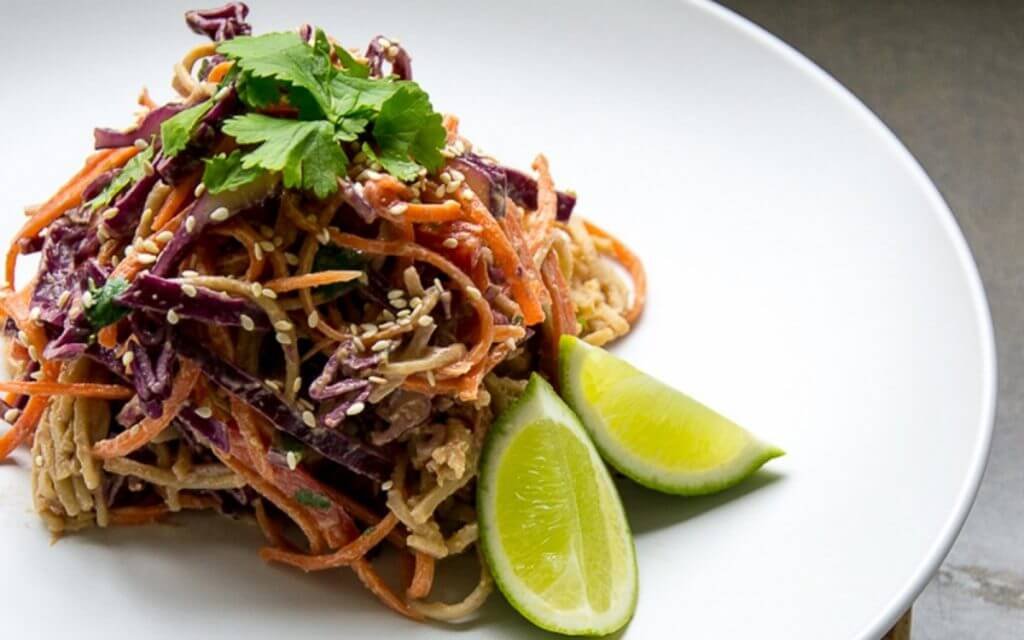 This Peanut and Lime Thai Soba Noodle Salad is vibrant, zesty, and very, very flavorful! The coolest thing about it? You can eat it both warm and cold! So it's perfect to have the leftovers for lunch the next day, and just squeeze over a little lime for some fruitiness.
Thai Green Vegetable Curry 
This Thai Green Vegetable Curry has a ton of healthy fresh veggies, such as eggplant, broccoli, bell pepper, and zucchini! The sauce is from green curry, spices, and coconut milk to make it creamy and flavorful.
Thai Chickpea Stew

In this recipe, onions, peppers, carrots, garlic, and chickpeas are cooked in a yummy, creamy broth made with peanut butter and coconut milk. Your taste buds will be so satisfied after this Thai Chickpea Stew!
Asparagus Risotto With Lemongrass and Thai Basil
This risotto is creamy, and contains a lot of winter vegetables to make it healthy, hearty, and popping with flavors! It is simmered with a homemade broth, which is filled with lemongrass, ginger, crushed garlic, and soy sauce, which means this Asparagus Risotto With Lemongrass and Thai Basil isn't missing a thing!
Creamy Thai Pumpkin Coconut Lo Mein
Creamy pumpkin is combined with rich coconut, and together they make a dish with a bold flavor. Try this Creamy Thai Pumpkin Coconut Lo Mein dish the next time you want to feel completely satisfied and full!
Nut-Free Thai Noodles
A lot of Thai dishes have nuts in them, but this doesn't – which means it's perfect if you (or someone you love) is allergic to nuts. It uses nut-free noodles and sunflower seed butter instead of peanut butter. You'll still get the same creaminess, deliciousness, and nutty taste you want from a Thai dish, without the nuts!
Thai Green Curry Cauliflower Rice 
So simple, yet so creative! Perfect as a side dish or as a quick weeknight meal, this Thai Green Curry Cauliflower Rice by Florian Nouh loads you with fresh and sweet flavors! Add some peanuts on top for some extra crunch, and start enjoying!
Thai Coconut Soup
This soup has everything you're looking for in a Thai dish: a perfect balance of sour, sweet, salty, and spicy! Make this Thai Coconut Soup by Lindsey Auerbach, and have leftovers for the rest of the week.
Vegan Red Thai Coconut Curry
This creamy Vegan Red Thai Coconut curry is full of delicious veggies and covered with a thick coconut sauce. 
Enjoy the Thai recipes 🙂
Also, see >7 HEALTHY AND PLANT-BASED RECIPES FOR YOUR COLLECTION.