Vegan Foods That Help You To Cleanse Your Colon
|
How to cleanse your colon and keep in shape with vegan foods
Vegan foods can help to cleanse your colon.  Cleansing your body through a colon cleanse program can help in weight loss and regain health and vitality.
Foods that are high in protein and fiber will help with colon cleansing. The cleansing of the intestine promotes general health and well-being.
The intestine can cause many problems if it is not adequately emptied or cleaned. Therefore, it is advisable to perform a cleansing of the gut from time to time.
Because our intestines often accumulate a large number of excess residues, which trigger a deterioration of bodily functions. We should recognize the causes of this toxin accumulation and avoid them appropriately.
Cleansing the bowel is very useful to our body, as it removes excess and harmful residues.
Not only will your intestine perform its functions better, but you will also have a more relaxed sleep, you avoid unpleasant mouth odors, blemishes, and rashes will disappear.
Colon cleansing will help to improve the processing and absorption of nutrients.
A vegan diet for a colon cleanse
With a vegan diet, you can clean your intestinal tract and the digestive system naturally and effectively. All you have to do is consume fresh seasonal fresh fruit and vegetables, legumes, and dried seeds daily. Your bowel, as well as your kidneys and liver, will be cleaned. Your health and that of your organs will be significantly improved.
Sauerkraut, for example, is a supplier of probiotics. Like kimchi or pickled vegetables, prebiotics such as inulin or oligofructose are indigestible carbohydrates: they increase the number or activity of the desired lactic acid and bifidobacteria in the intestine and thus support the body's defenses.
Our gut health is super important for our vitality and keeping in shape.
Here are some delicious recipes that will help you
Vegan Foods That Help You To Cleanse Your Colon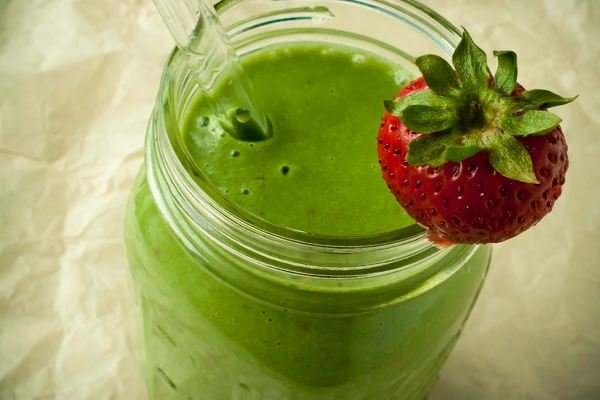 Dandelion greens are one of the best greens for detoxing (which is saying something because most greens do the job quite nicely) and are a rich source of calcium, magnesium, and chlorophyll. Bridget Besoner's Dandelion Green Smoothie is a must-try when in need of a detox.
These banana flax turmeric overnight oats are a combination of ALL of the good and tasty things you need in a breakfast. Energizing carbohydrates and gut-friendly fiber and prebiotics from the banana and rolled oats. Healthy fats and protein from the flaxseed, milk, and yogurt. Topped off with a teaspoon of the all-around wonder spice turmeric; an ingredient valued for its incredible anti-inflammatory and healing properties.
Turmeric and ginger have been used within Ayurvedic medicine and cooking for thousands of years and warm turmeric milk, 'haldi ka doodh', is still a popular home remedy in India. Apart from its health benefits, it makes a very soothing drink with a touch of sweetness from honey and a kick from turmeric and ginger.
This 10 minute, 3 ingredients, vegan sauerkraut salad is a staple side dish in Eastern Europe and Asia to much hearty meat and meatless meals. What makes it special and worth sharing is not only its fantastic flavor and versatility of uses but also its health benefits, probiotic qualities. This super juicy and super crunchy salad can easily be used as a great sandwich filler or as one of the ingredients in a super healthy Buddha bowl.
Also, see > A Healthy Sauerkraut Recipe DIY Good For Your Gut
Here's the perfect gut-healing brunch recipe: Yukon potatoes are hashed until crispy and golden, and are then mixed with the sprouts and probiotic tempeh that's been marinated in smoky tahini, maple and dijon sauce. Delish!
These Roasted Beet Burger Patties byRhea Parsons are made with both beetroot and beet greens, which are very powerful cleansers and builders of the blood. Betacyanin is the phytochemical in beet that gives it its rich 'amethyst' color that significantly reduces homocysteine levels.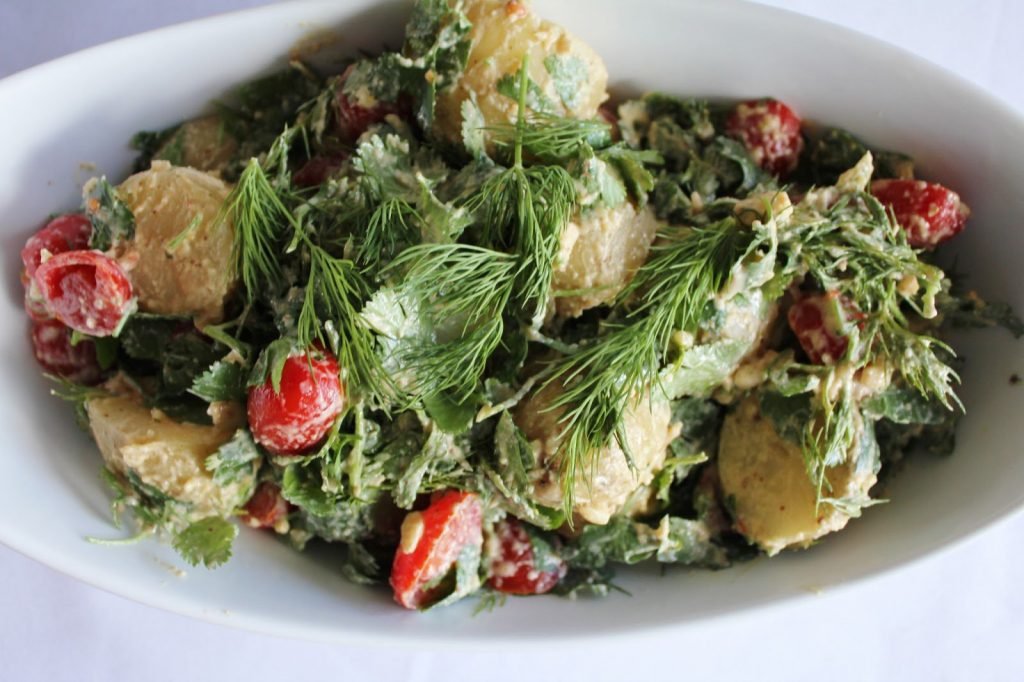 So what's the dill-y-o with dill? Aside from its antibacterial properties, iron, calcium, and vitamin A content and its ability to settle the stomach.  This baby may also help neutralize carcinogens. Just be sure to eat it in its raw state like in this Vegan Potato Salad with Cilantro, Dill, Tomatoes and Raw Mayo by Emily von Euw, cooking dill will zap all of these benefits right out of this fragile herb.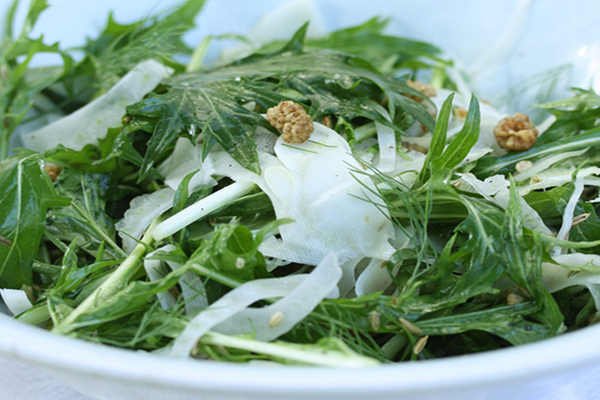 Easy to digest and yummy to eat, fennel has actually been found to move carcinogens from the digestive tract and is anti-inflammatory in nature too. Enjoy it in this Mizuna, Fennel, and Mulberry Salad by Julie Morris.
See also > Wondering What to Eat on a Colon Cleanse? 8 Flavorful Recipes!
and > How To Perform a Colon Cleanse: The Complete Guide
If you want to lose weight and be in shape for the coming season, read > How Does A Vegan Diet Lead To The Desired Weight?