Best Vegan Pumpkin Recipes For You To Embrace Fall
|
Pumpkin Recipes you will love
Vegan Pumpkin Recipes because the pumpkin season has finally begun! Even if that means at the same time that the summer is unfortunately now finally over. There are tasty vegan pumpkin dishes exactly the right consolation. Which Vegan Pumpkin Recipes can we recommend to you especially? We'll tell you here!
Healthy, low-calorie, and so good! From late summer to autumn, and especially for Halloween, pumpkins can be found everywhere. Pumpkin, the star among autumn vegetables, is not only healthy but also incredibly delicious. Just try these recipes, and you'll agree.
Not just for Halloween, are vegan pumpkin recipes a hit? Pumpkin varieties such as Hokkaido and Butternut & Co. are so versatile that you can prepare an infinite number of pumpkin recipes in the late summer and autumn without getting bored. Therefore, try these vegan pumpkin recipes for Mac 'n Cheeze, Roasted Squash, Pumpkin & Chickpea Fritters, or delicious cakes and Pumpkin Pie, which make the pumpkin season a true taste experience. With these vegan pumpkin recipes is everything on orange; join us!
Best Vegan Pumpkin Recipes For You To Embrace Fall
Vegan Pumpkin Pie
Our vegan pumpkin pie is the perfect end to a classic Thanksgiving meal.
Pumpkin Mac 'n Cheeze
Give your vegan mac and cheese a fall twist with some pumpkin and crushed tortilla chips!
This roasted squash with crunchy pumpkin topping is the ultimate savory fall dish for any meal or gathering.
 Pumpkin & Kale Oats
Enjoy oatmeal any time of day with this delicious warm bowl of savory pumpkin and kale oats
Pumpkin & Chickpea Fritters
Fritter the day away with these guilt-free baked pumpkin and chickpea fritters.
Chocolate Pumpkin Flax Coins
Make these chocolate pumpkin flax coins for an easy office treat!
Spiced Maple Pecan Cones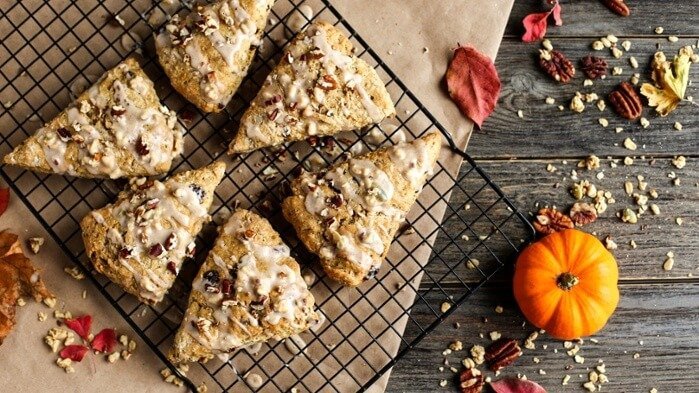 These pumpkin spiced vegan scones are studded with raisins, pecans and granola for extra flavor and fiber.
Pumpkin Bread
Have your afternoon tea with a warming slice of this pumpkin bread – it's super easy to make!
Pumpkin Caramel Slices
These ooey-gooey caramel slices are not only addictive but great for sharing!
more Recipes You Must Try This Fall