Why Is Zinc Important In A Plant-Based Diet?
|
The micronutrient Zinc that is important to the body
Zinc is a micronutrient that is as important to the body as calcium, iron, or magnesium. It fulfills an incredible number of tasks and functions in your body.
Zinc is one of the essential trace elements and is an all-rounder that our bodies need for many functions. Zinc is necessary for the human body for many purposes to the same extent as iron. Unfortunately, the body cannot produce zinc itself and cannot store it in large quantities. Therefore it is essential to ensure regular intake of this micronutrient.
Zinc supports our cognitive function, maintains normal vision, and is involved in the immune system's normal function.
Why do we need zinc?
Zinc is essential for vegans. The micronutrient zinc is responsible for several functions in your organism, and it is a part of many hormones and enzymes. Zinc also plays a vital role in metabolism. Zinc affects not only the skin and hair but also the nails. Moreover, zinc regulates many tasks in your immune system and suppresses certain cold viruses from spreading.
Zinc heals wounds better, strengthens the immune system, maintains the acid-base balance, and is involved in cell metabolism.
It also stores insulin, is responsible for vitamin A metabolism, and helps detoxify alcohol.
Zinc ensures faster recovery in the event of illness.
The vegan and vegetarian diet have to rely on vegetable zinc from soy flour, whole grains, or nuts. Pumpkin seeds, squash seeds, pumpkin seeds, pine nuts, cashews, sunflower seeds, pecans, chia seeds, flax seeds, brazil nuts, and almonds are also particularly rich in zinc. Also, wheat bran, cocoa powder, yeast, oatmeal, beans, legumes, and sprouts.
A balanced diet
You have to eat a balanced diet for the micronutrient zinc in the body to control the function of more than 200 enzymes. An unbalanced diet means inadequate zinc. Another problem is that you consume various ingredients that hinder zinc absorption. For example, these include phytates, which carrots and whole grains contain in high amounts. Foods rich in tannins such as coffee and tea, also inhibit the so-called bioavailability of zinc, which indicates how well a nutrient contained in food can be absorbed and used by the body.
Foods with zinc and protein should be combined. Zinc from sprouted grain and sprouted beans are also easier to use for the body. When germinating and acidifying, they are inhibiting phytate is broken down and makes it easier to absorb zinc.
Zinc and sports
Sport is beneficial for the body, mind, and soul. Due to the physical exertion, the body perceives this as stress. The harder you train, the more zinc you excrete through sweating. Zinc is an essential factor in cell growth and wound healing.
It means the immune system gets more potent, and zinc also helps with regeneration. A prerequisite for this, however, is an adequate supply of the micronutrient. Just snack on a few pumpkin seeds in between, because they contain a lot of zinc and a lot of iron, magnesium, and copper.
What are the symptoms of zinc deficiency?
Zinc has to be ingested through plant-based food since humans cannot produce this trace element themselves. If the supply of zinc is insufficient, there is a zinc deficiency. Zinc deficiency can manifest itself in many different ways. These include hair loss, cracked skin, skin inflammation, sexual discomfort, immune deficiency, loss of appetite, poor healing of wounds, visual disturbances, growth disorders, or fertility problems. But it can also be the trigger for other diseases.
Please stay away from industrially processed products; it loses the zinc content.
See also > Oats: Nutrition, Benefits
and  Zinc: Benefits, Risks, & How Much You Need
Recipes rich in micronutrient Zinc
Yummy stuff right here…and on the table in about 30 minutes. This vegan chili doesn't need hours simmering, yet it's loaded with flavor and hearty vegetables to fill you up 
Savory, crunchy, refreshing, and LOADED with nutrition. This is the BEST Lemon Balsamic Lentil Salad ever! And my absolute go-to right now.  It's also great as a work lunch or on-the-go!
Gluten-free, dairy-free, and soy-free. Perfect light salad on the go, for snacking or as a light meal.
This warm 'cheesy' dip by Dreena Burton has a mild flavor that can accompany many foods… and combines very well with salsa to mimic the Velveeta/salsa dip from years ago. This recipe is made without nutritional yeast, but if you like it, feel free to add in the nooch!
This recipe by Wendy Irene is quick, easy, and contains only 3 ingredients! Beans are a superfood. They are rich in protein, fiber, and antioxidants. According to some, they may aid in disease prevention too! These buffalo roasted chickpeas are one of many creative ways to add beans to your diet.
Healthy Overnight Oats with Mixed Berries and Chia is the ultimate breakfast for busy weekday mornings! It makes a great dessert, too! This super easy cold oatmeal recipe is vegan and gluten-free.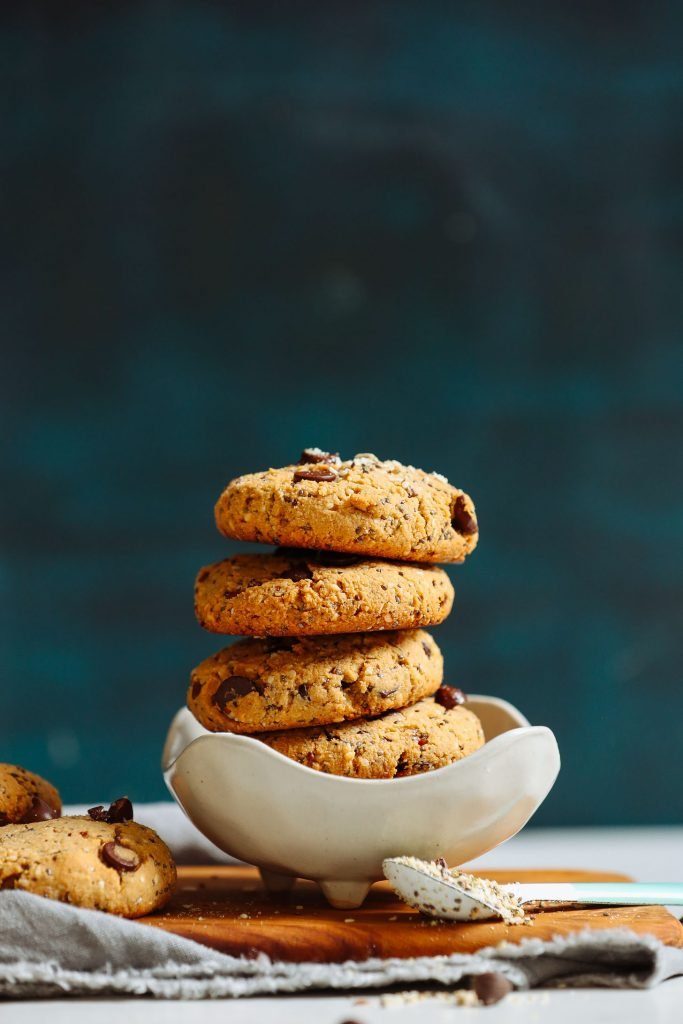 Imagine this: a perfectly baked, tender cookie studded with dark chocolate (or dried fruit!) that's naturally sweetened, vegan, gluten-free, and grain-free! Plus, it's made with 10 wholesome ingredients you probably have on hand right now. Let's bake!
Also, see 14 Unbelievable Delicious Vegan Chickpea Recipes
How To Boost Your Immune System And Protect Against Infection
10 Tempting High-Protein Recipes That Help You To Lose Weight