4 Healthy Vegan Recipes To Comfort You
|
4Healthy vegan recipes that make you feel good
These healthy vegan recipes are a great way to get people excited about vegan dishes. Bring it to your next potluck, and friends will drizzle the spicy cilantro cashew cream of the first recipe all over their whole plate.
Try the Thai Green Curry recipe for tasty vegan Thai green curry with all the exotic flavors. Ceviche is a classic way of dressing and lightly cooking in Peru and is brilliant for crisp vegetables as well. And finally, who does not like a comforting Lentil soup that satisfies an appetite and comforts?
Get ready for your next potluck, or simply prepare these healthy vegan recipes for your family.
Enjoy!
4Healthy vegan recipes that make you feel good
Healthy vegan Recipes – Cauliflower with cilantro cashew cream
These cauliflower steaks with spicy cilantro cashew cream are a perfect veggie-heavy side or vegan main dish, drizzled with a creamy jalapeño and cilantro sauce made from cashews. The presentation is a great way to get people excited about veggie dishes! Double up on the healthy vegan recipe and bring it to your next potluck, and you'll find your friends drizzling this spicy cilantro cashew cream all over their whole plate.
Recipe here >Cauliflower Steaks with Cilantro Cream
Gaeng Keow Wan – Thai Green Curry
is another one of these healthy vegan recipes by Jackie Kearney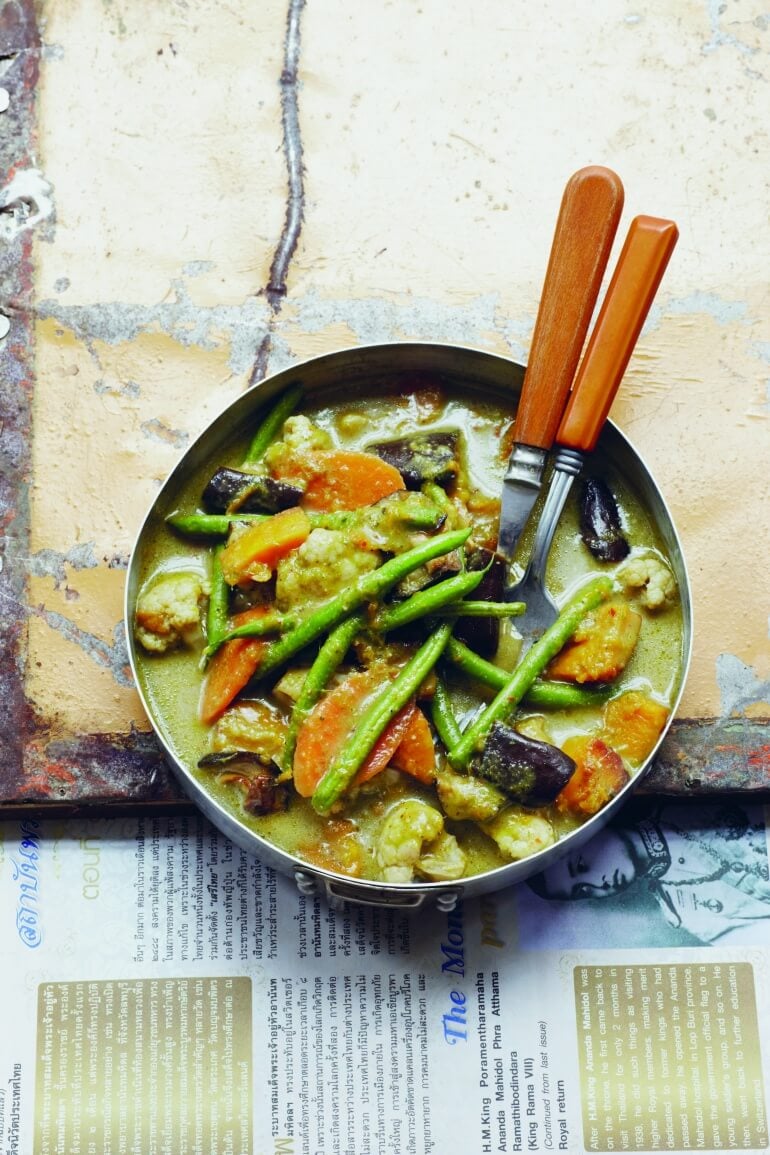 There are numerous sources for recipes for Thai green curry. I've included this one here because I think it's a fairly authentic and super-easy version to make, and it's always a crowd-pleaser, both at the family dinner table and in a field full of festival goers. The paste will keep for at least 1 month in the fridge. Roasting some of the vegetables adds some depth of flavour and means that the sauce can be cooked for a shorter time, so it maintains the fresh taste of the herbs and prevents the coconut milk from splitting. You can add baked tofu or tofu puffs to this recipe for extra protein and texture. Recipe here >Green Curry Paste
Healthy Vegan Recipe – Vegetable Ceviche
This vegan late-spring vegetable ceviche is made with juicy grape tomatoes, fresh corn, crisp jicama, red pepper, silky mango, zesty red onion, and scallions. The mixture soaks for 2 to 3 hours in a citrus vinaigrette made with lime juice, orange juice, cilantro, serrano peppers, olive oil, and salt. As it marinates, the vegetables soften and become infused with the flavors from the vinaigrette. The result is a salad that looks like confetti and tastes like summer. The jicama adds this amazing crunch, and the mango adds just a touch of sweetness to balance the citrus. The perfect summer side! Recipe here 
Healthy Vegan Recipe # 4-Vegan Lentil Soup
Lentil soup always satisfies a big appetite. Cookie and Kate make it even better with plenty of fresh greens.
More Recipes > 10 Healthy Vegan Hemp Recipes The Extra Power For Your Vitality