Try Celeriac Recipes -The Root Has Amazing Health Benefits
|
Celeriac, don't underestimate its health benefits.
Celeriac may not be the prettiest vegetable, but it is tasty and full of unimagined preparation options, from hearty to delicate.
Its smell and taste do not appeal to everyone, but the bulb and stalk of celery can do a lot for your health.
Celeriac has it all, iron and a lot of vitamins! Not only is it healthy and easily digestible, but it is variable and versatile. Only when you have removed the wrinkled skin, the root vegetable shows its inner value, a surprisingly white interior with a lot of aromas.
It contains valuable ingredients, and we often underestimate its health benefits.
Celeriac is a root vegetable and belongs to the Umbelliferae family.
It tastes spicy and very typical of the essential oils it contains.
The celery leaves are similar to those of parsley, and you can also use them to flavor dishes.
Celery is in season from early May to November and is available all year round because you can store it well, and stock items are available in winter and spring.
With 19 kcal/100 g, celeriac has a low-calorie content with a high nutrient density. The content of the minerals potassium, iron, and calcium makes it a valuable vegetable. It also contains carotenoids, vegetable dyes, vitamin C, vitamin K, vitamins from the B group, folic acid, and fiber.
Celeriac and Celery are excellent medicinal plants
Moreover, celery and celeriac are high in anti-inflammatory antioxidants and polyphenols that keep blood vessels supple. It used to be grown in the vegetable garden and also in the medicinal garden. Its valuable ingredients make celery also an excellent medicinal plant.
Studies suggest that apigenin, a plant pigment found in celery, may protect against all sorts of cancers. The substance reduces a tumor's aggressiveness and slows the growth rate and cell migration. Apigenin blocks the signaling pathways between the cancer cells so they can no longer migrate through the body and form metastases.
Various plant substances relax the blood vessels inner walls, lower high blood pressure, and supply the liver, kidneys, and bladder better with blood. They transport environmental toxins and pathogens out of the body.
Tannins and the natural alcohol ethanol strengthen and smooth the gastric mucosa and protect it from germs. The high fiber content stimulates the bowels and prevents constipation. Also, the celery substances promote healthy intestinal flora, which is good for our immune system.
Eating celery also reduces or improves heartburn and an upset stomach. The essential oils have a calming effect, regulate the nervous system, and prevent depression and dementia. In addition, it reduces blood pressure, cholesterol, and blood sugar levels.
Juice
Juice is also a real fountain of youth. Regular consumption improves the complexion and even protects the skin from UV radiation thanks to its antioxidants. In addition, antioxidants, minerals, and trace elements help strengthen hair density and nails.
Preparation
To process, remove the leaves and roots from the celery bulb, clean it with water and peel it generously. It can also be cooked unpeeled and then peeled.
You can use dried celery leaves for seasoning.
Recipes with Celeriac
In Ottolenghi's modern twist on a French classic, meaty celeriac steaks are drizzled with a luxurious Café de Paris sauce. If you're looking to get creative with your Sunday roast, this is the recipe for you.
I served it on top of a garlicky celeriac mash, which I personally love, but mashed potatoes or root vegetable mash will work just as well.
The soup is so creamy and packed with all the flavour from that gorgeous roasted veg, great for those colder autumn days when you need warming from the inside out!
Celeriac is probably my favourite root. It is delicate, yet very nutty, and has an elegant oily smoothness. Like all good vegetables, it is marvellous simply with a bit of olive oil. Here it works with the lentils and nuts to create a hearty autumn main course.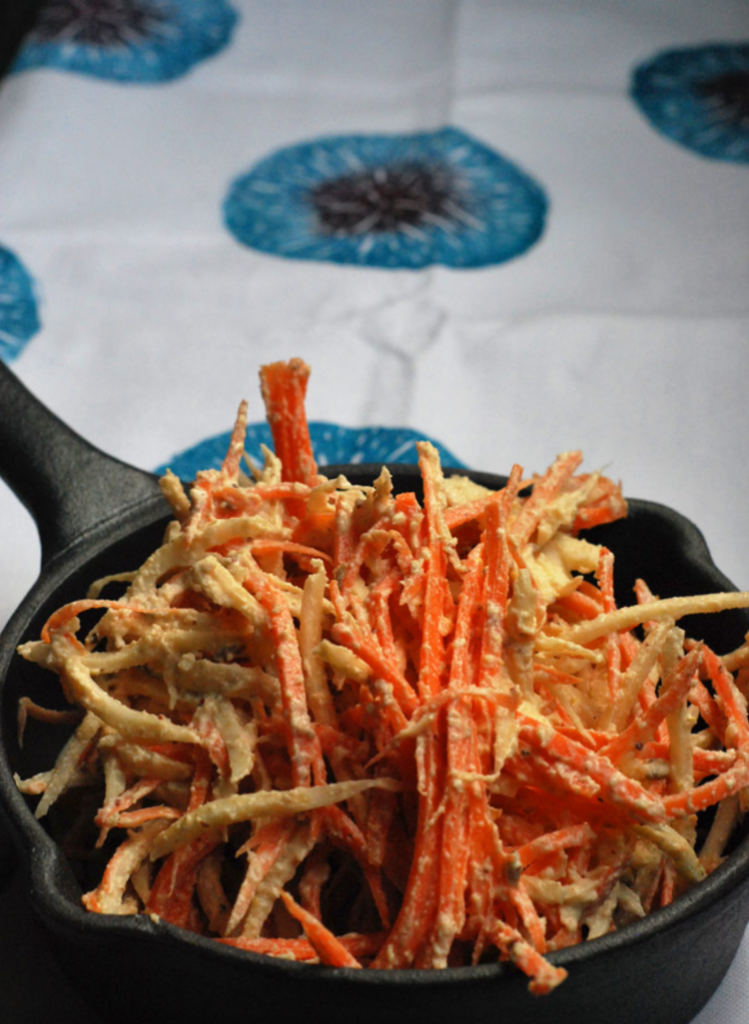 Did you know that celeriac can perfectly be eaten raw? Eating your roots raw will provide your body with even more of their nutritional goodness, which would otherwise diminish along with the cooking time.
A tasty curry with seasonal veggies like celeriac, pumpkin, chili and ginger. Top with fresh cilantro and let them remarkable flavours take you on a sunny trip to India.
A lovely, deliciously creamy and tasty mushroom carbonara with roast celeriac and garlic – it's super smooth with no dairy, oil or nuts but still dreamy.
Celeriac also makes great no-potato fries! Simply slice, drizzle with olive (or coconut) oil and bake in your oven for a great healthy alternative for your classic fries.
See also  Celery Root (Celeriac) Juice – Nouveau Raw
See. Celeriac Recipes, Storage, and Cooking Tips – Naturally Ella
See also Do you like Healthy Kohlrabi, a delicious and versatile vegetable?