Stunning Traditional Vegan Delicacies Of The Chinese Kitchen
|
 The Vegan delicacies of the Chinese kitchen are surprising
Vegan delicacies of the Chinese kitchen are popular today. Meat substitutes are not a new phenomenon that has come along with the growing numbers of vegetarians and vegans, as you may think.
Seitan Burgers and Veggie Sausages may seem like a modern phenomenon, but meat substitutes have a centuries-old tradition in China. Some "meat dishes" in medieval China were completely vegetarian or even vegan.
In China, almost all Buddhist monks live vegan.
There is a lot of different delicacies in the Chinese kitchen, with no meat, they are always vegan unless someone has mixed cream cheese, which generally does not happen, 99% of them are neither meat nor animal products.
There are many vegetarian or vegan dishes such as eggplant, tofu with peppers, beans, seasonal vegetables, green vegetables like any cabbage. Also, pasta can often be vegan or vegetarian. Typically, they make them all according to the monk's standard. Also, it's quite unusual for Chinese food to mix milk, cheese, or something similar in the dishes.
You can see packs of frozen lamb or king prawns in the freezer of large Chinese supermarkets. On the shelves are colorful tins of duck, chicken, and shellfish. But even if the products look real, none of them contains meat or fish. It is called mock meat.
Since there are always vegan Lent or monks in Buddhism, in Chinese cuisine meat substitute products from seitan and other ingredients, has been around for centuries.
The Chinese are true masters when it comes to imitating meat and fish. These fascinating dishes have a permanent place in China's long culinary history.
Read also > The Family That's Sold New York Mock Meats for Decades
You will have many choices here. Enjoy!
Traditional Vegan Delicacies Of The Chinese Kitchen
Vegan crispy duck? Oh yes! Seasoned roasted cauliflower makes an easy and delicious substitution served up with easy homemade pancakes and plum sauce. Click here for the recipe
Just like with my General Tso's chickpeas, kung pao chickpeas, and vegan drunken noodles, the origin for Mongolian seitan is not authentic Asian cuisine, but the Americanized version of it. Us Americans tend to make recipes sweeter, less spicy, and a little blander when they arrive over here
I like the smokey aroma, salty taste, and faux-meaty texture. So making my own faux pork isn't aimed towards replicating the version I can't stand; rather, it's about creating a plant-based alternative that embraces those qualities that I love.
This Lotus root stir fry is another one of the delicacies in the Chines kitchen. Lotus root actually a perennial rhizome of the lotus flower, where it grows underwater and has segments that look like sausages.  The entire plant is edible but the root people use commonly in Asian cuisines especially Chinese and Japanese cuisine.
Chinese vegan chicken, 素鸡 is a soy product. It's not as popular as tofu, but it's always been tofu's neighbor on your Asian grocery shelf––it's just not as recognizable to most people. I bet you've seen it but just didn't know how to "handle" it.
 I got an intense craving this past weekend for this lovely dish, so I pulled out the bag of soy curls and got to work on whipping up something similar that would satisfy my craving. This faux-meaty dish not only looked exactly like Chinese takeout but also tasted just like the real thing.
One of those staples of American Chinese cuisine not normally suitable for vegetarians is General Tso's Chicken. This simple dish consists of crunchy stir-fried broccoli alongside battered chicken, doused in a sweet-meets-salty soy-garlic-vinegar sauce.
If you've ever been to Chinese Buddhist vegetarian restaurants and ordered dishes with 'fish' in it, you probably thought about how the mock fish was made. Below is a recipe that reveals the secret of Chinese Buddhist vegetarian fish. They use fresh or frozen yuba (which you may found it in the frozen or refrigerated sections of an Asian market) that is chopped into small flakes and then seasoned and wrapped in a nori sheet 
This super easy recipe is so indulgent, made with gluten-free rice and millet noodles or any of your favorite noodles. It is very versatile and you can easily customize the recipe to add your favorite vegetables, like bok choy, spinach, cabbage, snow peas, water chestnuts. It is flavorful served with my General Tso's Chickpeas or Sesame Tofu
This broth-based noodle soup is full of fresh vegetables and tons of delicious Asian flair! Ginger, garlic, onion, and the all-important Chinese 5-Spice make for an incredibly flavorful soup. Perfect for when you're craving the warmth of comfort food! 
A Chinese Vegetarian Chicken make it of thin sheets of tofu, wrap around a shiitake mushroom filling.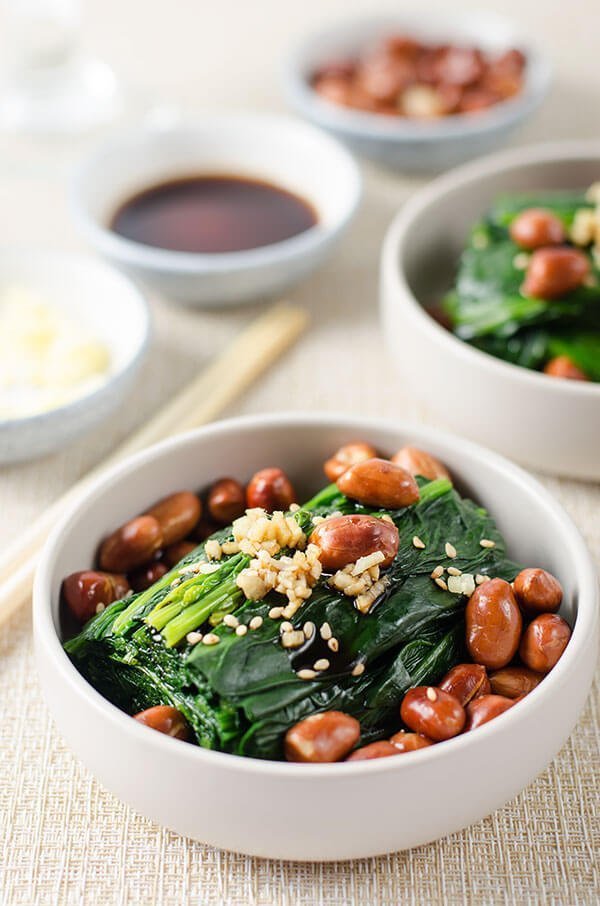 Blanched spinach and fried peanuts you can serve in a gingery vinegar dressing. The tender spinach and crispy peanuts give you a satisfying mouthfeel. The tart vinaigrette is slightly sweet and tastes so refreshing. It's simple, highly nutritious, and easy to cook.
This Vegan Sesame Tofu is easy to make and just as delicious as the restaurant version! A great quick plant-based dinner for the whole family to enjoy!
and here a new version of mock meat 🙂
These Vegan Meaty BBQ Skewers came out so well that it definitely won't be the last time that I've worked with seitan! They come together with my favorite childhood dip – garlic aioli and are heavenly chewy, perfectly marinated and super smokey! Plus, they're loaded with plant protein and even convinced my omnivore boyfriends! 
See also Thai Vegetable Rice With Tofu and Pineapple
See also > Veggie Burgers and Fake Meat: Pros and Cons
Take the 14-Day Challenge click here
If you need help with losing weight and keeping on track, the Bright Line Eating program is a great program to support. It is based on cutting edge psychology and neuroscience. Susan Peirce Thompson, Ph.D. It is focused on establishing healthier eating habits and is also compatible with a vegan diet.