12 Heavenly Delightful Vegan Dessert Recipes For You To Indulge In
|
Heavenly Delightful Vegan Dessert Recipes
For these Delightful Vegan Dessert Recipes, you need to keep space in your belly and indulge after a meal. All are right for the holiday season, and everybody will love them. Watch this video showing how to make an awesome Tiramisu. Nobody can resist this delicious dessert, and it is easy to make. Tiramisu is a popular treat from Italia and is coffee-floured and here converted for vegans.  The muffins, cupcakes, tarts, and cakes are certainly welcome not only after the meal. The Pumpkin pie parfait is even lighter than a piece of cake and sure will find a place in the belly after dinner. It is topped with creamy coconut whipped cream.
All these delightful vegan desserts are dairy-free, and you will find them gluten-free. The mini pumpkin pie tarts on page two are nut-free.  Something to indulge in for everybody here. Prepare them with natural healthy ingredients and have no regrets about enjoying them not only for Thanksgiving or the Holidays. Enjoy and indulge in these heavenly delightful vegan dessert recipes. 🙂
Heavenly Delightful Vegan Dessert Recipes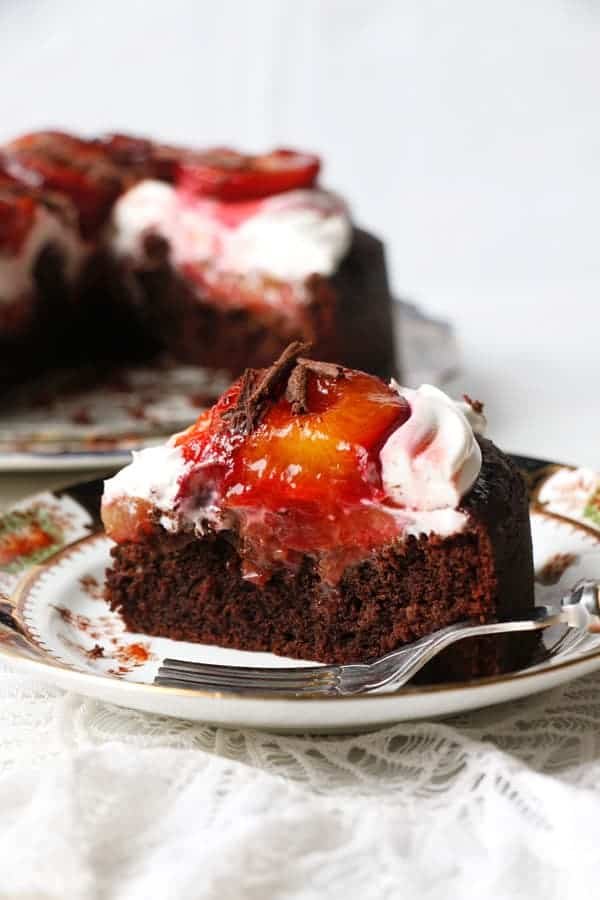 This Chocolate Plum Cake is one of those recipes you absolutely have to try, it's that amazing. It makes me so happy when a recipe comes this beautifully together.
Moist and Decadent Sweet Potato Blondies
These vegan blondies are so moist and decadent it's hard to believe they have sweet potatoes in it! These Moist and Decadent Sweet Potato Blondies by Christa Clark are shockingly scrumptious and almost fudge-like.
Carrot Spice Muffins

Just in case you don't have enough seasonal dishes and desserts on your Thanksgiving table this year, these carrot spice muffins combine everything you look for in a holiday meal into one moist and fluffy treat. Pair these muffins with ice cream, yogurt, apple cider, or any of your holiday favorites for the perfect end to your Thanksgiving dinner. Find the recipe at ohsheglows.com.
Pumpkin Mousse Squares

Also a gluten-free dessert, these pumpkin mousse squares are everything you'd want in a pumpkin pie but better. With a creamy pumpkin mousse resting on top of a crisp shortbread crust, these pumpkin squares are exactly what Thanksgiving is supposed to taste like. Top them with toasted pecans or almonds and you'll have a dessert that's beautiful, delicious, and gone in a flash. Find the recipe at healthfulpursuit.com.