Easy & Economical Ways To Make Your Own Vegan Probiotics!
|
How to make your own Vegan Probiotics?
Namrata will share here how she makes her own vegan probiotics. Also, she will tell in this guest post her story about her journey on how she became a vegan and ambitious in cooking, experimenting, and veganize classic Indian meals. She also has a blog called "On Donkeys and Dhoklas" 🙂
Thank you, Namrata
Make Your Own Vegan Probiotics!
Hi, I'm Namrata, a freelance writer and blogger based in New Delhi, India. Whipping up easy, healthy, and fun recipes in my vegan kitchen is something I'm totally passionate about. I eat a mostly whole food plant-based diet but do cheat occasionally with a fried samosa or vegan ice cream. Check out my recipes on my blog Ofdonkeysanddhokla.com.
My Vegan Journey
Growing up with a vegetarian mother and a meat-eating father, I ate meat–fish, chicken, and mutton–occasionally. As a family, we also consumed copious amounts of eggs and dairy products. When I was around 11 years old, we got a puppy, Eddie. I loved him to bits! He was the cutest and the most precious little baby ever.
The more time I spent with him, the more I realized how alike we were. He experienced hunger and thirst. And he wanted to be warm when it was cold outside. He liked to be cuddled and cared for. Having him in my life sensitized me to the plight of other species of animals as well.
Around this time, I made the connection between the "meat" I ate and the animals it came from–innocent beings, just like Eddie, who were mercilessly slaughtered for their flesh. I stopped eating meat and never looked back. However, it would take me many more years to realize that the dairy industry was as brutal as the meat industry.
In 2014, I learned about the cruelty in the dairy industry through a Facebook post by a vegan activist. At that time, I was a big consumer of dairy products, and going vegan seemed like a major leap of faith. Thankfully, the voice of my conscience motivated me to take the step, and I'm glad I listened to it. After seven years of leading a vegan lifestyle, I can assure you it is one of the best decisions I have ever taken in my life.
Transitioning To Vegan Cooking
Initially, I was pretty nervous about transitioning to vegan cooking since I used a lot of dairy-based ingredients. For the first few weeks, I only cooked vegan-by-default foods, which, thankfully, are aplenty in Indian cuisine. As the weeks
went by, I noticed something weird–not only did I no longer miss dairy, but I was actually getting more creative in the kitchen. Oddly enough, I was now cooking and eating healthier and tastier foods as a vegan than I was before! I learned to veganize some classic Indian delights like carrot halwa and rice kheer and figured out how to make yummy homemade pizza from scratch. I even started baking and came up with delightful treats like this carrot cake and whole wheat brownies. All of these recipes are featured on my blog. Click here to check them out.
Let Us Talk About Probiotics Probiotics are live microorganisms that are beneficial for your digestive system. They are often called "good" or "helpful" bacteria as they help to keep your gut healthy. Many strains of bacteria are classified as probiotics, and lactobacillus is one of the most common ones. The most popular source of probiotics in Indian cuisine is the curd that is prepared with cow or buffalo milk in most homes. Since vegans don't eat dairy curd, they need to find other good sources of probiotics. Sauerkraut, kombucha, kimchi, vegan kefir, and fermented soy products are also good sources of probiotics, but these are not readily available in India. So, what do Indian vegans do then? We learn to make our own probiotics at home! Given below are a few methods of making your own probiotic-rich starters and vegan curds.
Probiotic-rich Vegan Curd Starters
In India, people typically use a small quantity of dairy curd from a previous batch to set a new one. As vegans new to making plant-based curds, we don't have this option! However, the good news is that we can easily make our own starter liquid from scratch.
My favorite probiotic-rich starter liquid is made using broken wheat, also known as "dalia." All you have to do is soak a little broken wheat and a pinch of raw sugar or jaggery in some water and keep it aside for a couple of days (or a bit longer if it's too cold out there) to allow it to ferment beautifully. Your starter liquid is ready when you see clusters of tiny bubbles on the surface of the water. Strain and use! Add 50 ml of this liquid to 150 ml of
water and have it on an empty stomach. You can also use this starter to set a variety of plant-based curds. Get the recipe here.
Don't worry if you can't get your hands on some broken wheat. You can also use uncooked instant oats or cooked rice to make probiotic-rich starter liquids. Check out starter liquid with cooked rice and starter liquid with instant oats for the proper instructions. Use them in the same way as the starter liquid made with broken wheat.
How To Make Vegan Curd At Home?
You can use the starter liquids we just discussed to make a variety of plant-based curds! You can eat vegan curd as it is or use it to make various dishes inspired by Indian cuisine: raita, kadhi, chaach, lassi, shrikhand, etc. I love this cashew curd set with agar-agar; it is thick and rich and has a neutral flavor. You can use this in both sweet and savory preparations. Coconut curd is another delicious variety that goes well with several dishes. Be sure to use a thickener while making coconut curd. For those of you who love the delicate flavor of almonds, this refreshing almond curd with agar-agar is the way to go! Try making soy curd either with homemade soy milk or store-bought soy milk for a more economical option.
Get these recipes here: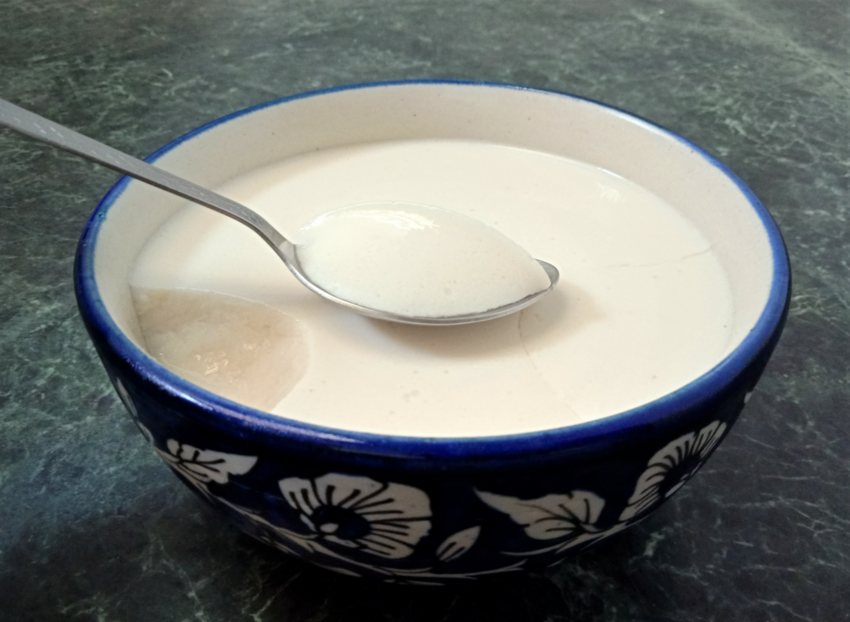 This cashew curd is luscious and creamy with a hint of sweetness and mildly tangy! It works great in both sweet and savory dishes. 
Homemade almond milk, especially when extracted from the "desi" variety, makes for a delightful alternative to dairy milk with its mild sweetness and delicate nutty flavor.
There are several ways to make vegan curd starters, but this one is the *ultimate* in my opinion. One major issue that people generally face with vegan curds is the absence of a natural tang or sourness, and this starter is perfect for solving this problem 🙂
So, there you go! Now you have multiple ways of making gut-friendly probiotic-rich starter liquids and curds to take care of your digestive system gently. Do try and share your feedback!
Experiment with making your own vegan probiotics and enjoy!
See also PROBIOTIC-RICH FOOD WILL HELP TO MAKE YOUR MICROBIOME HAPPY
Discover 10 mighty plant-powered breakthroughs that could help millions in this free masterclass with world-renowned author John Robbins.
Save your free spot in the Food For Health Masterclass here: