Start With 18 And Cook vegan – You Can Do It !
|
Kathy Hester did it –The Easy Vegan Cookbook
A beautiful vegan cookbook with Easy Vegan Recipes for busy people.
She started with 18 in a time when Tofu was not in every grocery store.
Cooking for friends every night was how she started and got her name "the vegetable lady". she made lots of mistakes at the begin ,this is why she wanted to make a book for people who have not much time for cooking.
Easy recipes ,quick prepared and healthy is what she offers. Specially young people who do not know how to cook can be encouraged and motivated with this book. She said ,if I can do it ,everybody can. Do not be afraid of starting ,try it and make your healthy tasty food yourself.
To many informations about nutrition and bad new all the time make people afraid to cook ,but here is a chance to beat the the beast with simple and healthier food choices.
Read more below or get your "The Easy Vegan" Cookbook and start cooking even if you are just 18.
Start With 18 And Cook vegan – You Can Do It !
Recipe developer, slow cooker guru, pr pro, cooking instructor and five-time cookbook author Kathy Hester owes her success to being an overachiever who's not afraid to fail. "You can't be successful at something unless you're willing to fail brilliantly," she says. "I do some boneheaded things just to see if it'll work." With her new book, "The Easy Vegan," she's done the hard work to make it easy in the kitchen for "normal people who don't like a lot of stress in their lives." That's probably you.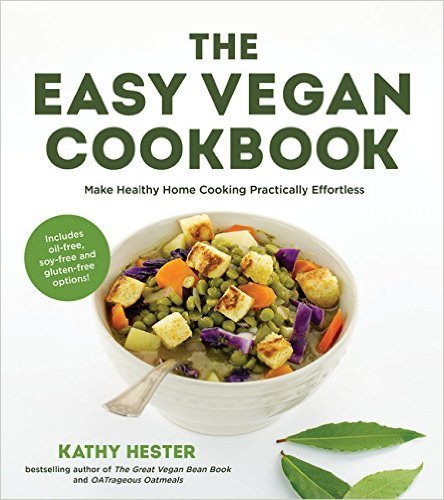 How did she learn how to cook? "I fumbled around. I made a lot of mistakes." Hey, it's all part of the journey.
Hester's journey began in earnest during grad school. "That's when I started cooking," feeding friends almost every night. "I worked in a co-op so I had huge boxes of grains and rice. I would make these crazy mixtures, put a bunch of things together till it smelled right," she says. "If I can do it, anyone can do it."
Hester says. "The trend is to be extreme. No grains, no carbs, no fats, no oil. People are getting to be afraid of food. I see it more and more. It's not healthy."
Healthy, accessible and easy all come together in Hester's recipes.
Behind Hester's nice vegetable lady demeanor lurks an ulterior motive — "To make people feel safe, to feel comfortable to try new things — to make a cake or a casserole or a whole nice dinner." With "The Easy Vegan," the vegetable lady makes it easy.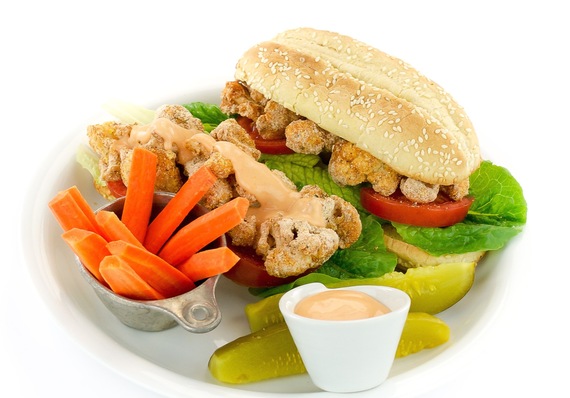 Photo by Ann Oliverio.

Spicy (or not) Cauliflower Po'Boy,  read more and  get the recipe here>Kathy Hester and "The Easy Vegan"